Ascaso Dream ONE Cloud White
Ascaso Dream ONE Cloud White
-15%
1 046 points to the loyalty system
---
You love retro design and want the best modern features in a coffee machine. Are you looking for heat stability, strong steam, quality of material, easy maintenance, but also, for example, size? The Ascaso Dream ONE white espresso machine offers all of these features, making it the obvious choice for you. More
Product code: 2796 Shipping options
Standard price
1 231,40 €
.
Save
15%
(185,40 €)
1 046 €
You love retro design and want the best modern features in a coffee machine. Are you looking for heat stability, strong steam, quality of material, easy maintenance, but also, for example, size? The Ascaso Dream ONE white espresso machine offers all of these features, making it the obvious choice for you. More
Product code: 2796 Shipping options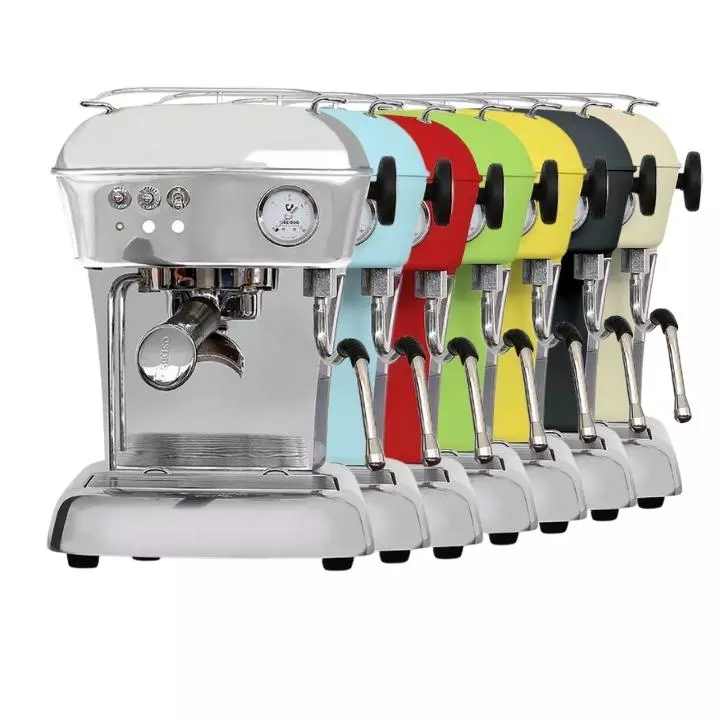 Pebble white retro coffee machine with the highest quality material
The body of the coffee machine is made of high-quality stainless steel and aluminium, on which a layer of high-quality lacquer is applied after preparatory polishing, which is also used, for example, in Formula 1. The lacquer is available in 15 different colours and 3 finishes - gloss, matt and hand-finishing.
Every part of the machine is polished by hand, so every Ascaso Dream ONE espresso machine is an original. The life of the machine is significantly increased thanks to the stainless steel parts of the system, where there is much less limescale build-up.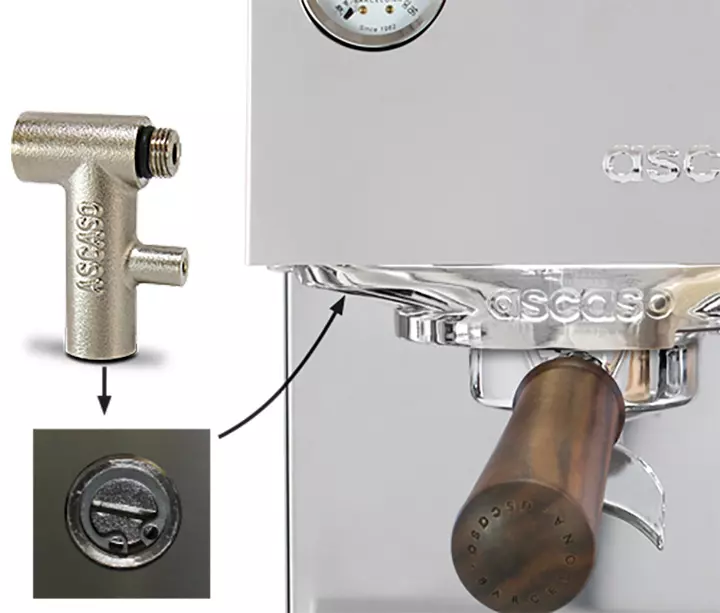 Home coffee machine with vibrating pump white
Thevibrating pump is the most common type of pump in home coffee machines, lever and automatic. It is a significantly cheaper technology than a professional rotary pump. The optimum pressure for espresso preparation is approximately 9 bar and for vibrating pumps we calibrate to approximately 10-11 bar.
From the factory, however, vibrating pumps come with an output of approximately 15-20 bar. So how do you get the machine to be set to the desired lower pressure? By using the OPV pressure relief valve that every coffee machine with this type of pump must include. A vibrating pump is noisier than a rotary pump and a coffee machine with a vibrating pump cannot be connected directly to the water supply.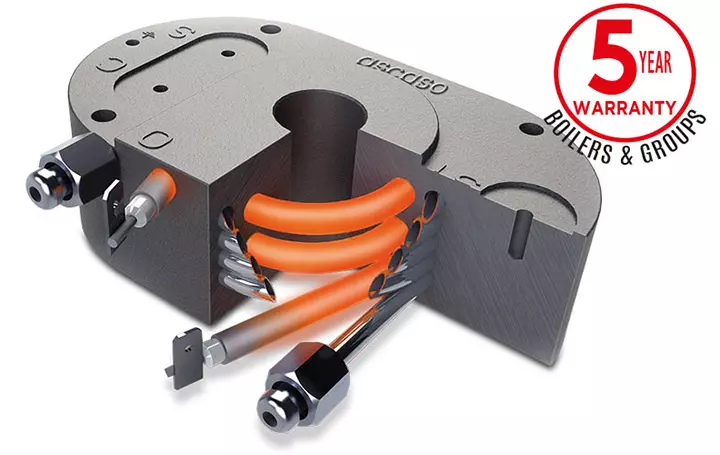 Lever coffee machine with one circuit, thermoblock
The coffee maker has a single thermoblock that primarily heats up to the temperature for making coffee. To use steam, it is necessary to switch to steam, i.e. to activate the temperature rise of the system. You have to wait for the system to heat up and generate sufficient steam. You can then use the steam to whisk the milk. Once the milk has been whipped, you have to go through the process again back to cool down in espresso mode.
Compared to coffee machines with two circuits, you save money due to the lower purchase price, but you have to wait for the steam and cool/air again after use. So time-wise, this machine is not very comfortable for cappuccino preparation (you will linger here for 1,5 to 2 minutes compared to a two-circuit machine). Therefore, this coffee maker is an ideal choice for black coffee lovers, espresso drinkers who occasionally have coffee with milk foam.
Parameters
| | |
| --- | --- |
| Automatic cleaning | No |
| Colour | |
| Boiler | Thermoblock |
| Cappuccino in one squeeze | No |
| Pump | Vibrating |
| Dosage | Manual |
| Daily capacity of the coffee machine | 20 |
| Display | No |
| Functions of the coffee machine | Cool touch nozzle, Two cups at a time, Manual cleaning |
| Coffee machine head | Round head |
| Material | Aluminium, Stainless steel |
| Boiler material | Stainless steel, Aluminium |
| Coffee bean grinder | No |
| Voltage | 230V |
| Number of boilers | 1 |
| Number of heads | 1-lever |
| Power input (W) | 1050 |
| Prepared drinks | Americano, Caffè latte, Cappuccino, Espresso, Hot water for tea, Lungo, Warm milk |
| Tag | Small, Retro, Standard |
| Pressure (bar) | 20 |
| Basic functions | Steam nozzle |
| Water tank (l) | 1,3 |
| Source of water | Tank |
Alternative products (3)
| | |
| --- | --- |
| Boiler | Thermoblock |
| Dosage | Configurable |
| Daily capacity of the coffee machine | 20 |
| | |
| --- | --- |
| Boiler | Thermoblock |
| Dosage | Configurable |
| Daily capacity of the coffee machine | 20 |
| | |
| --- | --- |
| Boiler | Thermoblock |
| Dosage | Configurable |
| Daily capacity of the coffee machine | 20 |