Ascaso Dream PID Love Red
Ascaso Dream PID Love Red
-5%
1 436 points to the loyalty system
---
You love retro design and want the best of modern technology in a coffee machine. Do you want thermal stability, strong steam, quality material, size, but also the ability to adjust the temperature in one degree at a time? The Ascaso Dream PID lever coffee machine will meet all your expectations. More
Product code: 2807 Shipping options
Standard price
1 518,80 €
.
Save
5%
(82,10 €)
1 436,70 €
You love retro design and want the best of modern technology in a coffee machine. Do you want thermal stability, strong steam, quality material, size, but also the ability to adjust the temperature in one degree at a time? The Ascaso Dream PID lever coffee machine will meet all your expectations. More
Product code: 2807 Shipping options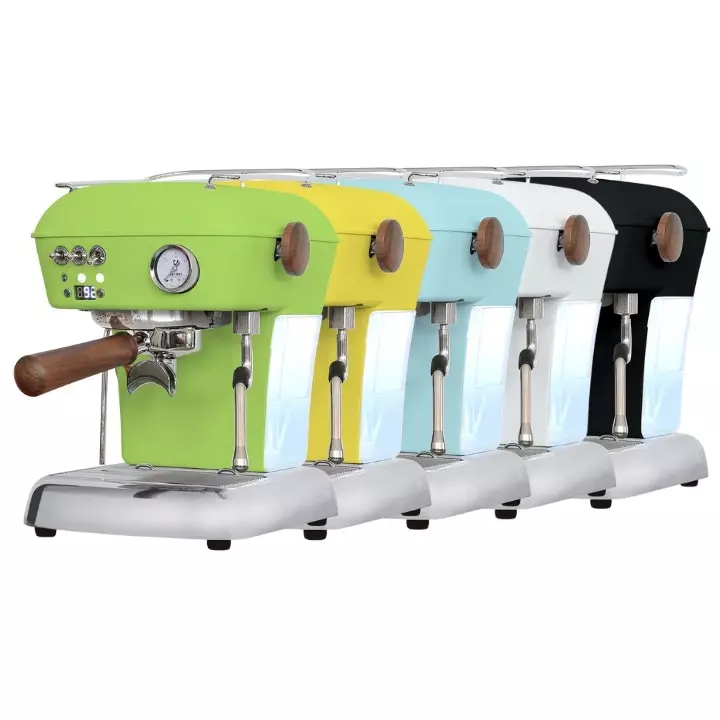 Retro coffee machine made of the highest quality material
Dream coffee machines are made of high quality aluminium. The use of plastic on this coffee machine is really minimal, which emphasises its quality. After a preparatory polishing, a layer of high-quality lacquer is applied to the coffee machine, which is also used, for example, in Formula 1. The lacquer is available in 15 different colours and 3 finishes, such as: gloss, matt and hand-finishing.
Each part of the coffee machine is hand polished separately, so each part is literally a work of art. Any slight irregularity is proof of that. The lifetime of the machine is significantly increased thanks to the stainless steel parts of the system, where there is much less limescale build-up.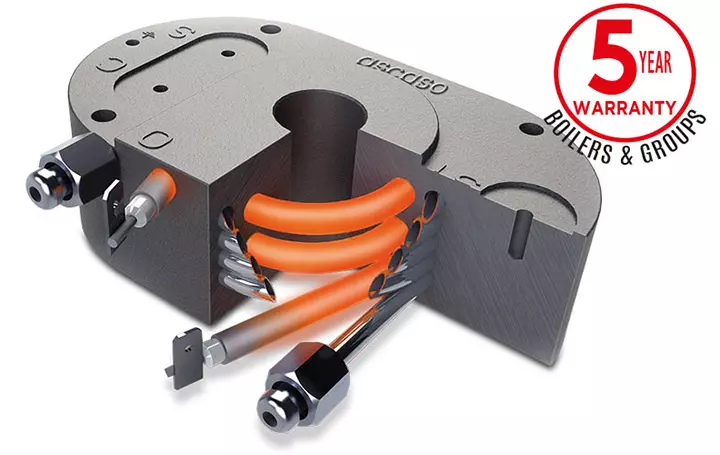 Lever coffee machine with 1 circuit, thermoblock
The coffee maker has a single thermoblock and primarily heats up to coffee brewing temperature. To use steam, the coffee maker must be switched to steam and the temperature increase activated. At the same time, it is necessary to wait for the system to heat up and generate sufficient steam. You can then use the steam to whisk the milk. Then you must switch the system to espresso mode again to cool it down.
Single-barrel machines have a lower purchase price and, in combination with PID control, achieve a stable temperature. The main negative is waiting for the cooling/deaeration process. This is time-consuming for cappuccino preparation, where we linger for about 1.5 to 2 minutes compared to two circuits. Therefore, this coffee machine is the ideal choice for black coffee lovers, espresso drinkers who occasionally have coffee with milk foam.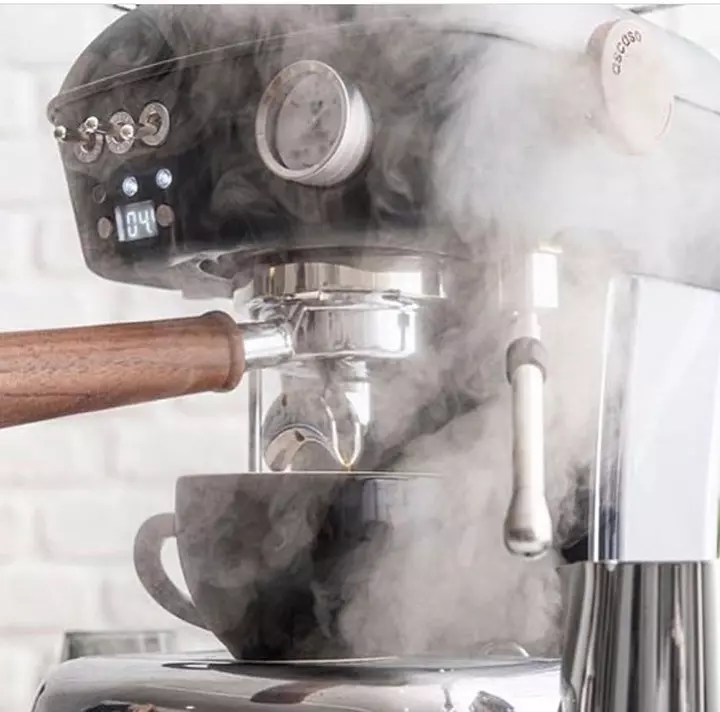 PID temperature control
With the electronic temperature control and PID control, you are able to set the temperature on the coffee maker in one degree increments, choose the sleep mode transition setting, set the coffee batch dispensing timer, set the pre-brew time from 9 to 5 seconds, display with error indication.
At the same time, thanks to the electronic steam control, you can ensure that the correct amount of water enters the heating system based on the temperature of the system, not the amount of water. The correct temperature is controlled by switching the pump frequency.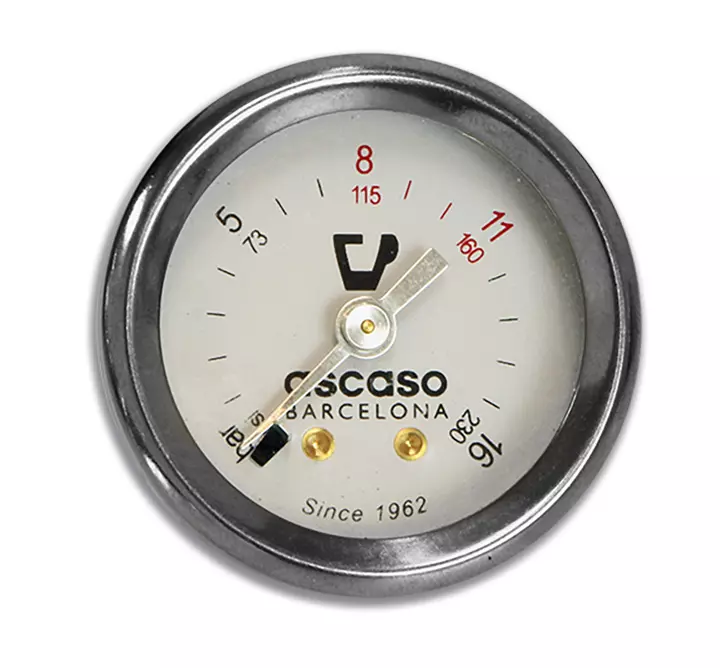 The extraction time is key in espresso
Extraction time is extremely important when making coffee . It is simply the time the coffee is in contact with the water. Generally speaking, the extraction time for espresso is between 20 and 30 seconds. When making espresso from light roast coffee, the extraction time can be between 30 and 40 seconds.
It is useful to monitor the extraction time when making espresso, which is why the more equipped machines have a display where baristas and ordinary users can see this indicator. With the Ascaso Dream PID lever espresso machine, they have the luxury of knowing how long it takes to extract.
Parameters
| | |
| --- | --- |
| Automatic cleaning | No |
| Colour | |
| Boiler | Thermoblock |
| Cappuccino in one squeeze | No |
| Pump | Vibrating |
| Dosage | Configurable |
| Daily capacity of the coffee machine | 20 |
| Display | No |
| Functions of the coffee machine | Cool touch nozzle, Two cups at a time, Manometer, Manual cleaning, Temperature setting, PID |
| Coffee machine head | Round head |
| Material | Aluminium, Stainless steel |
| Boiler material | Stainless steel, Aluminium |
| Coffee bean grinder | No |
| Voltage | 230V |
| Number of boilers | 1 |
| Number of heads | 1-lever |
| Power input (W) | 1100 |
| Tag | Small, Retro, Standard |
| Pressure (bar) | 9 |
| Boiler size (l) | 1,3 |
| Basic functions | Steam nozzle |
| Water tank (l) | 1,3 |
| Source of water | Tank |
Download
Some prefer style, others like function. Those who want both will get an Ascaso coffee machine. These colourful little darlings from Spain make great espresso and cappuccino and are a joy to behold. Look at that!
Alternative products (3)
| | |
| --- | --- |
| Boiler | Thermoblock |
| Dosage | Configurable |
| Daily capacity of the coffee machine | 20 |
| | |
| --- | --- |
| Boiler | Thermoblock |
| Dosage | Configurable |
| Daily capacity of the coffee machine | 20 |
| | |
| --- | --- |
| Boiler | Thermoblock |
| Dosage | Configurable |
| Daily capacity of the coffee machine | 20 |