1 262 points to the loyalty system
---
Looking for a sturdy lever coffee maker for your home or office that can withstand almost anything? Do you want thermal stability, strong steam, quality materials and a coffee machine with a single thermoblock? The designer coffee machine Ascaso Steel Uno Black will be the ideal companion for you. More
Product code: 345 Shipping options
Looking for a sturdy lever coffee maker for your home or office that can withstand almost anything? Do you want thermal stability, strong steam, quality materials and a coffee machine with a single thermoblock? The designer coffee machine Ascaso Steel Uno Black will be the ideal companion for you. More
Product code: 345 Shipping options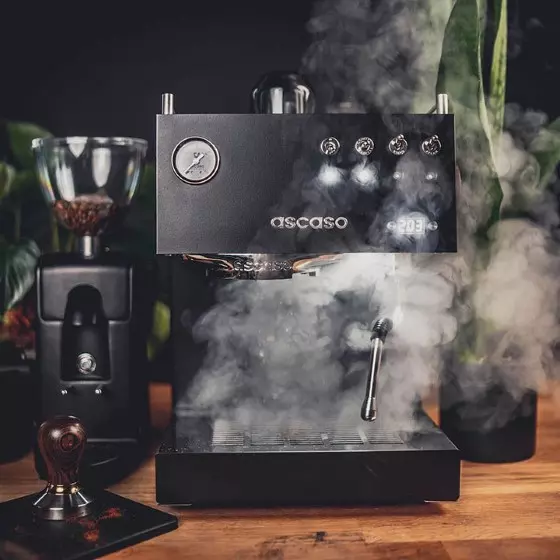 The highest quality material has been used for the robust coffee machine
High-quality aluminium and stainless steel are used to manufacture the Ascaso STEEL coffee machine . These two metals dominate the coffee maker, so you don't have to worry about accidentally denting the plastic. Plastic has been used minimally for the production of the coffee maker.
The lever coffee maker is larger and heavier than the Dream series, so it will hold firmly in its intended place. Due to the stainless steel parts in the steam system, there is minimal limescale build-up. The switches and led indicator lights are made of high quality metal and give the coffee maker a very nice look as well.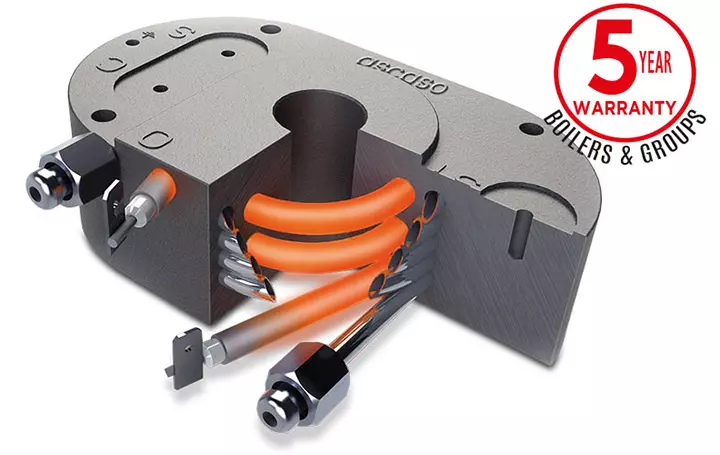 Lever coffee machine with 1 circuit, electronic thermostat
The STEEL UNO Black coffee machine has one circuit. To use steam, you must therefore switch the coffee machine to steam and activate the temperature rise. The system must heat up and generate a sufficient amount of steam. Back to espresso, it is again necessary to switch and wait for the system to cool down.
Single thermoblock coffee machines have a lower purchase price and use an electric thermostat to achieve a stable temperature. Less positive is the fact that you have to wait for the cooling/venting process. It will delay you for about 1.5 to 2 minutes compared to two circuits. Therefore, this coffee maker is mainly for black coffee and espresso lovers who rarely have a cappuccino.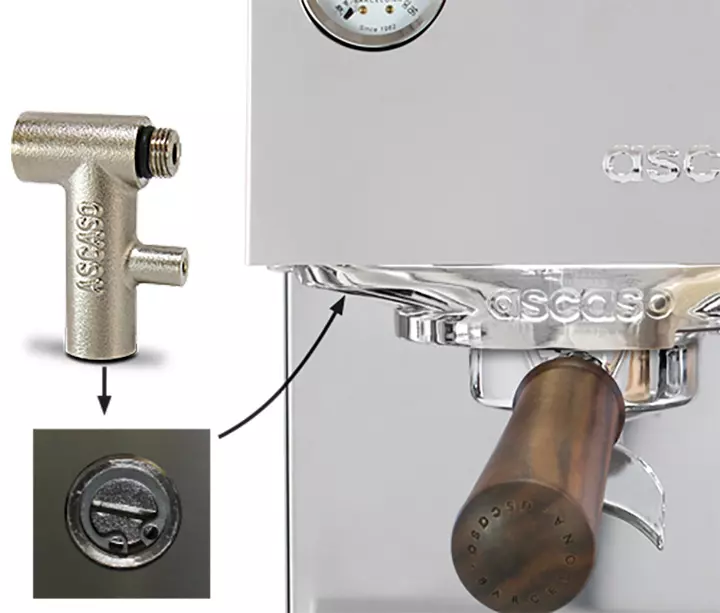 Coffee machine for home and office use with vibrating pump
Thevibrating pump is the most common type of pump in home, lever and automatic coffee machines. It is a significantly cheaper technology than a professional rotary pump. The optimum pressure for espresso preparation is approximately 9 bar and for vibrating pumps we calibrate to approximately 10-11 bar.
However, vibrating pumps come from the factory with a capacity of approximately 15-20 bar. So how do you get the machine to be set to the desired lower pressure? By using the OPV pressure relief valve that every coffee machine with this type of pump must include. A vibrating pump is noisier than a rotary and a coffee machine with a vibrating pump and cannot be connected directly to the water supply line. However, for home and office use, this is not that necessary.
Parameters
| | |
| --- | --- |
| Automatic cleaning | No |
| Colour | |
| Boiler | Thermoblock |
| Cappuccino in one squeeze | No |
| Pump | Vibrating |
| Dosage | Manual |
| Daily capacity of the coffee machine | 40 |
| Display | No |
| Functions of the coffee machine | Cool touch nozzle, Two cups at a time, Manual cleaning |
| Coffee machine head | Round head |
| Material | Aluminium, Stainless steel |
| Boiler material | Stainless steel, Aluminium |
| Coffee bean grinder | No |
| Voltage | 230V |
| Number of boilers | 1 |
| Number of heads | 1-lever |
| Power input (W) | 1050 |
| Tag | Standard |
| Pressure (bar) | 9 |
| Basic functions | Steam nozzle |
| Water tank (l) | 2 |
| Source of water | Tank |
Download
Alternative products (3)
| | |
| --- | --- |
| Boiler | Thermoblock |
| Dosage | Configurable |
| Daily capacity of the coffee machine | 20 |
| | |
| --- | --- |
| Boiler | Thermoblock |
| Dosage | Configurable |
| Daily capacity of the coffee machine | 20 |
| | |
| --- | --- |
| Boiler | Thermoblock |
| Dosage | Configurable |
| Daily capacity of the coffee machine | 20 |