Asobu Skinny Mini 230 ml pink
Asobu Skinny Mini 230 ml pink
23 points to the loyalty system
---
This pink Skinny Mini, also known as "the Lady Flask", is a thermos designed for ladies, ladies, ladies and their daily drinking - i.e. coffee regime. When there's nothing left, you can pour tea into it too. In any case, the drink inside keeps its temperature perfectly and does not leak out of the closed thermos. More
Product code: 1526 Shipping options
This pink Skinny Mini, also known as "the Lady Flask", is a thermos designed for ladies, ladies, ladies and their daily drinking - i.e. coffee regime. When there's nothing left, you can pour tea into it too. In any case, the drink inside keeps its temperature perfectly and does not leak out of the closed thermos. More
Product code: 1526 Shipping options
Elegant Thermo Bottle: Asobu Skinny Mini - pink
✓S tainless steel thermo bottle with dual shell
✓ double insulating layer made of copper
✓ compact shape with Ø 5 cm
✓ capacity for 230 ml of beverage
✓ with practical hangingloop
✓ Leak-proof sealing cap
✓ available in black, white, grey, turquoise and floral pattern
✓ winner of our thermos temperature stability test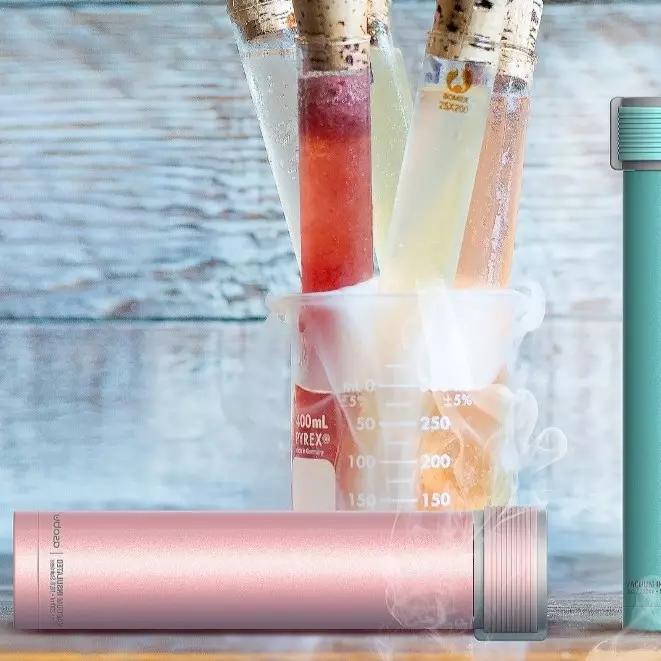 Asobu Skinny Mini in pink fits in hand and purse
We still don't know how to magically fit an entire latte into such a small thermos. But we do know it'll stay warm for hours. During our test, the drink inside was still over 75°C after 2 hours. And so this thermos bottle from Asobu took first place in the discipline of maintaining temperature stability out of all our thermoses and thermo mugs.
The temperature retention is ensured by a double-walled stainless steel shell with double copper insulation. That's enough layers to ensure your hot coffee stays hot. But also, the ice cubes in the Summer Cold Brew won't melt before you take the time to enjoy your caffeinated refreshment. The perfectly sealing lid is designed to keep your drink inside at all times, so the thermos won't leak into your purse.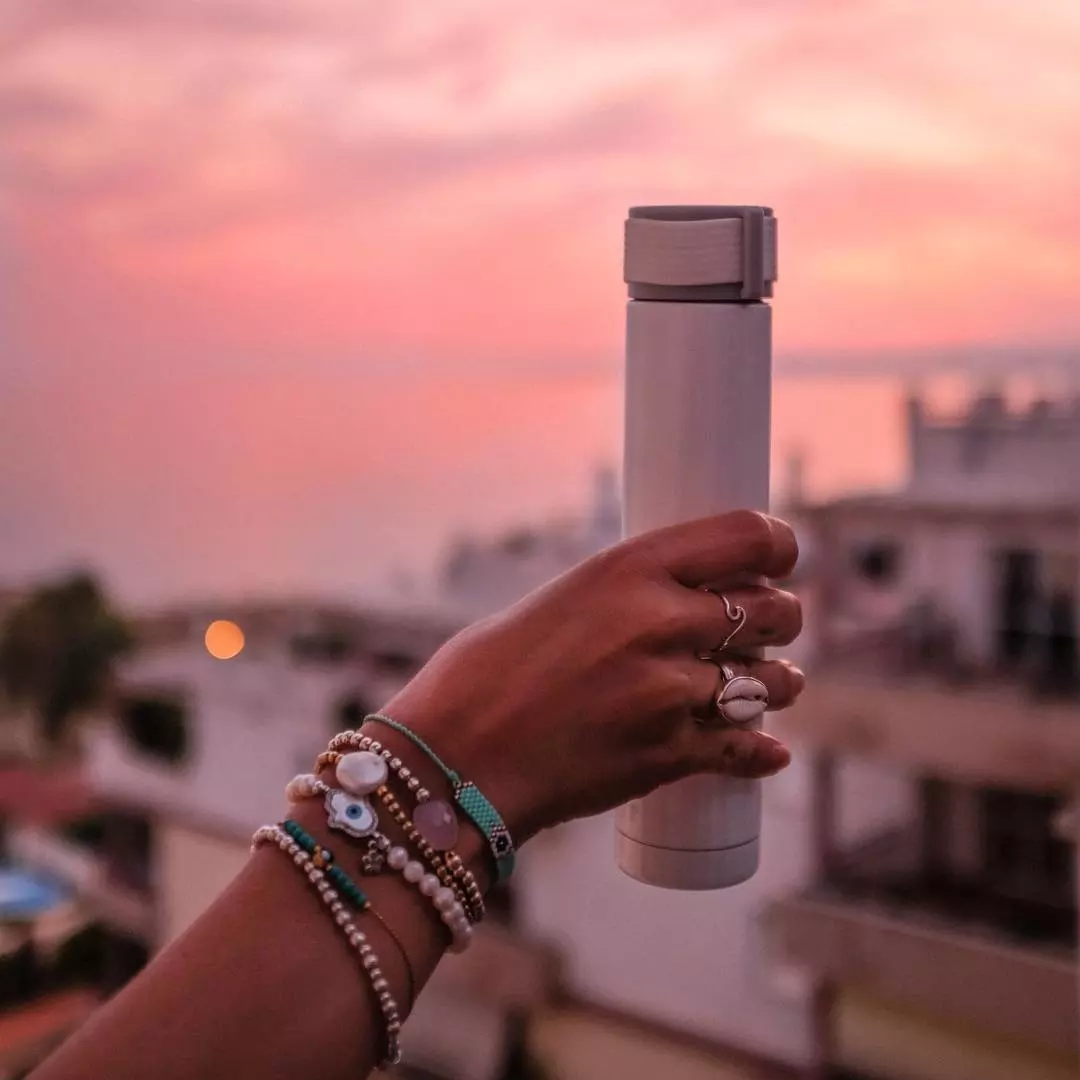 Every step of the way with the pink coffee thermos from Asobu
As pretty as it is pretty, it's practical. The stunning colours and designs of the Skinny Mini thermoses will have you wrapped around their finger at first sight. You can then wrap your fingers around it. This handy thermo bottle has a colorful strap on the lid to make it comfortable to carry. When you're rushing to a meeting with your laptop, overstuffed diary and three binders in your arms, you don't have to say goodbye to coffee. Sling the Skinny Mini over your wrist and you're good to go.
The incredibly slim thermos from Asobu fits everywhere. For example, you'll keep it handy in the door compartment of your car when you're driving. The Skinny Mini is a pocket-sized thermo bottle. It holds up to 230 ml of drink at a time. Just magical. At home, just wash it in the sink and it's ready for a new day at work with a coffee in hand.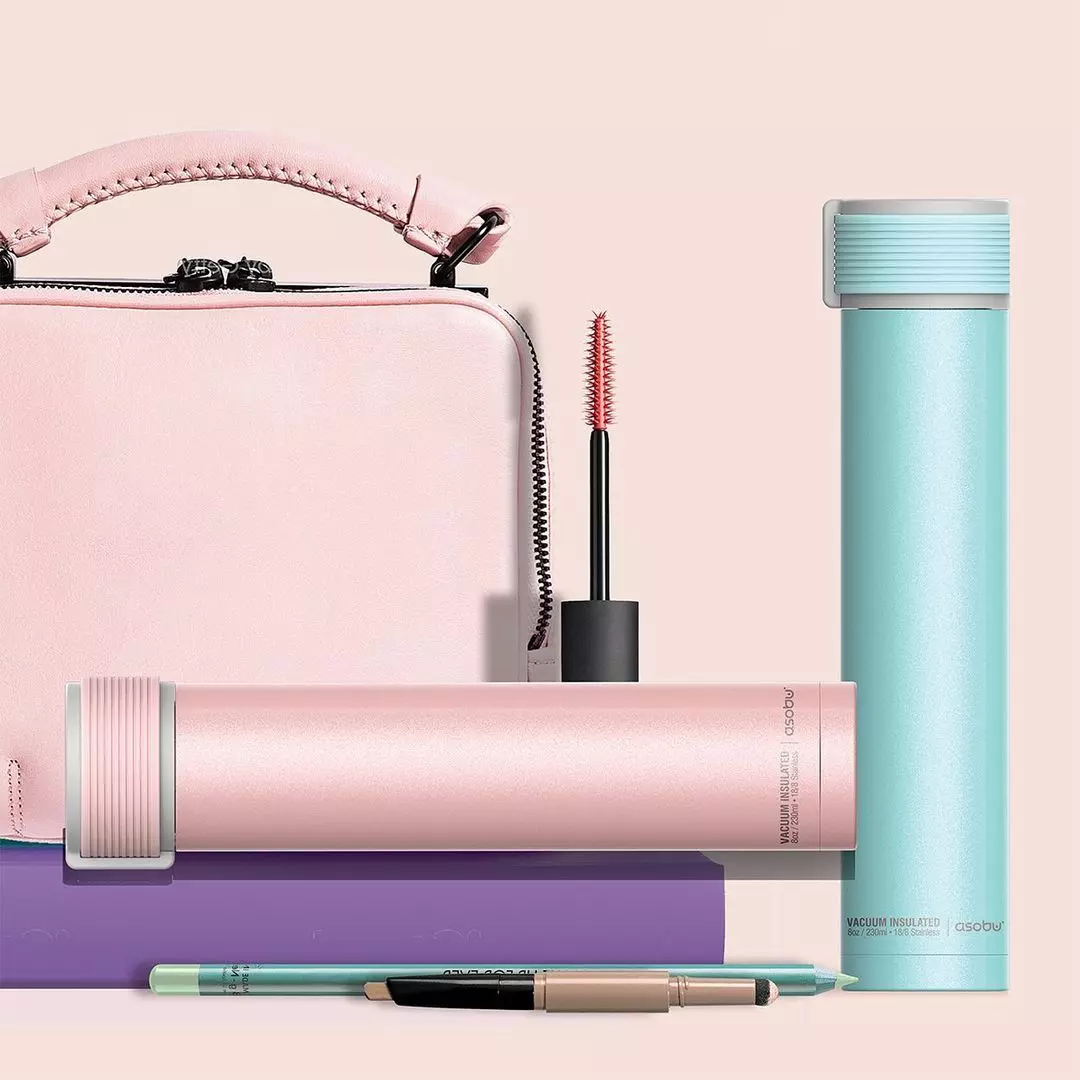 Parameters
| | |
| --- | --- |
| Colour | |
| Material | Stainless steel |
| Volume | 230 ml |
| Features of the thermo mug | 100% sealing, Organic, Thermos, Suitable for stroller |