Barista & Co Core Coffee Press Cooper 350 m
Barista & Co Core Coffee Press Cooper 350 m
-5%
35 points to the loyalty system
---
Pink French press with a volume of 350 ml for easy coffee preparation. Coffee preparation in a French press is one of themost popular methods. French press is really variable, you can prepare coffee or loose tea in it . And once you've finished your coffee or tea, you can use the French press as a classic water pot. There are no limits to the imagination. More
Product code: 865 Shipping options
Product is no longer available
Pink French press with a volume of 350 ml for easy coffee preparation. Coffee preparation in a French press is one of themost popular methods. French press is really variable, you can prepare coffee or loose tea in it . And once you've finished your coffee or tea, you can use the French press as a classic water pot. There are no limits to the imagination. More
Product code: 865 Shipping options
Product is no longer available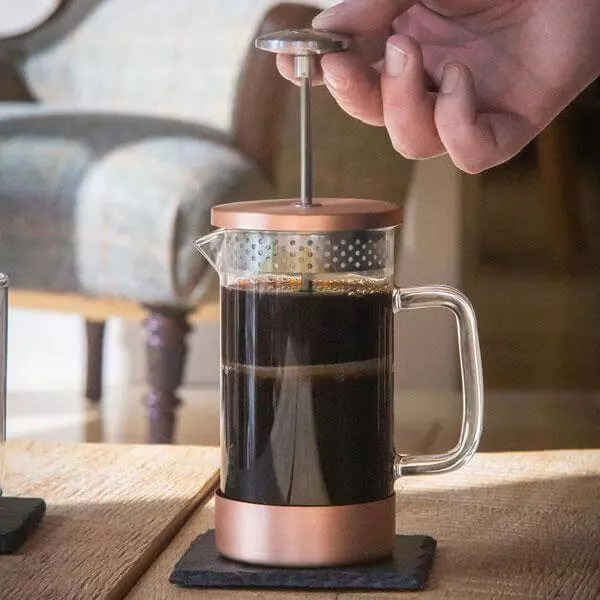 French press in pink for coffee and tea
The French press has become popular mainly because you can prepare both delicious coffee and your favourite tea easily and conveniently. You simply pour the loose tea into the French press and pour hot water over it, let it steep for a certain amount of time according to the instructions and then press the French press down. With coffee, it's a little more challenging, but all the more delicious. Grind your coffee more coarsely, about like crystal sugar. If the coffee is too fine, there would be a problem with filtration. Generally we use per 300 ml of water, 18 g of coffee. Pour the coffee into the bottom of the French press and cover with just a little water so that the coffee can bloom and all the flavours and aromas can develop. After 30 seconds, top up with the rest of the water and leave to infuse for 3-4 minutes. Then press the plunger of the French press down and the coffee is ready. For a more detailed description, visit our coffee blog.
Putting the environment first
The Barista&Co brand focuses on lifestyle and wants to convey the same to its products. The French press is therefore made from sustainable and degradable materials. You don't have to worry about putting the French press in the dishwasher. The glass is made of borosilicate glass and is heat-resistant. The French press is made completely without plastic. Barista&Co has used only glass and stainless steel to make the French press.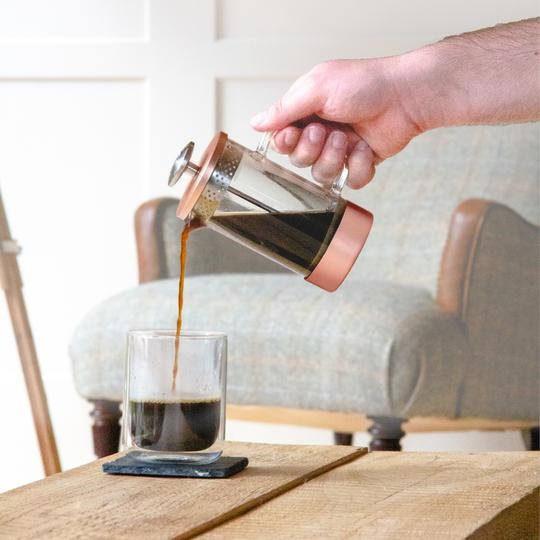 Parameters
| | |
| --- | --- |
| Colour | |
| Material | Stainless steel, Glass |
| Maximum number of cups | 3 |
| Volume | 350 ml |
Alternative products (3)