Barista & Co Dial In Milk Pitcher 600 ml cooper
Barista & Co Dial In Milk Pitcher 600 ml cooper
26 points to the loyalty system
---
Milk whisking jug in brass pink for all baristas and baristas. Thanks to the ergonomic handle, latte art will be at your fingertips. The teapot also has measuring cups inside, which are great for telling you how much more milk you need and when you've had enough. A teapot that will look like a great accessory, but you'll love its practicality even more. More
Product code: 1390 Shipping options
Milk whisking jug in brass pink for all baristas and baristas. Thanks to the ergonomic handle, latte art will be at your fingertips. The teapot also has measuring cups inside, which are great for telling you how much more milk you need and when you've had enough. A teapot that will look like a great accessory, but you'll love its practicality even more. More
Product code: 1390 Shipping options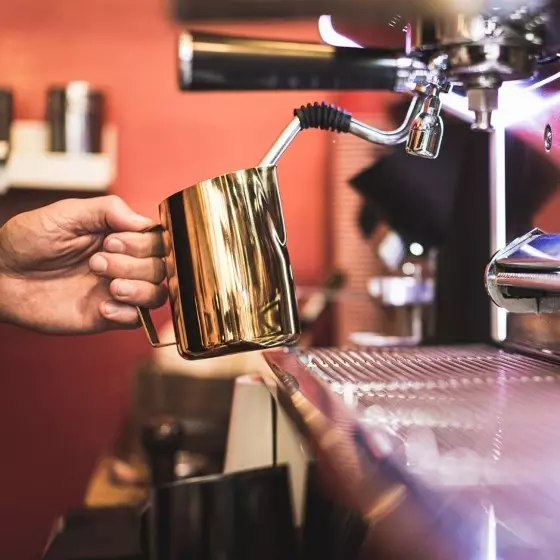 Pink milk jug Barista & Co
The Barista & Co brand has in its name that it is dedicated to the production of special products for baristas. This teapot is a professional standard. When it comes to latte art, all baristas know that the whisking teapot matters a lot in terms of what their end result will be. It depends on its weight, its detail or even its grip. Thanks to its sophistication, you'll really love it. The spacious ergonomic handle in the same design will ensure that you hold the teapot correctly and therefore get perfectly whipped milk for your cappuccino. The premium stainless steel looks elegant while adding durability that will last. The sophisticated milk spout ensures that the milk really does flow where it should and doesn't stain anything around it. This teapot will help you on your way to your perfect latte art that all cappuccino and flat whip lovers will enjoy. With premium materials, the Barista & Co Dial in Milk Pitcher is the new standard in the professional barista world.
Barista & Co.
Dishwasher safe - the Milk Pitcher is made from stainless steel and titanium, giving a beautiful and durable finish. This makes it able to handle everyday use
Accurate milk volume - thanks to the measuring cups, you won't have to spill milk unnecessarily. The slanted opening allows you to see the internal measuring marks when the nozzle is in the jug. This ensures the correct volume of milk for whisking.
Accuracy in latte art - the teapot is specially designed to ensure accuracy when pouring milk over the coffee and nothing ends up wrong. The sharp beak will help you on your way to perfect latte art.