Barista & Co Pro milk jug 620 ml copper
Barista & Co Pro milk jug 620 ml copper
29 points to the loyalty system
---
The Barista & Co Procopper milk churn for true professionals. Designed in collaboration with six-time latte art master Dhan Tamang. 620 ml capacity. More
Product code: 5729 Shipping options
The Barista & Co Procopper milk churn for true professionals. Designed in collaboration with six-time latte art master Dhan Tamang. 620 ml capacity. More
Product code: 5729 Shipping options
Copper milk jug Barista & Co Pro 620 ml
✔️ the teapot for true professionals
✔️ designed in collaboration with Dhan Tamang
✔️ ergonomic handle helps precision
✔️ made of durable medical grade stainless steel
✔️ measuring cup on the inside
✔️ handmade using a steel press
✔️ elegant copper design
✔️ easy maintenance
✔️ 620 ml capacity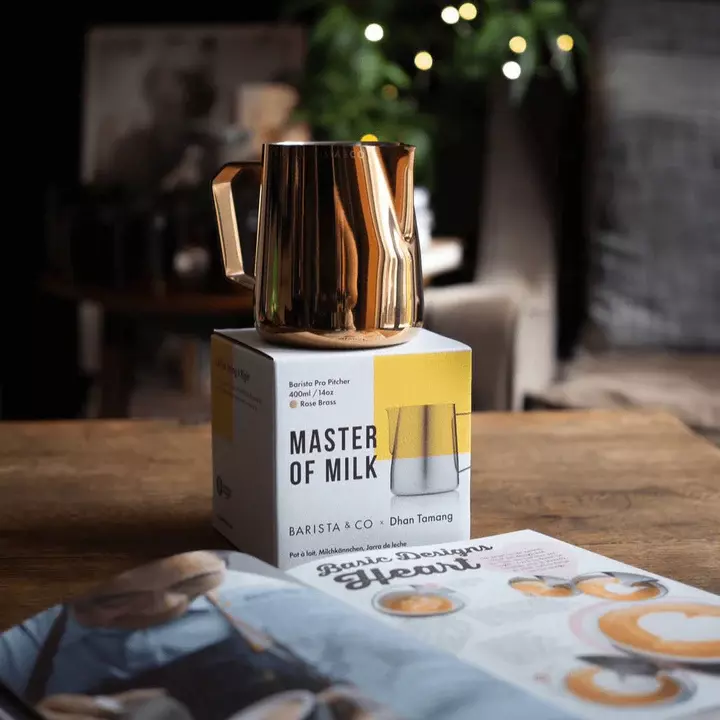 Teapot designed by the master of latte art himself
The Barista & Co Pro professional milk whisking teapot was designed in collaboration with six-time latte art champion Dhan Tamang. He customises and adapts his teapots himself. And Barista & Co Pro is based on these Dhan's customised teapots.
The teapot has a special ergonomic handle for easier and more precise pouring, which is perfectly matched to the pouring beak with a guaranteed accuracy of 0.1 mm. There is also a measuring cup inside to ensure accuracy when pouring milk.
To maintain authenticity, each piece is handmade using a steel press. The teapot is made from high quality durable surgical steel and is a faithful replica of Dhan's handmade teapots.