Barista Space Coffee Tamper Black 58 mm
Barista Space Coffee Tamper Black 58 mm
54 points to the loyalty system
---
The foundation of a good tasting espresso is proper tamping. The golden tamper from Barista Space will not only adorn your coffee bar, but will help you to perfect your espresso. Make the best coffees under the sun with a golden tamper. More
Product code: 1894 Shipping options
The foundation of a good tasting espresso is proper tamping. The golden tamper from Barista Space will not only adorn your coffee bar, but will help you to perfect your espresso. Make the best coffees under the sun with a golden tamper. More
Product code: 1894 Shipping options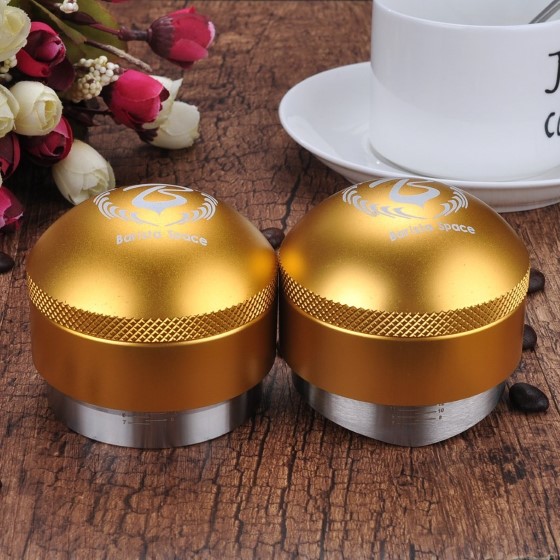 Even better extraction
The popular brand among coffee lovers Barista Space comes with a beautiful tamper. The tamper can be adjusted in height and you can get an even extraction of your espresso. This is a gadget that will make your espresso just a hair better than before. It's the perfect tool for every café and every barista. The diameter of the base is 58 mm. The adjustable tamper is made of stainless steel and aluminium with a non-slip design. The tamper allows you to adjust the distance between the base and the handle depending on the coffee dose you are currently using.
Tampering - the basis for great espresso
The tamper is used to seal the coffee in the cup. The portafilter needs to create a straight puck to make the coffee brewing perfect. Good tasting coffee is the result of good tamping. The tamper belongs inseparably to the work of the profeison and amateur barista. When you use the tamper correctly, you will be rewarded with a perfect tasting espresso. And that's what everyone wants.
How to use the Barista Space tamper
Parameters
| | |
| --- | --- |
| Colour | |
| Compatibility coffee maker | Lelit Glenda PL41PLUS, Lelit Glenda PL41PLUST, Lelit Victoria PL91T, Lelit Elizabeth PL92T, Lelit Mara PL62X, Lelit Mara PL62T, Lelit Bianca PL162T, Lelit Kate PL82T, Rancilio Silvia E, Rocket Espresso Giotto Cronometro, Rocket Espresso R 58 Cinquantotto, Rocket Espresso Appartamento, Rocket Espresso Mozzafiato Cronometro, Rocket Espresso R 60V, Rocket Espresso R NINE ONE, Ascaso Dream One, Ascaso Dream PID, Ascaso Steel Uno PID, ECM Casa, ECM Classics, ECM PID Puristics, ECM Mechanics V Slim, ECM Mechanics IV Profi, ECM Technika V Profi PID, ECM Electronics II Profi, ECM Synchronics, Rancilio Silvia Pro, Gaggia New Classic, Nuova Simonelli Aurelia, Nuova Simonelli Appia Life, Nuova Simonelli Oscar II, Victoria Arduino Black Eagle, Victoria Arduino White Eagle, Nuova Simonelli Oscar I, Nuova Simonelli Aurelia Wave, Victoria Arduino Atom Prima One 65, Rancilio Silvia Pro X, Ascaso, Astoria, Bezzera, Bfc, Brasilia, Carimali, Conti, E61, ECM, Electricity, Expobar, Faema, Gaggia, Grimac, Isomac, La Marzocco, La Scala, Nuova Simonelli, Rancilio, Rocket Espresso, VFA, Victoria Arduino, Wega, La Marzocco GB5, La Marzocco FB80, La Marzocco PB, La Marzocco Strada EP, La Marzocco GS3, La Marzocco Linea, La Marzocco FB79 |
| Average | 58 mm |