Barista Space digital scale
Barista Space digital scale
106 points to the loyalty system
---
The stylish, high-precision digital barista scale with timer is suitable for everyday use. It impresses not only with its appearance, but also with its reliability. It weighs to an accuracy of 0.1 grams, which you will appreciate not only when making espresso. More
Product code: 1895 Shipping options
The stylish, high-precision digital barista scale with timer is suitable for everyday use. It impresses not only with its appearance, but also with its reliability. It weighs to an accuracy of 0.1 grams, which you will appreciate not only when making espresso. More
Product code: 1895 Shipping options
What makes the Barista Space digital scale special?
✓ The digital scale is simple to operate, with only two buttons.
✓ Weighs to the nearest 0.1 gram.
✓ Maximum weight is 3 kg.
✓ It has an integrated stopwatch and a backlit display.
✓ The design and size is adapted to suit the portafilter.
✓ Powered by 3 AAA batteries or by USB (cable included).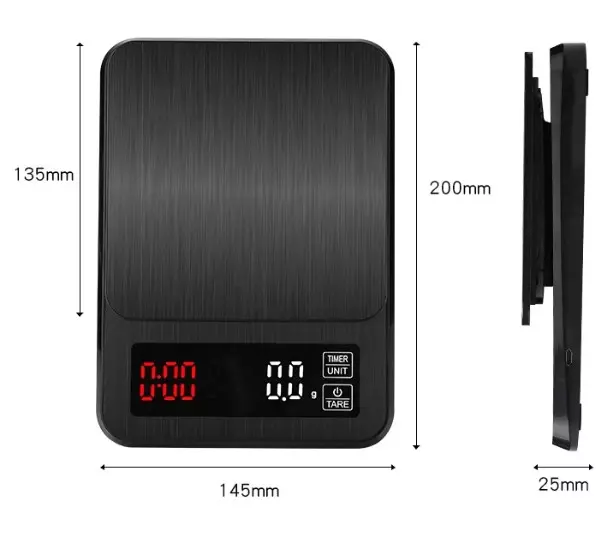 Scale with stopwatch - the indispensable partner of every barista
The coffee scale is an essential piece of barista equipment. By weighing and measuring accurately, you will ensure that every espresso is equally delicious and full of flavour.
Easy to use, only two buttons
The Barista Space is easy to use because it is operated with just two buttons. The first is for weighing and changing units, the second button is the stopwatch.
Precise measurement and backlit display
The digital scale has an accurate, easy-to-use display equipped with a stopwatch. The size of the scale is adapted to fit the portafilter and most other accessories for alternative coffee preparation. The backlit display is especially appreciated in low light conditions.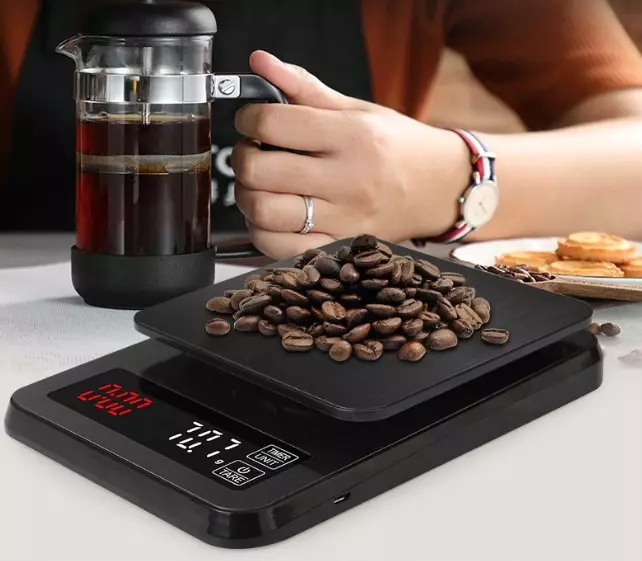 Why buy a barista digital scale with timer?
In order to maintain the consistent quality of each cup of coffee, the ground coffee must be dosed accurately into the portafilter. Even the slightest deviation will affect the outcome of the drink.
Even the most experienced barista cannot do without precise weighing and measuring.
Moreover, thanks to accurate weighing, you will avoid waste and unwanted loss of flavour and coffee quantity.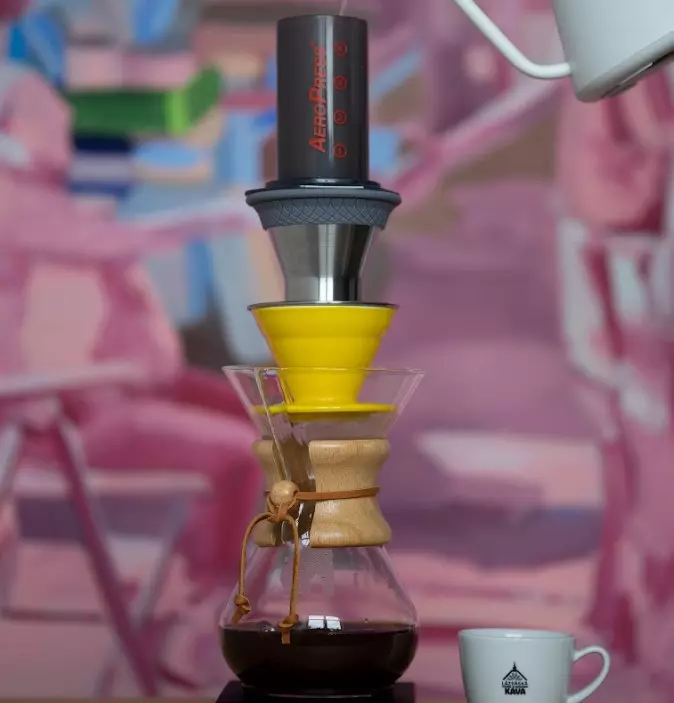 The barista scale is an integral part of the barista's equipment. You can practically do without it when preparing espresso, it is also almost indispensable for the correct preparation of alternative methods. There are plenty of them on the market, they have different functions and also range in price. What to look for when choosing a barista scale and what is the best one for a café or, conversely, for the home? That's what I'll tell you in today's article.