Bialetti Moka Timer 6 cups
Bialetti Moka Timer 6 cups
-14%
123 points to the loyalty system
---
Electric moka pot for convenient preparation of excellent coffee. You don't need a stove for a moka pot. An electrical socket will suffice. The moka kettle can keep coffee hot for 30 minutes after brewing. The coffee will brew itself in this moka kettle. Don't believe it? Then read on. More
Product code: 1379 Shipping options
Standard price
143,30 €
.
Save
14%
(19,80 €)
123,50 €
Electric moka pot for convenient preparation of excellent coffee. You don't need a stove for a moka pot. An electrical socket will suffice. The moka kettle can keep coffee hot for 30 minutes after brewing. The coffee will brew itself in this moka kettle. Don't believe it? Then read on. More
Product code: 1379 Shipping options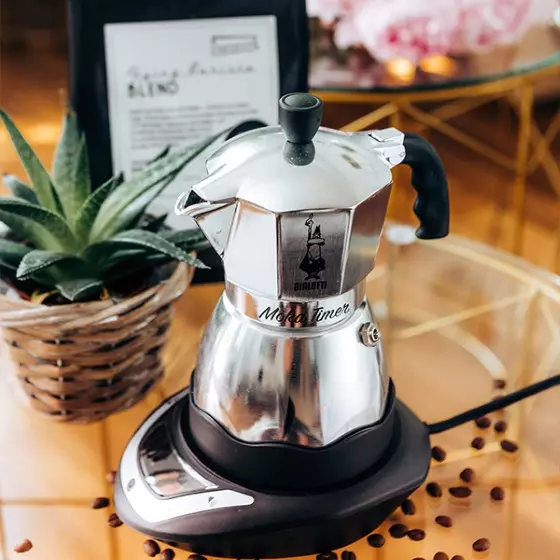 Make great coffee wherever you want
Theelectric mocha pot for all espresso lovers. The moka pot includes a hotplate on which the coffee is prepared. So you don't need a gas cooker, but just a socket. The moka kettle is thus suitable for example for cottages or for example for camping, where you have no stove, but only an electric socket. Now you can enjoy your favourite cup of coffee really anywhere. As soon as your coffee is ready, the moka pot will remind you with an acoustic signal. The moka pot is made of traditional aluminium.
Convenient and fast coffee preparation
Making coffee in this moka pot is even easier than usual. The moka pot has an automatic shut-off function once the coffee is brewed. So you don't have to worry if you happen to be in the bathroom in the morning that your coffee will burn and ruin the moka pot. The moka kettle has two switching options:
Manual start - you make coffee as usual, except that the moka kettle switches itself off when the coffee is brewed and then keeps the coffee warm for 30 minutes.
Programmed start - you can set when the coffee starts brewing and have it ready for breakfast in the morning. Can you smell the aroma as soon as you step out of bed?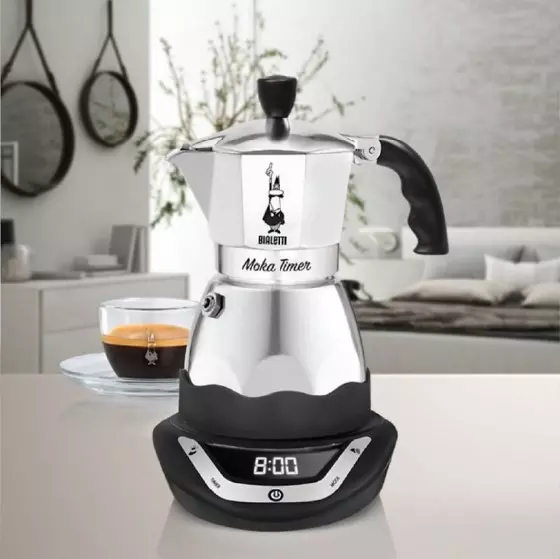 Parameters
| | |
| --- | --- |
| Colour | |
| Volume | 300 ml |
| Material | Stainless steel |
| Maximum number of cups | 6 |
| Heating source | Electricity |