Brewista Artisan Candy Green 1,0 l
Brewista Artisan Candy Green 1,0 l
225 points to the loyalty system
---
TheBrewista Artisan Gooseneck is a special gooseneck kettle with which you can brew the best coffee. It combines functionality with elegant design. With a capacity of 1000ml, it will make several cups in one go. More
Product code: 5067 Shipping options
TheBrewista Artisan Gooseneck is a special gooseneck kettle with which you can brew the best coffee. It combines functionality with elegant design. With a capacity of 1000ml, it will make several cups in one go. More
Product code: 5067 Shipping options
Simple functional control
This uniquely designed kettle has a digital base. This allows you to control the water temperature to within one degree (from 40 to 100 degrees Celsius). With a single button, you can decide whether the temperature is displayed in Celsius or Fahrenheit. A special Keep Warm function allows you to maintain the temperature for up to one hour. After this time, it automatically switches off for safety reasons.
Because time is of the essence
The kettle is cleverly equipped with a stopwatch, so you'll be in control of your watering time. And if you're in a hurry, you'll definitely find the super boil function handy, which is used to heat the water faster. The touch panel is made of toughened tempered glass, which is very easy to use. The touch buttons are nicely backlit to accentuate the overall design and quality of the kettle.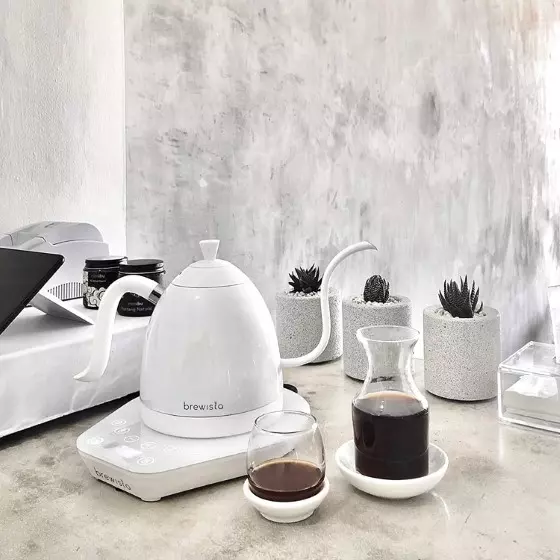 A quality kettle for the ages
TheBrewista Artisan Variable Temperature Kettle is a specialty kettle that allows you to brew the best coffee. It combines functionality and unusual design. Its 1 litre capacity allows you to heat up more water than for a single serving. It has been made of durable stainless steel, making the kettle durable and able to serve for many years.
An elegant addition
This kettle is not only a functional piece, but will also be a very elegant addition to your kitchen. Its wooden details are sure to please your eye. In addition, the wooden ergonomic handle is very easy to hold and pouring water is easy.
Precision above all else
Thegooseneck spout gives you incredible control over the speed and direction of the water. This makes this kettle perfect for making coffee using alternative methods. In fact, precision is very important when it comes to this method of coffee preparation . The gooseneck ensures that the water flow is precise and even. The resulting taste of properly prepared coffee will thus be a unique experience for you.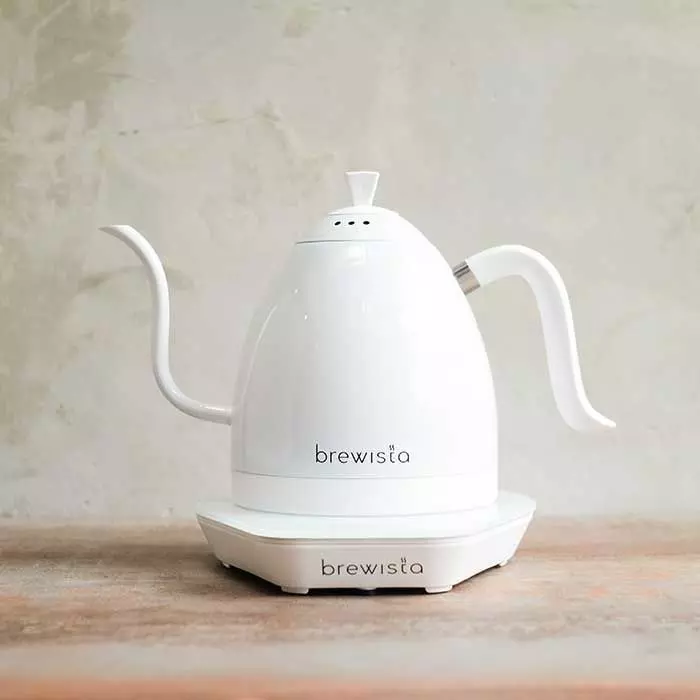 Parameters
| | |
| --- | --- |
| Colour | |
| Functions | Stopwatch |
| Material | Stainless steel, Plastic |
| Volume | 1000 ml |
| Features and functions of the kettle | Automatic shutdown, Touch control, Temperature maintenance function, LCD display, LED lighting, Protection against idling, Overheating protection, Swivel base, Temperature control |
| Heating source | Electricity |
Let's look at the subject of coffee pots. The kind you see in the hands of professional baristas in cafes when they make filter coffee. The spout of these teapots is curved and resembles the shape of a goose's neck. That's why they're called gooseneck teapots. Why are they so important for making coffee and what should you choose your coffee pot based on?
---
How to pour coffee correctly? With a precise and gentle stream of water at the ideal temperature. What do you need for this? The right kettle for baristas. Here's a selection of electric kettles for making the tastiest coffee (and tea).