Cafetto LOD® Red decalcifier 5 l
Cafetto LOD® Red decalcifier 5 l
104 points to the loyalty system
---
The agent is used to remove calcium and calcification. It removes calcium from various equipment such as a kettle or automatic coffee machine. More
Product code: 2580 Shipping options
The agent is used to remove calcium and calcification. It removes calcium from various equipment such as a kettle or automatic coffee machine. More
Product code: 2580 Shipping options
The liquid agent is used to remove calcium and calcification. It can remove calcium from the kettle, boiler and other devices. The content of the package is 1000 ml.
Instructions for use
Gently squeeze the bottle to measure 100 ml of Cafetto LOD Red into the measuring cup.
Mix the measured solution with 1000 ml of water.
Follow the coffee machine manufacturer's instructions for descaling coffee machines.
After descaling, rinse the coffee machine at least twice with water.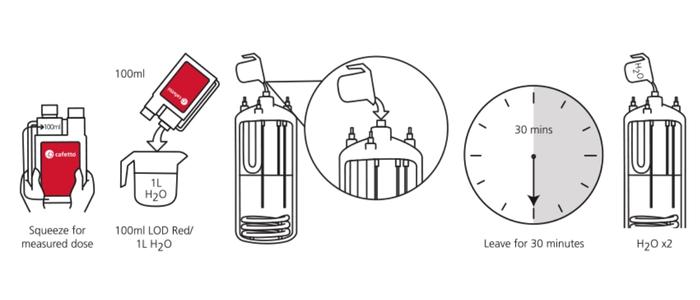 Certification
Cafetto is fully aware of the importance of the need to protect the health of everyone who comes into contact with their products. That is why they apply an effective and consistent hygiene system to keep your coffee equipment clean. The products exceed global standards, allowing them to form a trust of Cafetto products. Cafetto is proud to be certified by independent, globally recognized industry bodies.
OMRI™ Listed
All Cafetto® products bearing the OMRI™ logo have been listed with the Organic Materials Review Institute as meeting the requirements of the National Organic Program.
NSF®
The National Sanitation Foundation (NSF) International Protocol P152 refers to espresso cleaners that have been evaluated, tested and have met NSF's stringent toxicological and corrosive standards. Ingredients and formulations in NSF-certified products are safe, leave no harmful residues and do not cause corrosion in the espresso machine.
Parameters
| | |
| --- | --- |
| Volume | 1000 ml |
| Use of the cleaner | Descaler |
| Type | Liquid |
| Suitable for | Automatic coffee machine, Lever coffee machine |
Download