Comandante C40 MK4 Nitro Alpine Lagoon
Comandante C40 MK4 Nitro Alpine Lagoon
295 points to the loyalty system
---
This grinder represents quality in every respect. The Comandante C40 MK4 in turquoise blue is the top of the range for manual coffee grinding and can thus be rated as the top of the range among manual grinders. More
Product code: 2674 Shipping options
This grinder represents quality in every respect. The Comandante C40 MK4 in turquoise blue is the top of the range for manual coffee grinding and can thus be rated as the top of the range among manual grinders. More
Product code: 2674 Shipping options
By combining quality, precision design and quality output , Comandante has managed to turn the world around in manual coffee grinding with the C40.
Comandante premium quality in turquoise blue
Getting a consistent grind of coffee from a hand grinder is a tough task, but the Comandante C40 can be the companion to help you do just that. This grinder has set the bar high for many electric grinders as well. Premium materials have been used for this product, and this guarantees the confidence that this grinder will create a long time of satisfaction in the moment of preparing coffee.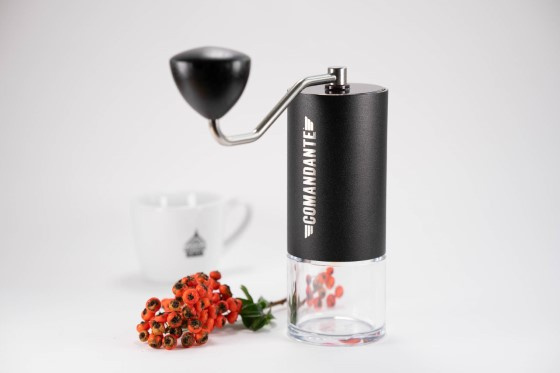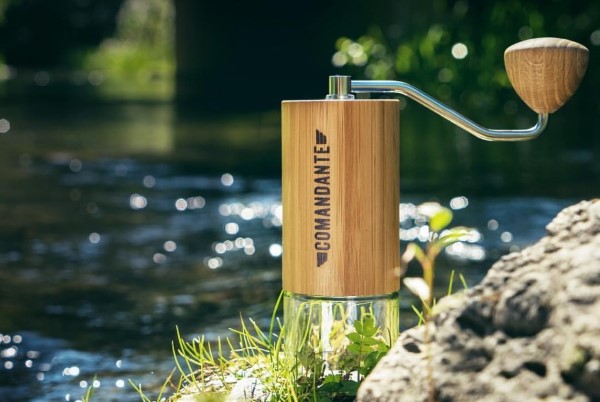 Beauty alternates with splendour
Yes, that's how one could describe the visuals. But with this grinder, the rule of thumb is not to skimp on functionality based on design. The wood veneer used to cover the body is very pleasant to the touch and also comes in different colours. So there is something for everyone. From all this, this is a grinder that you will be happy to display on your shelf and at the same time, it will be there not just for looking at, but also to grind coffee at a proper level.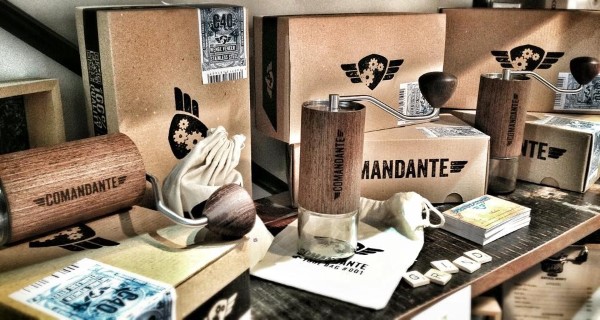 With the Comandante Nitro Alpine Lagoon, you can prepare coffee the way you want it
The options for how you set the coffee grind are very varied here. So you can choose whether you want to prepare an espresso, a mocha pot or a French press. Here, this decision is yours, and it is very easy to find the setting that suits you once you have discovered it again.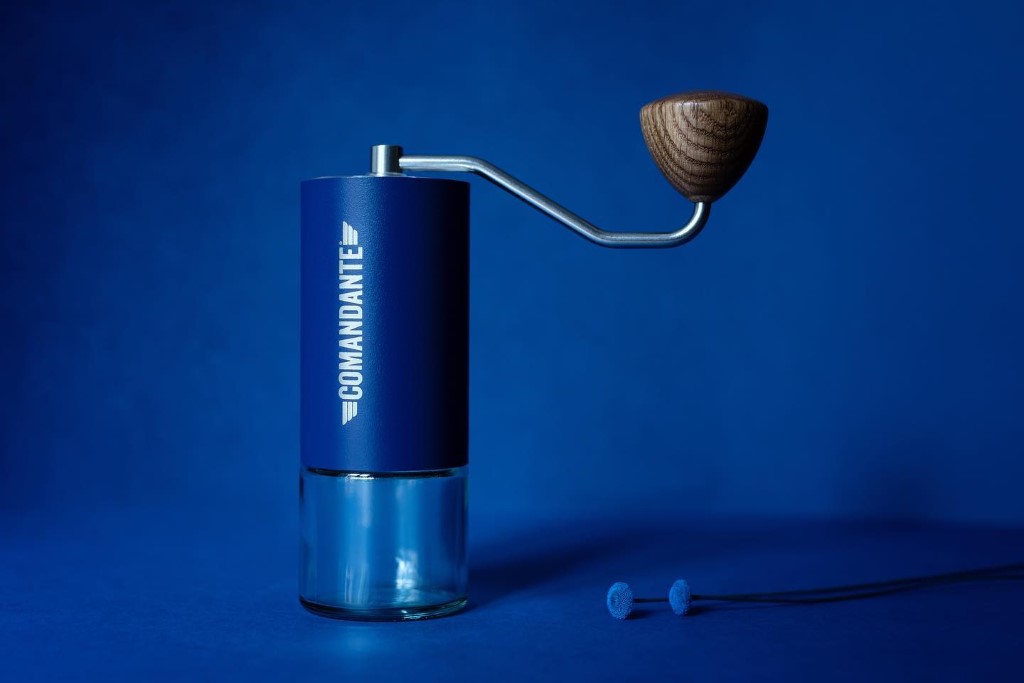 Comandante C40 factory view
Parameters
| | |
| --- | --- |
| For | Filtered coffee, Alternative methods of preparation, Espresso |
| Colour | |
| Dosage of the grinder | Manual |
| Display | No |
| Functions of the grinder | Coarseness setting |
| Hopper capacity (g) | 40 |
| Material | Wood, Stainless steel, Glass |
| Material of grinding stones | Steel |
| Grinder suitable for | Offices, Cars, Households |
| Using | Home |
| Coffee grinder label | Design, Quality, Small, Premium |
| Shape of grinding stones | Conical |
| Type | Handheld |
| Size of grinding stones (mm) | 39 mm |
Few brands have earned such a reputation in the coffee world during their not too long existence as the German company Comandante. Let's take a look at what's behind its success.
---
Among the manual coffee grinders, those with the Comandante brand were the absolute top of the range. In addition to these barista-praised grinders, the pieces with the Timemore name boast the highest quality. How to choose between them?
Alternative products (3)
Last piece in stock
307,90 €
| | |
| --- | --- |
| For | Filtered coffee, Alternative methods of preparation, Espresso |
| Material of grinding stones | Steel |
| Shape of grinding stones | Conical |
| Size of grinding stones (mm) | 39 mm |
Delivery 10 days
315,70 €
| | |
| --- | --- |
| For | Filtered coffee, Alternative methods of preparation, Espresso |
| Material of grinding stones | Steel |
| Shape of grinding stones | Conical |
| Size of grinding stones (mm) | 39 mm |
Last piece in stock
295,20 €
| | |
| --- | --- |
| For | Filtered coffee, Alternative methods of preparation, Espresso |
| Material of grinding stones | Steel |
| Shape of grinding stones | Conical |
| Size of grinding stones (mm) | 39 mm |