Comandante C40 MK4 Nitro Blade Racing green
Comandante C40 MK4 Nitro Blade Racing green
295 points to the loyalty system
---
Thehand grinder C40 MK4 Nitro Blade from the German brand Comandante represents quality in every aspect. It is made with a combination of quality stainless steel, glass and wood. Thanks to the 39 mm steel grinding stones, it can grind not only filter coffee but also espresso with ease. More
Product code: 5426 Shipping options
Thehand grinder C40 MK4 Nitro Blade from the German brand Comandante represents quality in every aspect. It is made with a combination of quality stainless steel, glass and wood. Thanks to the 39 mm steel grinding stones, it can grind not only filter coffee but also espresso with ease. More
Product code: 5426 Shipping options
Hand grinder Comandante C40 MK4 NITRO BLADE
✔️

precision design

✔️

39 mm steel grinding stones

✔️

made of high quality stainless steel

✔️

suitable for filter coffee and espresso

✔️

German quality Comandante brand

✔️

hopper capacity 40 g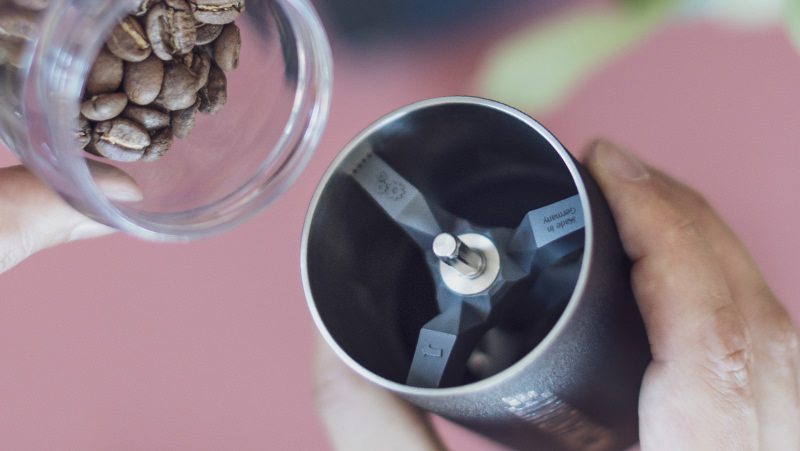 Precision hand grinder in a unique design
The high-quality hand grinder from Comandante will delight you not only with its beautiful design, but also with its versatile functions. You can easily adjust the grinding coarseness with the utmost precision and enjoy filter and other alternative methods as well as espresso.
Its body is made of high-quality stainless steel and two glass containers are included, which can also be used as a cup on the go.
The sharp 39mm steel grinding stones ensure a perfect grind for every occasion. The hopper capacity is 40g, so you can not only prepare coffee for yourself in one grind, but you can also share it.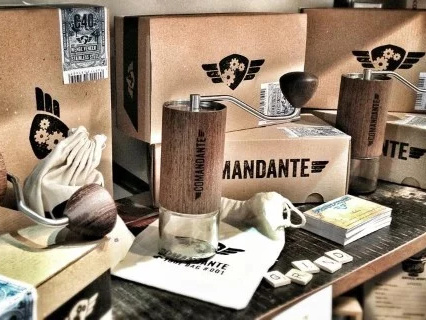 Comandante C40 production view
Parameters
| | |
| --- | --- |
| Colour | |
| Dosage of the grinder | Manual |
| Display | No |
| Functions of the grinder | Coarseness setting |
| Hopper capacity (g) | 40 |
| Material | Wood, Stainless steel, Glass |
| Material of grinding stones | Steel |
| Grinder suitable for | Offices, Cars, Households |
| Using | Home |
| For | Espresso, Filtered coffee, Alternative methods of preparation |
| Coffee grinder label | Design, Quality, Small, Premium |
| Shape of grinding stones | Conical |
| Type | Handheld |
| Size of grinding stones (mm) | 39 mm |
Few brands have earned such a reputation in the coffee world during their not too long existence as the German company Comandante. Let's take a look at what's behind its success.
---
Among the manual coffee grinders, those with the Comandante brand were the absolute top of the range. In addition to these barista-praised grinders, the pieces with the Timemore name boast the highest quality. How to choose between them?
---
Do you know where Santa Claus gets the energy to find and give all the presents? From a cup of our spa coffee. While sipping it, he orders Christmas gifts for coffee lovers. Here's his list of 33 coffee gifts for Christmas 2022.
Alternative products (3)
Last piece in stock
307,90 €
| | |
| --- | --- |
| For | Filtered coffee, Alternative methods of preparation, Espresso |
| Material of grinding stones | Steel |
| Shape of grinding stones | Conical |
| Size of grinding stones (mm) | 39 mm |
| | |
| --- | --- |
| For | Filtered coffee, Alternative methods of preparation, Espresso |
| Material of grinding stones | Steel |
| Shape of grinding stones | Conical |
| Size of grinding stones (mm) | 39 mm |
Delivery 10 days
295,20 €
| | |
| --- | --- |
| For | Filtered coffee, Alternative methods of preparation, Espresso |
| Material of grinding stones | Steel |
| Shape of grinding stones | Conical |
| Size of grinding stones (mm) | 39 mm |