1 864 points to the loyalty system
---
Dr.coffee F10: The ideal coffee machine for small businesses and offices
TheDr.coffee F10 is designed to meet the demands for high quality coffee and fast preparation. This coffee machine is quiet and economical. At the touch of a button, it prepares a variety of beverages including espresso, americano, cappuccino, hot water, hot milk or milk foam.
Benefits of the Dr.coffee F10
The Dr.coffee F10 offers a high-capacity steaming system, efficient pre-simmering, ceramic grinding stones with 9 grinding coarseness levels, high-temperature milk whisking and the ability to customize your beverage settings.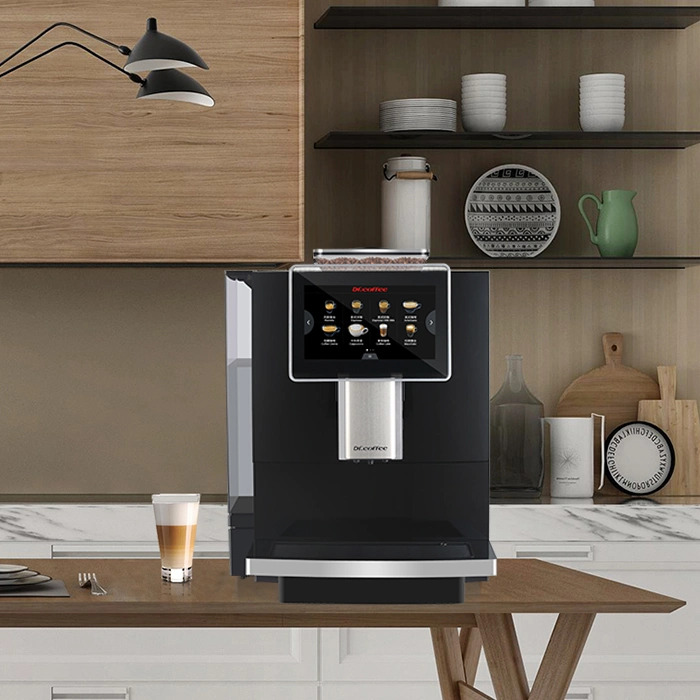 Parameters
| | |
| --- | --- |
| Colour | |
| To | Restaurant, Hotel, Confectionery, Offices |
| Basic functions | Coffee grinder, Milk system |
| Automatic cleaning | Yes |
| Cappuccino in one squeeze | Yes |
| Pump | Vibrating |
| Dosage | Configurable |
| Daily capacity of the coffee machine | 70 |
| Display | Yes |
| Functions of the coffee machine | Two cups at a time, Automatic cleaning system, Energy saving support, Water quantity setting, Touch screen display, Descaling programme, Coffee quantity setting, Grinding coarseness setting, Outlet height adjustment, Discharge coffee with milk at once |
| Material | Plastic |
| Coffee bean grinder | Yes |
| Voltage | 230V |
| Power input (W) | 1450 |
| Prepared drinks | Espresso, Lungo, Americano, Cappuccino, Caffè latte, Hot water for tea, Warm milk |
| Milk whisk | Automatic |
| Tag | Quality, Standard |
| Pressure (bar) | 15 |
| Coffee container (g) | 500 |
| Water tank (l) | 4 |
| Source of water | Tank |