6 397 points to the loyalty system
---
The F2 Plus automatic professional coffee machine from Dr. Coffee boasts two stainless steel boilers and two durable ceramic grinders. It can brew up to 300 cups of great coffee per day. More
Manufacturer: Dr. CoffeeProduct code: 6182 Shipping options
The F2 Plus automatic professional coffee machine from Dr. Coffee boasts two stainless steel boilers and two durable ceramic grinders. It can brew up to 300 cups of great coffee per day. More
Manufacturer: Dr. CoffeeProduct code: 6182 Shipping options
Automatic coffee machine Dr. Coffee F2 Plus
✔️ two stainless steel boilers
✔️ two heavy-duty ceramic grinders
✔️ 9 grinding coarseness settings
✔️ solid metal brewing unit with a capacity of 21 grams
✔️ dual hydraulic system and four dispensing nozzles
✔️ patented dynamic pressure change system
✔️ OneTouch function
✔️ adjustment of water temperature, milk foam and coffee dose
✔️ clear 10.1" touch screen
✔️ connection to the water supply system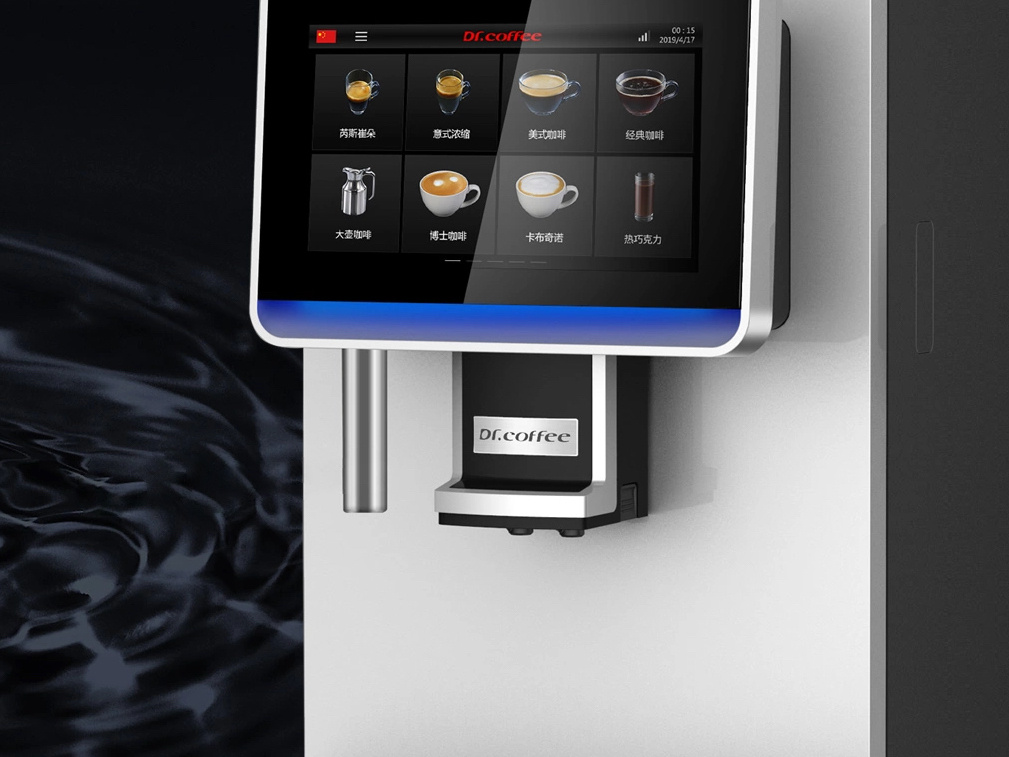 Professional high performance automatic coffee machine
The powerful professional coffee machine with milk system can prepare up to 300 cups of coffee per day. It boasts two stainless steel boilers and two ceramic flat stone grinders that can work individually or simultaneously. This, combined with the solenoid valve, dual hydraulic system and four dispensing nozzles, speeds up the brewing process considerably.
The F2 Plus can prepare up to 210 es presso or 145 cappuccinos per hour. The 21 gram capacity steaming unit is equipped with a patented dynamic pressure change system, so it can prepare both perfect espresso and authentic filter coffee.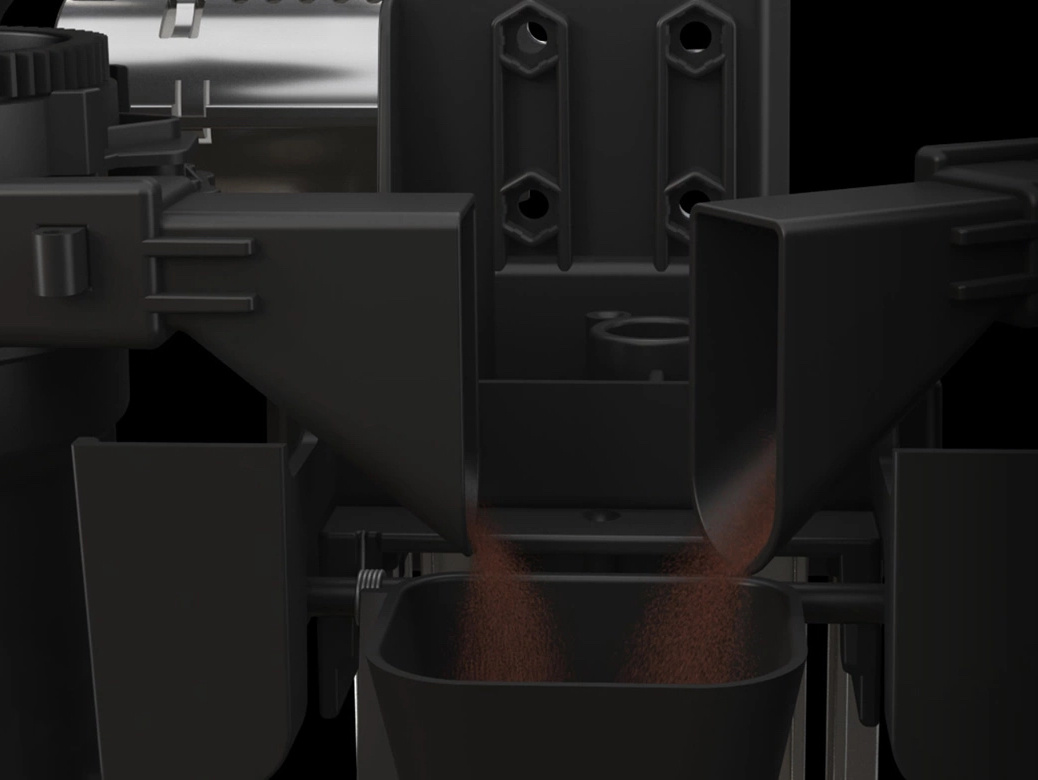 Clear touch screen with OneTouch function
Operating the clear 10.1" touchscreen is very easy and intuitive. There's also a OneTouch function that allows you to prepare your beverage with a single touch.
In addition to the two grinders, the F2 Plus also houses two instant blend trays, so hot chocolate lovers will be in for a treat. It offers a total of 30 pre-programmed drinks, including iced coffee. For milk drinks, you can set the temperature of the milk foam up to 70 °C.
This coffee machine is suitable for any business looking for high quality and productivity in a compact package. It is ideal for large offices, reception areas, restaurants, hotels or cafes.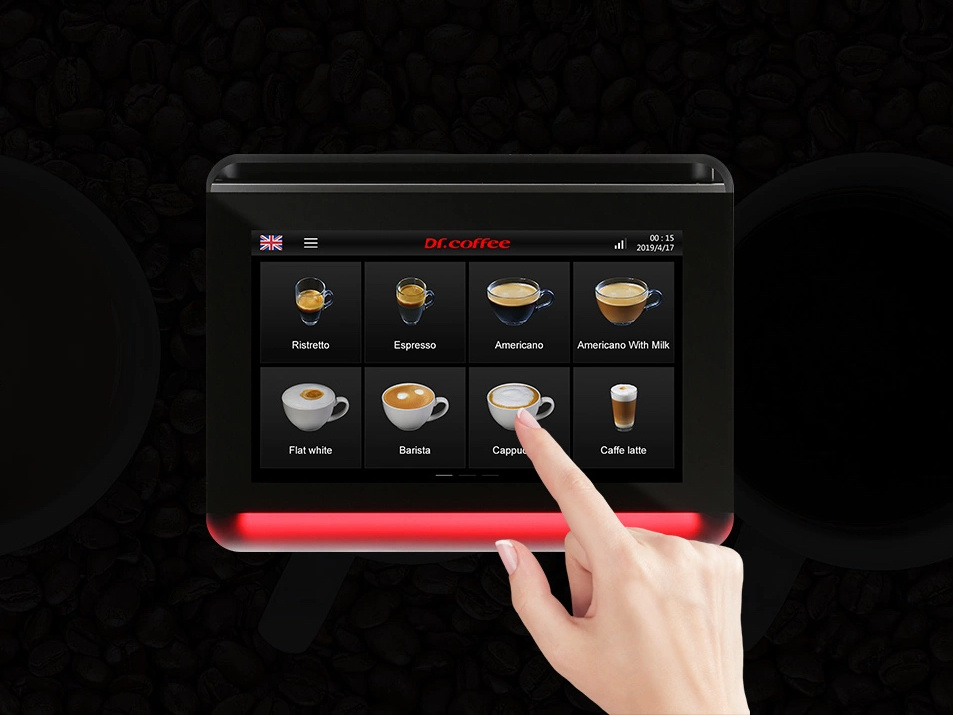 Parameters
| | |
| --- | --- |
| Automatic cleaning | Yes |
| Colour | |
| Cappuccino in one squeeze | Yes |
| Dosage | Configurable |
| Daily capacity of the coffee machine | 300 |
| Display | Touch |
| To | Confectionery, Hotel, Offices, Cafes, Restaurant |
| Functions of the coffee machine | Automatic shutdown, Automatic cleaning of milk ducts, Automatic cleaning system, Touch screen display, Two cups at a time, One Touch function, Hot water, Grinding coarseness setting, Coffee quantity setting, Temperature setting, Descaling programme, Energy saving support, Preparation of two milk drinks at the same time |
| Material | Metal, Plastic |
| Boiler material | Stainless steel |
| Material of grinding stones | Ceramics |
| Maximum cup height | 160 mm |
| Coffee bean grinder | Yes |
| Voltage | 230V |
| Number of boilers | 2 |
| Use of capsules | No |
| Use of ground coffee | No |
| Power input (W) | 2900 |
| Prepared drinks | Americano, Caffè latte, Cappuccino, Espresso, Filtered coffee, Hot water for tea, Lungo, Warm milk |
| Milk whisk | Automatic |
| Tag | Confectionery, Offices, Standard |
| Pressure (bar) | 18-19 |
| Shape of grinding stones | Flat |
| Basic functions | Coffee grinder, Milk system |
| Coffee container (g) | 2x 1200 g |
| Waste container (portions) | 100 |
| Water tank (l) | 4 |
| Source of water | Direct water supply, Tank |
"If it wasn't so expensive, I'd take it." You say to yourself. I say, "You should get one after all. It's worth it. How do you save money on buying an expensive coffee machine and why does it cost so much? Find out the answers in this article.
---
In many cases, it happens that you buy a cheap coffee machine for the office, with the idea of saving money. But the opposite is often true. In this article, we'll show you why it's better to invest in a more expensive coffee machine for the office.
Alternative products (3)
Delivery 3-4 days
9 036,50 €
| | |
| --- | --- |
| Dosage | Configurable |
| Daily capacity of the coffee machine | 200 |
only on request
7 837,10 €
only on request
7 467,80 €