Dr. Coffee Minibar S1 MDB
Dr. Coffee Minibar S1 MDB
-4%
3 723 points to the loyalty system
---
The professional automatic coffee machine EP Minibar S1 MDB is equipped with a milk system, a high-capacity brewing unit and the possibility of connection to the MDB payment system. It boasts 2 boilers and can handle up to 100 espresso servings per hour, making it the ideal choice for the more demanding operations of hotels, restaurants and offices. The seven-inch touchscreen display ensures easy and intuitive operation. More
Manufacturer: Dr. CoffeeProduct code: 6174 Shipping options
Standard price
3 895,70 €
.
Save
4%
(172,10 €)
3 723,60 €
The professional automatic coffee machine EP Minibar S1 MDB is equipped with a milk system, a high-capacity brewing unit and the possibility of connection to the MDB payment system. It boasts 2 boilers and can handle up to 100 espresso servings per hour, making it the ideal choice for the more demanding operations of hotels, restaurants and offices. The seven-inch touchscreen display ensures easy and intuitive operation. More
Manufacturer: Dr. CoffeeProduct code: 6174 Shipping options
Automatic coffee machine Dr. Coffee Minibar S1 MDB
✔️

professional automatic coffee machine with milk system
✔️ possibility of connection to the MDB payment system
✔️ has 2 boilers
✔️ possibility of a water tank, external barrel and direct connection to the system

✔️

ceramic grinder with a speed of 2 g/s

✔️

seven-inch high- resolutiontouch screen

✔️

high-capacity steaming unit

✔️

24 parametrically programmable beverages

✔️

100 espresso servings or 80 large cappuccinos per hour

✔️

One-Touch - prepare a drink at the touch of a button

✔️

automatic cleaning including milk passages and decalcification

✔️

LED backlight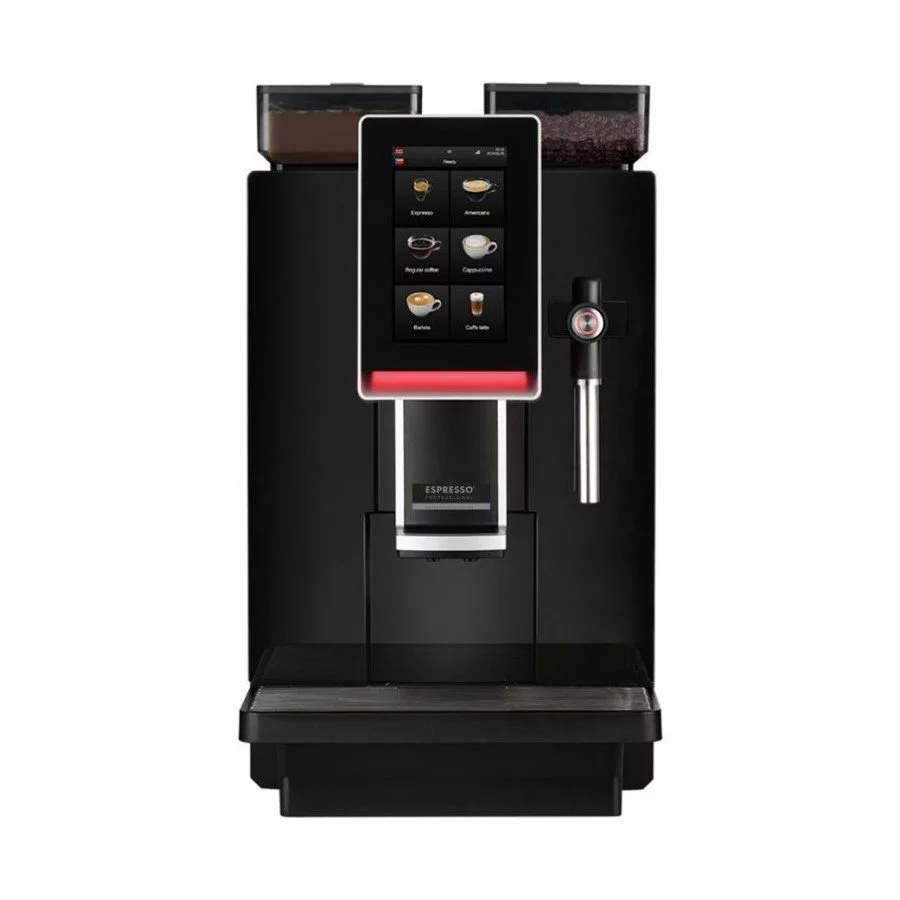 Impress your guests with this professional coffee machine
Theautomatic professional coffee machine Minibar S1 is equipped with a dual boiler system. Thanks to the powerful and quiet ceramic grinder, it can perfectly grind coffee beans at a speed of two grams per second.
The seven-inch high-resolution touchscreen display with Linux-based operating system ensures very easy and intuitive operation. There is also a One-Touch function that allows you to prepare your favourite beverage with just one touch.
The coffee machine offers 24 parametrically programmable drinks, you can prepare everything from espresso, cappuccino, to hot chocolate or even chai tea. The sleek black design is complemented by a stylish LED backlight.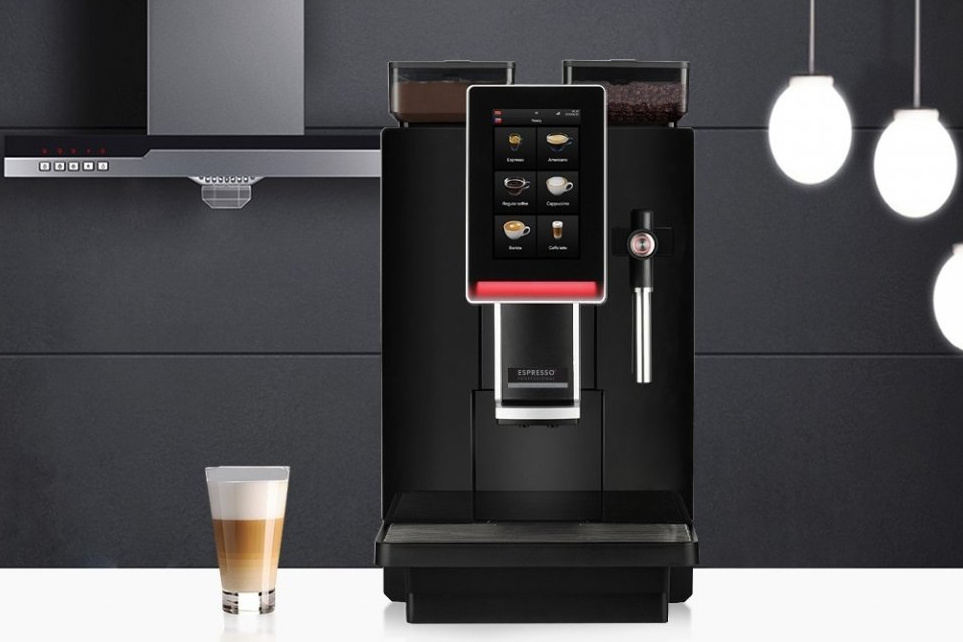 Can be connected to the MDB payment system
Need to connect your coffee machine to a payment system? No problem! The S1 minibar is compatible with the MDB payment system. The payment terminal is not included, but you can order it from the partner of this coffee machine.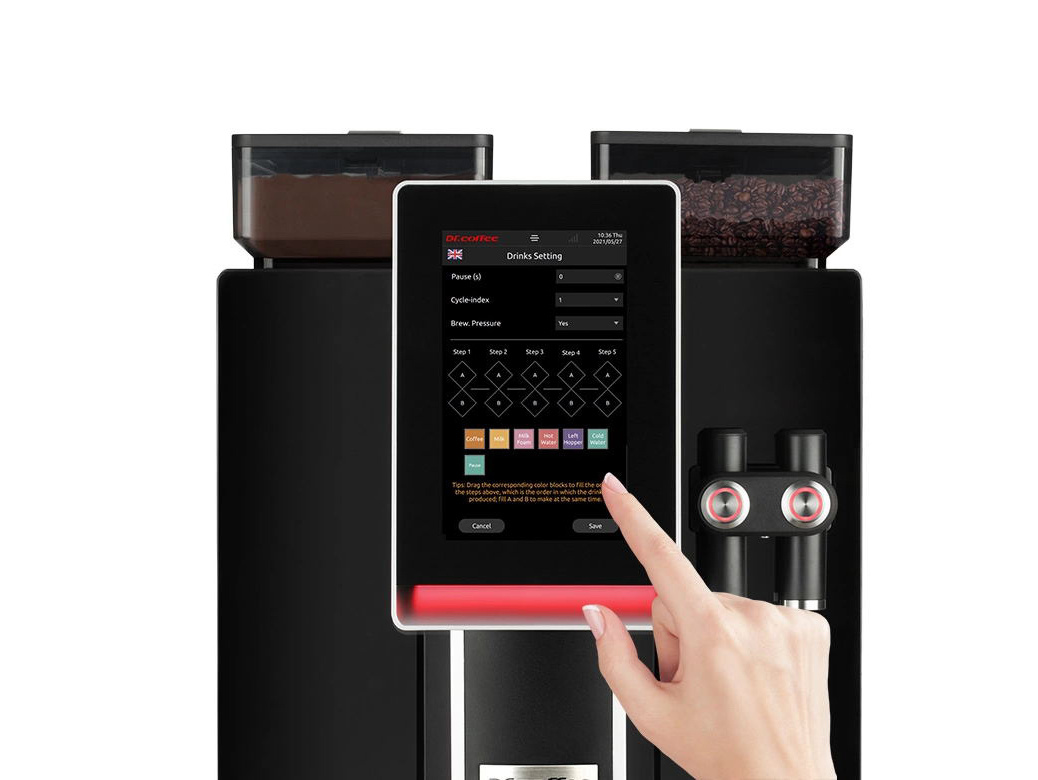 Parameters
| | |
| --- | --- |
| Automatic cleaning | Yes |
| Colour | |
| Cappuccino in one squeeze | Yes |
| Pump | Vibrating |
| Dosage | Configurable |
| Daily capacity of the coffee machine | 200 |
| Display | Touch, Color |
| To | Confectionery, Hotel, Offices, Restaurant |
| Functions of the coffee machine | Automatic cleaning system, Touch screen display, Two cups at a time, One Touch function, LED lighting, Grinding coarseness setting, Coffee quantity setting, Water quantity setting, Outlet height adjustment, Descaling programme, Energy saving support, Connecting a payment system, Discharge coffee with milk at once |
| Material | Plastic |
| Material of grinding stones | Ceramics |
| Coffee bean grinder | Yes |
| Voltage | 220-240 V |
| Number of boilers | 2 |
| Use of capsules | No |
| Use of ground coffee | Yes |
| Power input (W) | 2900 |
| Prepared drinks | Americano, Caffè latte, Cappuccino, Espresso, Hot water for tea, Lungo, Warm milk |
| Milk whisk | Automatic |
| Tag | Quality, Premium |
| Pressure (bar) | 19 |
| Shape of grinding stones | Flat |
| Type of coffee machine | Automatic |
| Basic functions | Coffee grinder, Milk system |
| Coffee container (g) | 1500 |
| Waste container (portions) | 70 |
| Water tank (l) | 4 |
| Source of water | Direct water supply, Tank |
In many cases, it happens that you buy a cheap coffee machine for the office, with the idea of saving money. But the opposite is often true. In this article, we'll show you why it's better to invest in a more expensive coffee machine for the office.
---
"If it wasn't so expensive, I'd take it." You say to yourself. I say, "You should get one after all. It's worth it. How do you save money on buying an expensive coffee machine and why does it cost so much? Find out the answers in this article.
Alternative products (3)
Delivery 6-8 days
3 649,40 €
| | |
| --- | --- |
| Dosage | Configurable |
| Daily capacity of the coffee machine | 100 |
Delivery 6-8 days
3 895,70 €
| | |
| --- | --- |
| Dosage | Configurable |
| Daily capacity of the coffee machine | 200 |
| Material of grinding stones | Ceramics |
| Shape of grinding stones | Flat |
| | |
| --- | --- |
| Dosage | Configurable |
| Daily capacity of the coffee machine | 200 |