102 points to the loyalty system
---
Steel filter for pour-over coffee preparation techniques. The filter thickness of 35 microns guarantees perfect extraction like using a paper filter and is compatible with both Hario V60 and Chemex. More
Manufacturer: EB LABProduct code: 844 Shipping options
Steel filter for pour-over coffee preparation techniques. The filter thickness of 35 microns guarantees perfect extraction like using a paper filter and is compatible with both Hario V60 and Chemex. More
Manufacturer: EB LABProduct code: 844 Shipping options
Treat yourself to a coffee with a balanced taste and full body. Take advantage of the benefits of stainless steel filters and be more environmentally friendly at the same time. E&B LAB has developed stainless steel filters that can replace paper filters.
Stainless steel filters
Using steel filters is more environmentally friendly. This single stainless steel filter is reusable and fits not only the E&B Lab Carafe, but also the popular Hario V60, Chemex and other conical drip brewers.
The main advantage of a stainless steel filter over a paper filter is that you avoid the typical paper taste and smell that can transfer to your coffee in the cup during brewing, thus spoiling it. The E&B Lab Cone filter lets the best of the coffee pass through into your cup. All of its authentic elements and qualities that we value coffee for.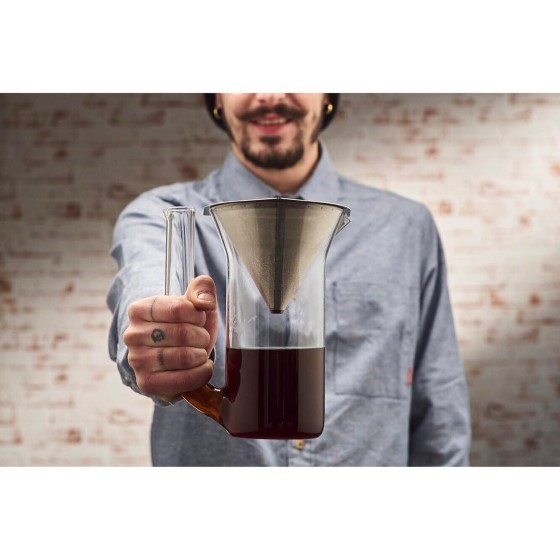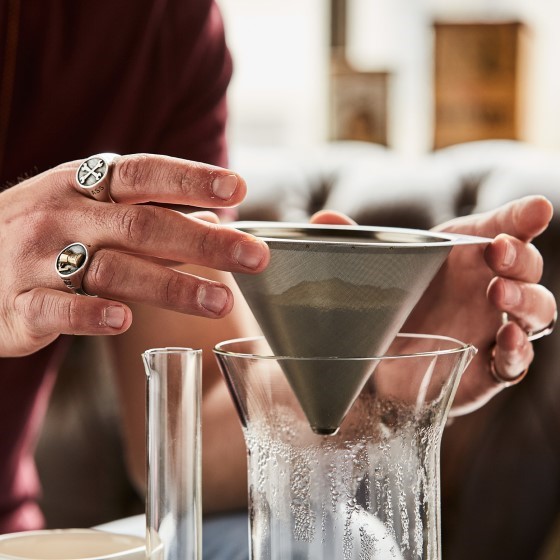 Ideal filtration
E&B Lab is an IMS project. These Italian manufacturers are renowned for their precision IMS baskets for professional coffee machines. Now they have focused on filtered coffee and designed this conical filter made up of a special fine stainless steel mesh. Its filtration capacity is 35 microns. This means you can use it in the same way and with the same recipes as classic paper filters. Its shape and mesh are designed and calibrated to ensure ideal coffee pouring and perfect extraction.
A multifunctional and eco-friendly filter
The shape of the filter allows it to be used not only in combination with the original E&B Lab Carafe, but also to be applied when brewing coffee in other conical pour-over coffee machines. Try replacing it with a paper filter in your Chemex or Hario V60. After use, empty the filter of the coffee grounds. Preferably in a pot next to your tomatoes, which will be grateful for it, making your coffee preparation completely zero-waste. Just wash the filter with water and let it dry. This makes it ready for the next use. Once in a while, we recommend to soak the filter in water with a coffee dirt cleaner such as Cafetto, this will also clean any oil deposits in the filter's fine stainless steel mesh.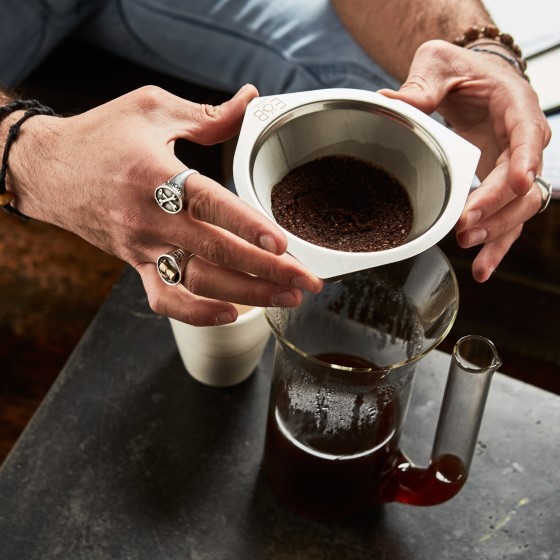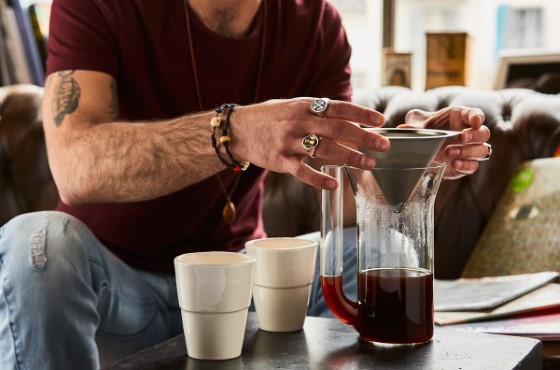 Parameters
| | |
| --- | --- |
| Colour | |