1 471 points to the loyalty system
---
TheECM Classika PID offers the high-level café performance and high-end features you would expect from much more expensive machines. It will provide unrivalled quality among machines of a similar size. More
Product code: 2225 Shipping options
TheECM Classika PID offers the high-level café performance and high-end features you would expect from much more expensive machines. It will provide unrivalled quality among machines of a similar size. More
Product code: 2225 Shipping options
A coffee machine that makes the perfect cup of coffee
This high-quality, single-lever coffee machine is guaranteed to meet even the highest demands. With its help, you'll prepare the perfect espresso for a great tasting experience. It is also suitable for smaller spaces and its timelessly elegant look in clear stainless steel will be a great addition to your kitchen.
PID technology for temperature control
The Classika model has a single 0.75l stainless steel boiler that can prepare both espresso and steam. The boiler is controlled by PID, which is a digital thermostat that maintains a very stable temperature inside the machine. The boiler is heated by a 1200W heating element .
EMC Classika PID three-way valve
The three-way valve is a very important technical element in the equipment of the coffee machine. It opens and switches between three paths: the hot water source, the coffee head and the waste. When the coffee dispenser is switched on, the water supply to the coffee head opens and the path to the waste closes. When coffee dispensing is switched off, the path between the coffee head and the waste opens and the water source closes. After the coffee has been extracted, the pressure in the coffee head is released and the excess water is drained to the waste.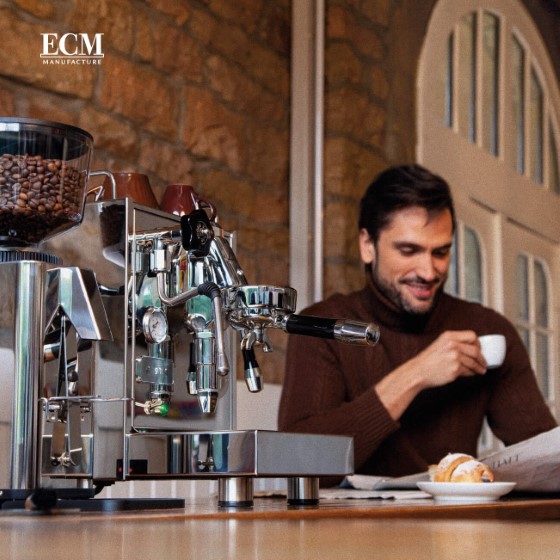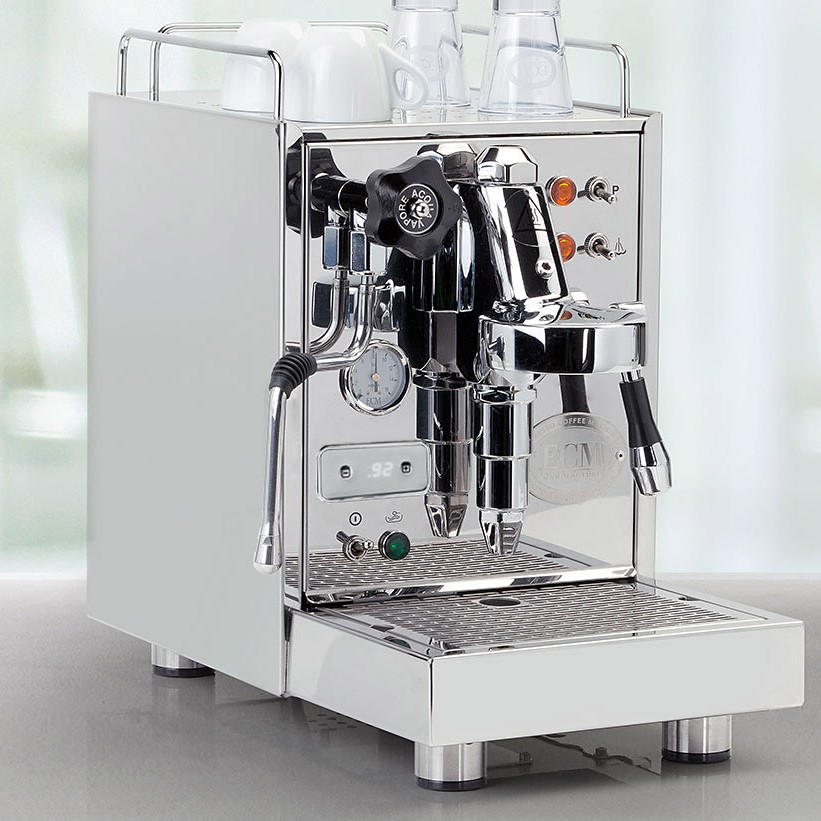 E61 A head that provides better thermal stability than a conventional circular head
The ECM Classika PID coffee machine is equipped with the widely used E61 head. This is connected to the water circuit - boiler. The water in the boiler is circulated through the chamber of the E61 head, heating it and thus stabilising the temperature during coffee extraction. This is a frequently used technology that is used in higher end coffee machines.
User-friendly pressure relief valve setting
Thepressure relief valve is located below the cup tray. It is thus easily accessible and allows you to adjust it with ease. Theuser-friendly extraction pressure control is also a very useful and superior feature. This coffee machine also has a vibrating pump.
You fill up the water in the 2.8l reservoir
This coffee machine has a 2.8l water tank. Access to the water reservoir is via the removable cup warming tray.
Steam nozzle
The nozzle of this coffee machine has Cooltouch technology. The nozzle is made up of a double-walled arm. A hose runs through the stainless steel arm to pass hot water or steam through. As a result, there is not as much heat conduction and the stainless steel arm does not cause the milk to burn. After whisking, the arm is only lightly wiped with a damp cloth, which will make the job of many a barista easier.
Accessories
double-drain lever
plastic tamper
1-cup filter
2-cup filter
head cleaning brush
instructions for use
blind bowl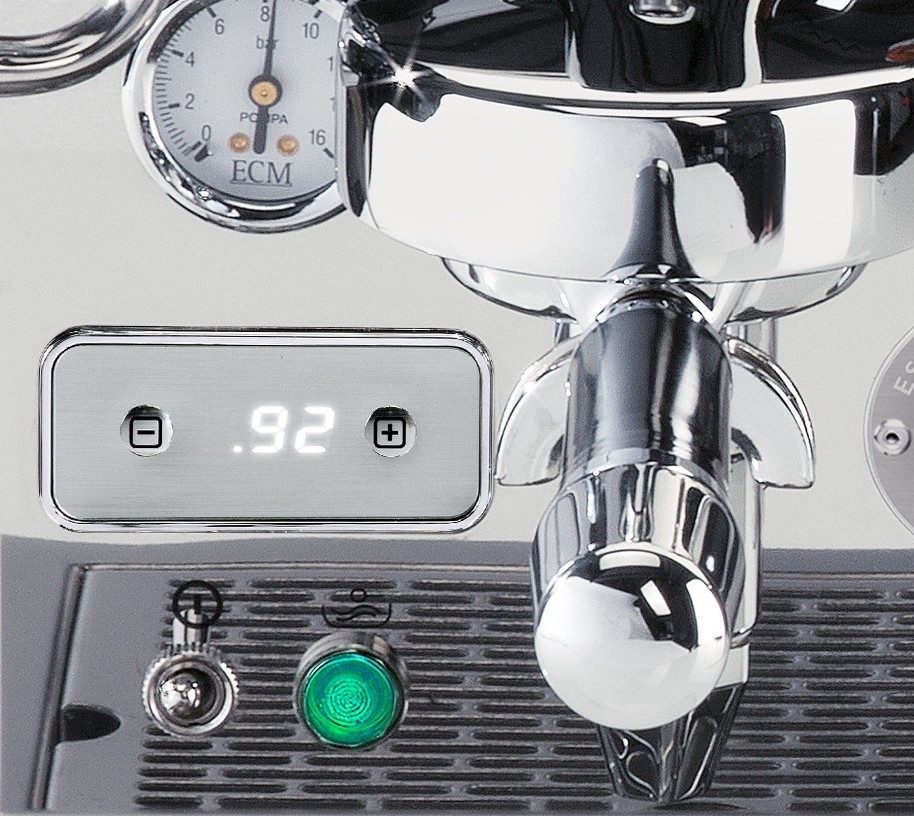 Parameters
| | |
| --- | --- |
| Automatic cleaning | No |
| Colour | |
| Boiler | Single boiler |
| Cappuccino in one squeeze | No |
| Pump | Vibrating |
| Dosage | Manual |
| Display | No |
| To | Households |
| Functions of the coffee machine | Cool touch nozzle, Two cups at a time, Manometer, Manual cleaning, Hot water dispensing |
| Coffee machine head | E61 head |
| Material | Stainless steel |
| Boiler material | Stainless steel |
| Coffee bean grinder | No |
| Voltage | 230V |
| Number of boilers | 1 |
| Number of heads | 1-lever |
| Power input (W) | 1200 |
| Prepared drinks | Americano, Caffè latte, Cappuccino, Espresso, Hot water for tea, Lungo, Warm milk |
| Tag | Quality, Cheap, German |
| Pressure (bar) | 9 |
| Boiler size (l) | 0,75 |
| Basic functions | Steam nozzle |
| Water tank (l) | 2,8 |
| Source of water | Tank |
Alternative products (3)
Delivery 3-4 days
1 613,60 €
| | |
| --- | --- |
| Boiler | Single boiler |
| Dosage | Manual |
Delivery 3-4 days
1 937,60 €
| | |
| --- | --- |
| Boiler | Single boiler |
| Dosage | Configurable |
| Daily capacity of the coffee machine | 40 |
Delivery 3-4 days
1 745 €
| | |
| --- | --- |
| Boiler | Multi boiler |
| Dosage | Configurable |
| Daily capacity of the coffee machine | 60 |