6 139 points to the loyalty system
---
He looks like a little professional and works just the same. The ECM Controvento home lever coffee machine has a futuristic look, modern features and classic elements. By combining them, it meets the most demanding requirements for a top quality coffee machine and outperforms its competitors. More
Product code: 4312 Shipping options
He looks like a little professional and works just the same. The ECM Controvento home lever coffee machine has a futuristic look, modern features and classic elements. By combining them, it meets the most demanding requirements for a top quality coffee machine and outperforms its competitors. More
Product code: 4312 Shipping options
Premium lever coffee machine for the home: the ECM Controvento
✓ All stainless steel single lever espresso machine
✓ professional technology in a small home design
✓ PID water temperature adjustment system
✓ 2 x pressure gauge for checking the pressure in the machine
✓ quiet and powerful rotary pump
✓ cool touch steam nozzle
✓ direct connection to water
✓ patented ECM head type E61
✓ two boilers of 2 l and 0.75 l capacity
ℹ Do you know how to get a longer machine life and tastier coffee? By using water filtration!
✉ We are happy to answer your questions about choosing a coffee machine, just ask: zdenek@lazenskakava.cz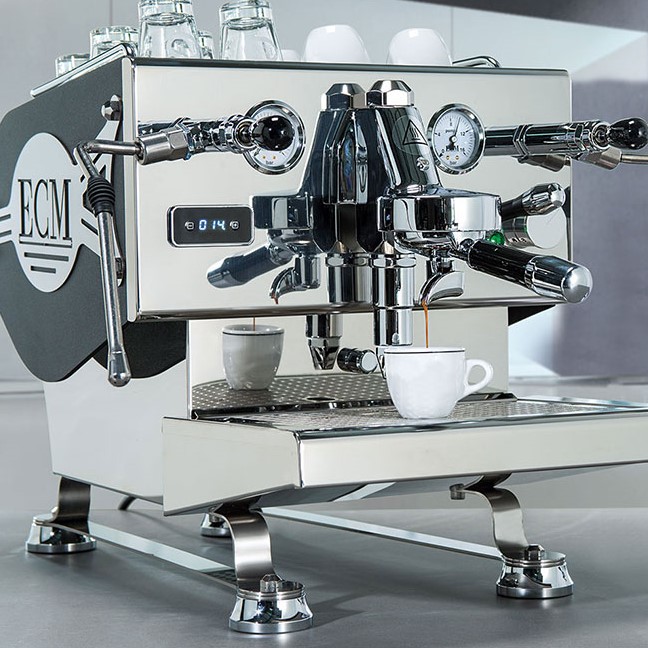 The best home ECM coffee machine
The little espresso professional
High quality espresso taste from the cafe. Without leaving the comfort of your home. Enjoy not only a cup of finished coffee, but the entire preparation.
It is important for you to have powerful profi technology and a novel design. A premium coffee machine from the German brand ECM is what you are looking for.
At its heart is an extremely quiet rotary pump. You can connect the coffee machine directly to the water supply or use the large 3 litre reservoir. Either way, you'll be making espresso at a stable pressure of 9 bar.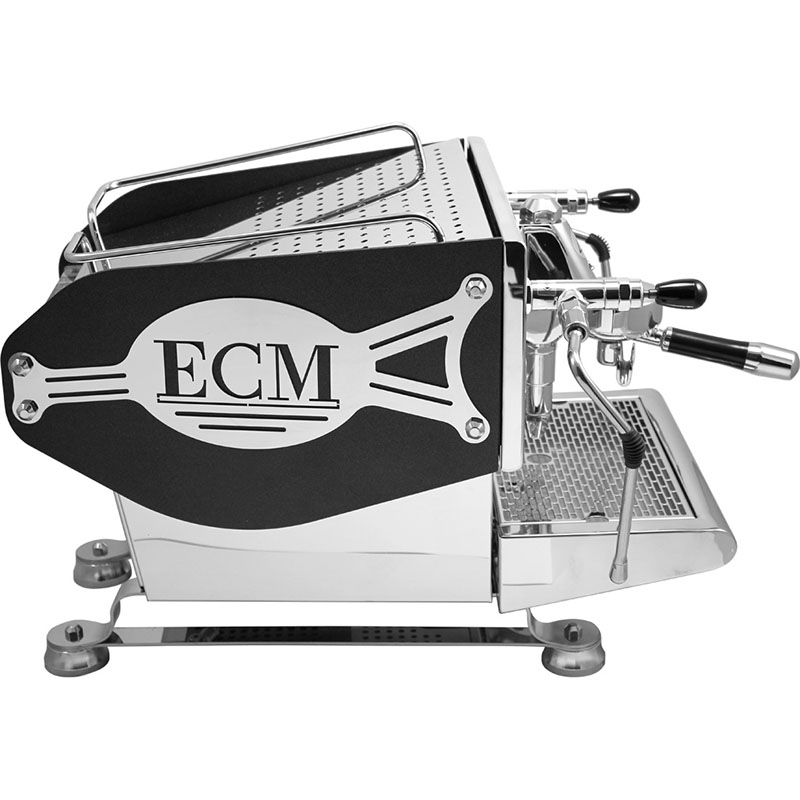 Guaranteed temperature stability of the coffee machine
PID, dual-boiler and E61 head
The PID system controls and indicates how the coffee machine is heated. Its output, a display with control buttons on the coffee machine, is ready to adjust the temperature setting to your wishes.
The technology of the two boilers responds to the requirements of professional quality espresso preparation. The smaller boiler means the ideal water temperature for the coffee, the larger one takes care of the higher temperature for enough steam for whipping.
The E61 type head is a legend among the ways of maintaining the optimum temperature of the coffee machine head.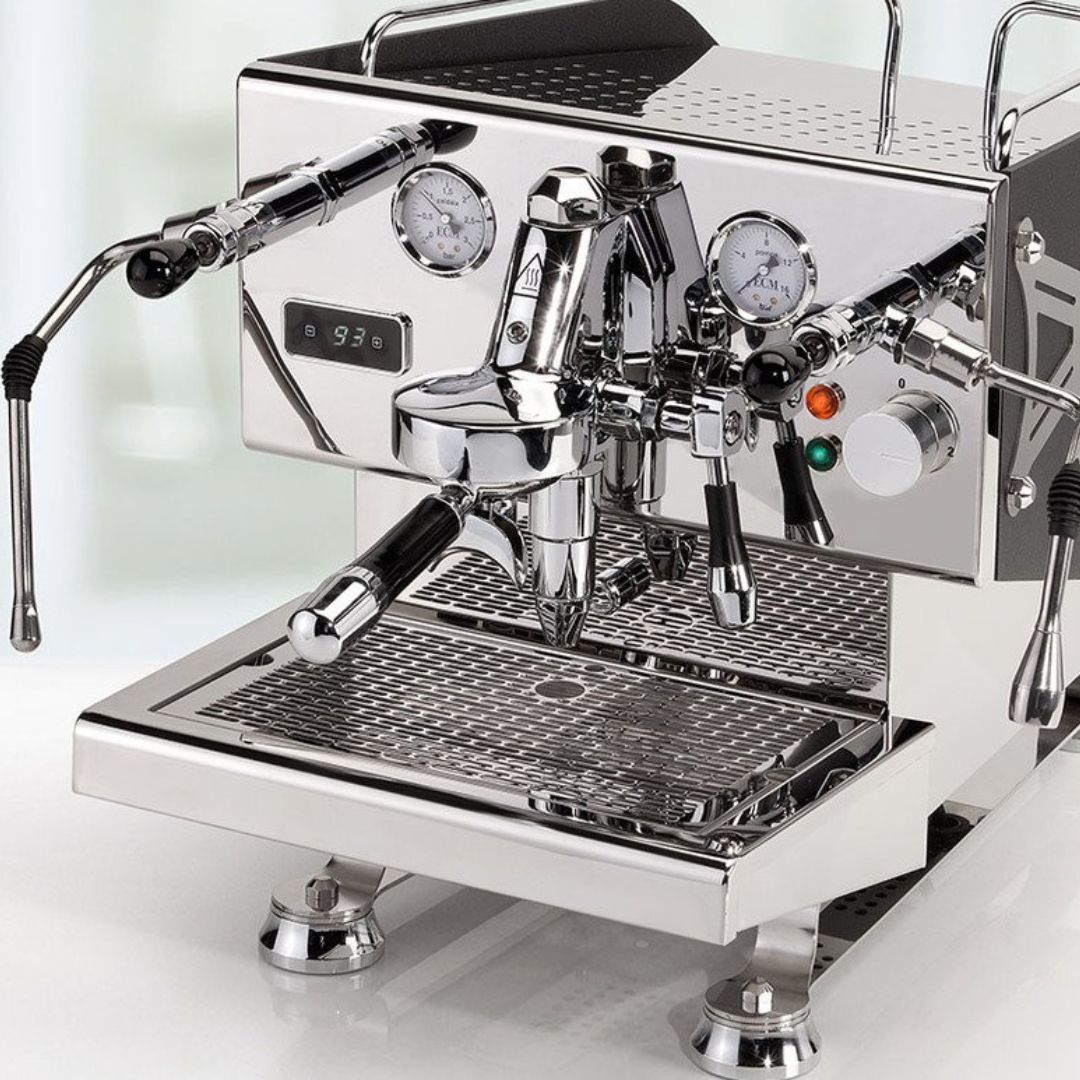 Parameters
| | |
| --- | --- |
| Colour | |
| To | Households |
| Basic functions | Steam nozzle |
| Pump | Rotary |
| Display | No |
| Functions of the coffee machine | PID, Manometer, Hot water dispensing, Cool Touch steam nozzle |
| Coffee machine head | E61 head |
| Material | Stainless steel |
| Boiler material | Stainless steel |
| Number of boilers | 2 |
| Number of heads | 1-lever |
| Power input (W) | 2600 |
| Prepared drinks | Espresso, Lungo, Americano, Cappuccino, Caffè latte, Hot water for tea |
| Tag | Premium, German |
| Pressure (bar) | 9 |
| Boiler size (l) | 2 |
| Size of espresso boiler (l) | 0,7 |
| Water tank (l) | 3 |
| Source of water | Direct water supply, Tank |
A trio of leaders in the production of espresso coffee machines for the home. From each a selection of lever espresso machines in three price levels. Introducing the household stars, for premium quality coffee making.
Alternative products (3)
Delivery 3-4 days
6 062,40 €
Delivery approx. 13 weeks
6 559,30 €
Delivery approx. 13 weeks
6 559,30 €