ECM Puristika PID, anthracite
ECM Puristika PID, anthracite
1 378 points to the loyalty system
---
TheECM Puristika PID home lever coffee machine is a must-have for all die-hard espresso fans. The Puristika single boiler coffee machine is not equipped with a steam nozzle. With its help, however, you can prepare espresso with a perfectly refined taste. More
Product code: 2226 Shipping options
TheECM Puristika PID home lever coffee machine is a must-have for all die-hard espresso fans. The Puristika single boiler coffee machine is not equipped with a steam nozzle. With its help, however, you can prepare espresso with a perfectly refined taste. More
Product code: 2226 Shipping options
An espresso machine you can rely on
A short warm-up phase, a blue valve for individual coffee pressure adjustment and a 2L external water tank make the Puristika a unique espresso machine. In addition, it offers a high-quality stainless steel boiler along with PID technology, with which you will be assured of a stable water temperature.
The E61 head, which ensures better thermal stability than a conventional round head
The ECM Puristika PID coffee maker is equipped with the widely used E61 head. This is connected to the water circuit - boiler. The water in the boiler is circulated through the chamber of the E61 head, heating it and thus stabilising the temperature during coffee extraction. This is a frequently used technology that is used in higher end coffee machines.
PID technology for temperature control
The Puristica model has one stainless steel boiler with a capacity of 0.75l, which prepares espresso only. The boiler is controlled by PID, which is a digital thermostat that maintains a very stable water temperature.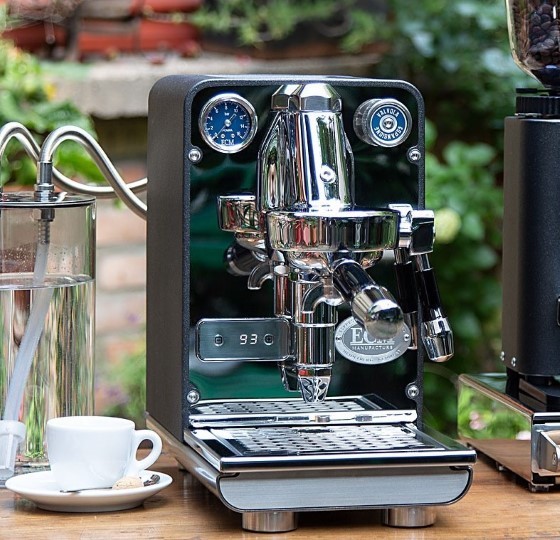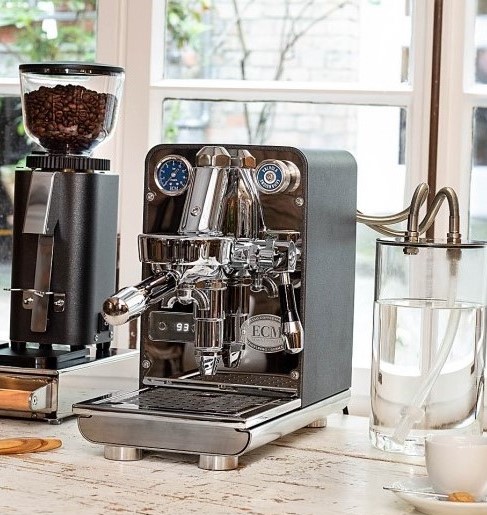 The designer espresso machine impresses at first sight
This home lever espresso machine is characterised by its very low noise level and small dimensions. It fits into any smaller kitchen without standing out too much in terms of size. But that doesn't apply to the design. The design is extremely cute and catches everyone's eye at first sight. Whether it's the rounded anthracite cover, the midnight blue details on the valve and pressure gauge or the external glass water tank. All this together makes the PURISTIKA coffee machine an absolutely essential design piece.
Three-way valve of the ECM Puristika PID coffee machine
The three-way valve is a very important technical element in the equipment of a coffee machine. It opens and switches between three paths: the hot water source, the coffee head and the waste. When the coffee dispenser is switched on, the water supply to the coffee head opens and the path to the waste closes. When coffee dispensing is switched off, the path between the coffee head and the waste opens and the water source closes. After the coffee has been extracted, the pressure in the coffee head is released and the excess water is drained to the waste.
The display shows the temperature and the extraction time
In the bottom left corner there is a display that keeps the extraction time and temperature under control. A very useful feature of this lever coffee machine is the pressure control during extraction by means of a pressure relief valve.
Alternative products (3)
Delivery 3-4 days
1 470,60 €
| | |
| --- | --- |
| Boiler | Single boiler |
| Dosage | Manual |
Delivery 3-4 days
1 612,60 €
| | |
| --- | --- |
| Boiler | Single boiler |
| Dosage | Manual |
| | |
| --- | --- |
| Boiler | Single boiler with HX exchanger |
| Dosage | Manual |
| Daily capacity of the coffee machine | 50 |