ECM S-Automatik 64, anthracite
ECM S-Automatik 64, anthracite
938 points to the loyalty system
---
The S-Automatik 64 anthracite is a high quality fresh espresso grinder. It perfectly grinds coffee directly into the filter handle. The automatic grinder with digital timer is very comfortable. In addition to the manual mode, it also has the option to set two times - for one and two batches. More
Product code: 2242 Shipping options
The S-Automatik 64 anthracite is a high quality fresh espresso grinder. It perfectly grinds coffee directly into the filter handle. The automatic grinder with digital timer is very comfortable. In addition to the manual mode, it also has the option to set two times - for one and two batches. More
Product code: 2242 Shipping options
Fresh grinder for a perfect grind
The S-Automatik 64 is a high-quality espresso grinder. It quickly and consistently grinds coffee directly into the filter handle. It can be used in commercial environments as well as in the home. It is also one of the most powerful espresso grinders with direct dosing. The hopper capacity here is 500g. Thanks to its compact size and ease of use, the S-Automatic can be recommended to all coffee lovers.
A quality grinder developed by experienced engineers
If you have an espresso machine at home, you are probably looking for a suitable grinder. ECM has drawn on its years of experience and expertise to come up with this compact grinder. The machine is made from components of the highest quality, which gives the promise of its long life.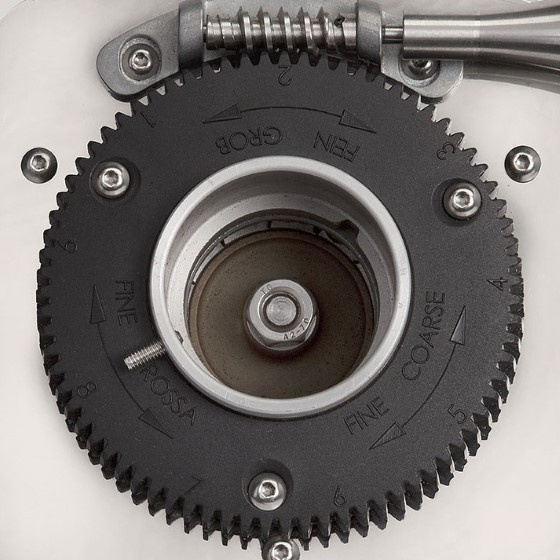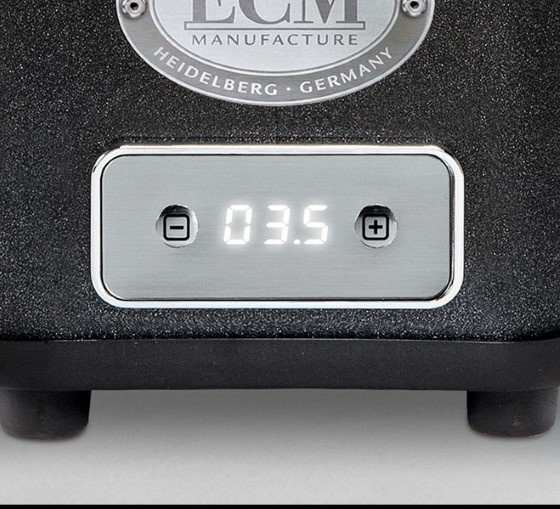 Portion settings via the elegant display
Easy operation and its compact size are some of the main attributes of this grinder. Whether you're grinding one or two portions, or you wish to select the amount of coffee manually, just press a button and the machine does the rest. Adjusting portions is easily done via the clear display. First you fine-tune the coffee dose using the scale, and then you're assigned two times for one and two espressos. Using the digital display is very convenient, you can change the time very sensitively. In addition, during the grinding process you can pause the dosage, flatten the coffee in the lever (so it doesn't overflow) and then finish the batch.
Smooth coarseness adjustment
Thegrind coarseness adjustment is stepless and the grinding time for a single espresso is approximately 3.8 seconds. This makes it one of the most powerful espresso grinders with direct dosing.
Parameters
| | |
| --- | --- |
| For | Espresso |
| Colour | |
| Dosage of the grinder | Manual |
| Display | Yes |
| Functions of the grinder | Coarseness setting |
| Hopper capacity (g) | 500 |
| Material | Aluminium, Stainless steel, Plastic |
| Material of grinding stones | Steel |
| Grinder suitable for | Offices, Households |
| Voltage | 230V |
| Number of revolutions per minute | 1400 |
| Using | Home |
| Power input (W) | 450 |
| Coffee grinder label | Quality, Standard |
| Shape of grinding stones | Flat |
| Type | Electric |
| Size of grinding stones (mm) | 64 mm |
How can the quality of grinding vary with electric coffee grinders? For example, find out the differences between the German Mahlkönig and Graef grinders or how the popular Mignon grinder fares in terms of quality.
Alternative products (3)
Delivery 3-4 days
1 290 €
| | |
| --- | --- |
| For | Espresso |
| Material of grinding stones | Titanium surface |
| Shape of grinding stones | Flat |
| Size of grinding stones (mm) | 64 mm |
Delivery 3-4 days
1 338,10 €
| | |
| --- | --- |
| For | Espresso |
| Material of grinding stones | Titanium surface |
| Shape of grinding stones | Flat |
| Size of grinding stones (mm) | 64 mm |
| | |
| --- | --- |
| Material of grinding stones | Steel |
| Shape of grinding stones | Flat |
| Size of grinding stones (mm) | 65 mm |