2 521 points to the loyalty system
---
This ECM Technika V Profi PID home lever coffee machine combines sophisticated technology with elegant design. The professional nozzles are made of brass and chrome and shine alongside large, easy-to-read pressure gauges. The handy PID controller allows for easy adjustment and guarantees a stable temperature inside the boiler. More
Product code: 2229 Shipping options
This ECM Technika V Profi PID home lever coffee machine combines sophisticated technology with elegant design. The professional nozzles are made of brass and chrome and shine alongside large, easy-to-read pressure gauges. The handy PID controller allows for easy adjustment and guarantees a stable temperature inside the boiler. More
Product code: 2229 Shipping options
Offers features you'll appreciate
This coffee maker is a quality, precision heat exchange machine that is a step up from the Technika IV. With the Technika V Profi PID, ECM has brought enhancements such as a PID shot timer and stylized steam and hot water controls. For anyone who is bothered by noisy coffee makers we have good news. The Technika V Profi PID will operate very quietly. This is all thanks to the nearly noiseless rotary pump. We'll also highlight the three-way valve that allows you to switch between the hot water source, the coffee head and the waste.
PID temperature controller
PID technology allows you to control the temperature during espresso and steam whipping. It offers individual temperature settings and maintains the aesthetics of the ECM with its silver-plated design. The coffee maker is equipped with a clear display that allows you to control the extraction time. Expect excellent temperature stability. At the same time, you have the ability to adjust temperatures to bring out the flavor nuances of perfectly brewed coffee.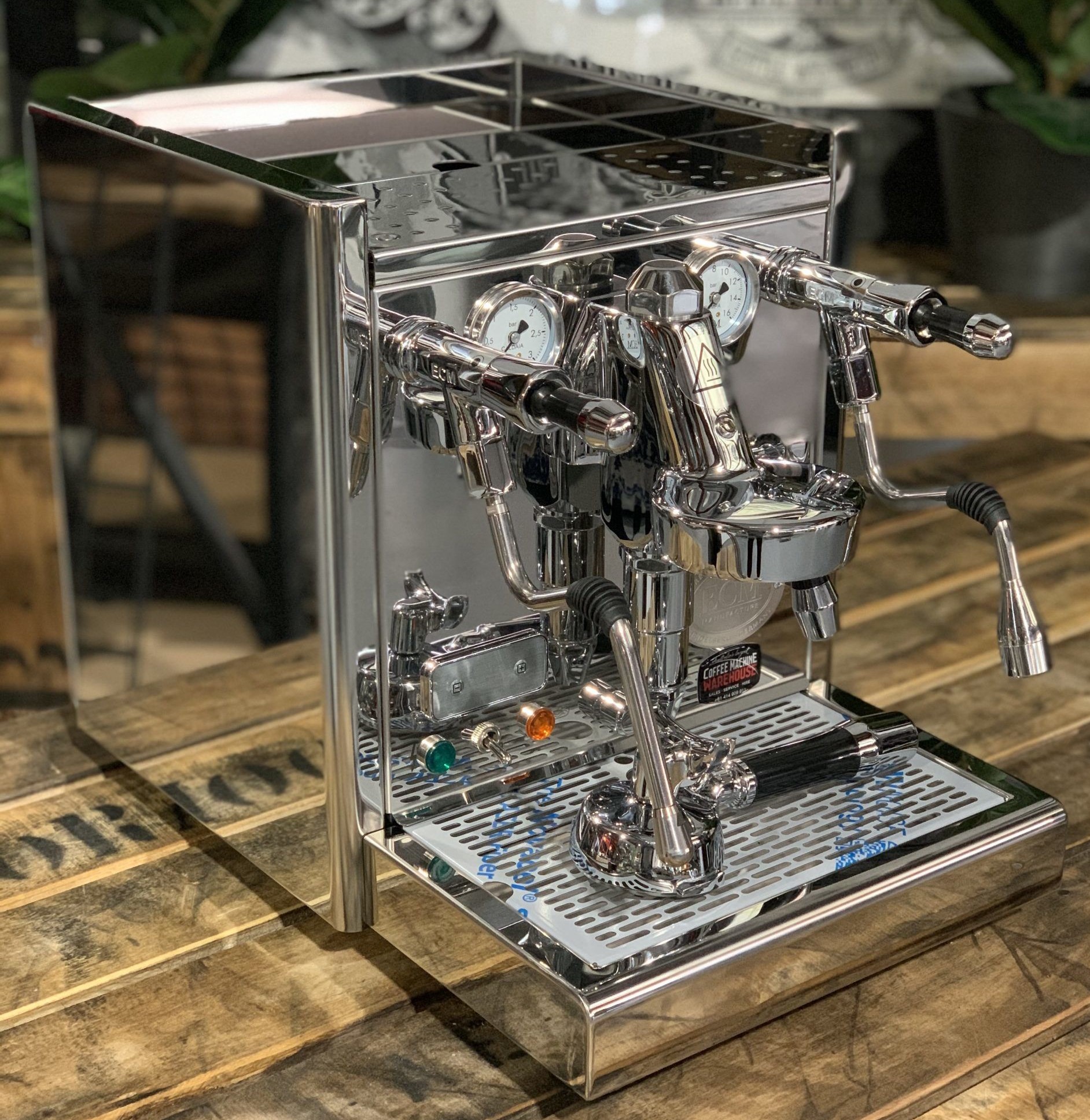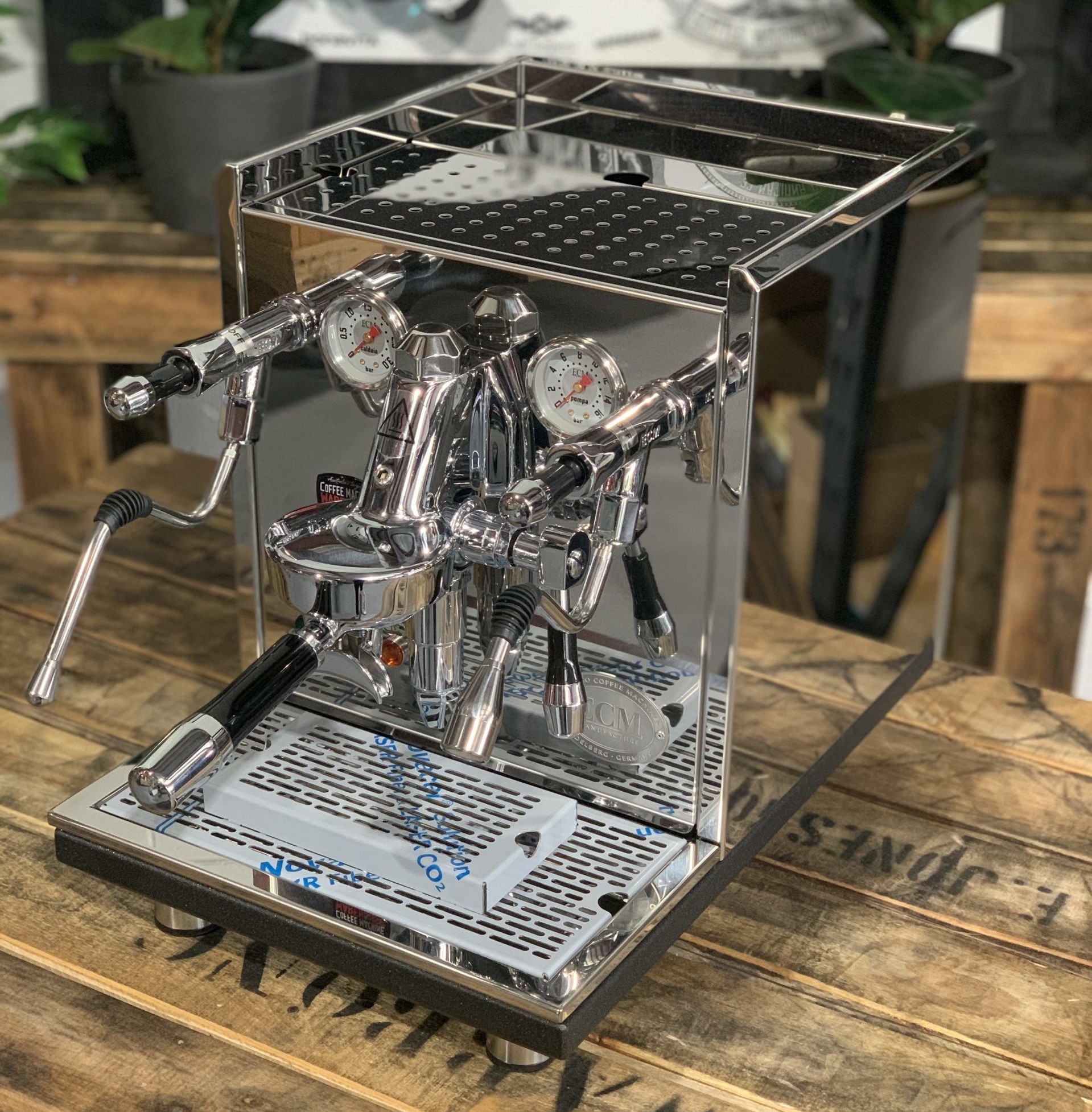 The patented E61 head will provide a stable temperature
The ECM Technika V Profi PID features the widely used E61 head, which is connected to the water-boiler circuit. The water in the boiler circulates through the E61 head chamber, heating it and thus stabilising the temperature during coffee extraction. This is a frequently used technology that is used in higher end coffee machines. The 1400W boiler is made of stainless steel and has a capacity of 2.1 litres.
The water can be pumped from the reservoir or connected to the mains water supply
The standout feature here, however, is the machine's ability to switch from its 3-litre water tank directly to the mains water supply. This ensures a constant supply of water, making it a flexible coffee machine for any environment. The package includes
Connection on the body of the machine (rear of the frame) - 90° elbow outlet 1/8 "M (360° swivel elbow)
Pressure hose (armoured) 1.5m 1/8 "F - 3/8 "F
It is advisable to connect a water filter in front of the coffee machine to soften the water. This ensures a long life of the coffee machine.
Heat Exchanger function
The coffee machine with the HX boiler system, i.e. heat exchanger, allows very comfortable operation when preparing milk drinks (whipping milk). It is possible to brew espresso and whip milk at the same time. Steam is immediately available without waiting.
A coffee machine that will shine in any kitchen
Of course, the design of a coffee machine always deserves special mention . This lever coffee machine has a handmade stainless steel cover, larger pressure gauges for easy reading and new valves for steam and hot water that have the ECM logo stamped on the sides. Solid construction and extremely quiet operation make this coffee maker a unique functional and design piece.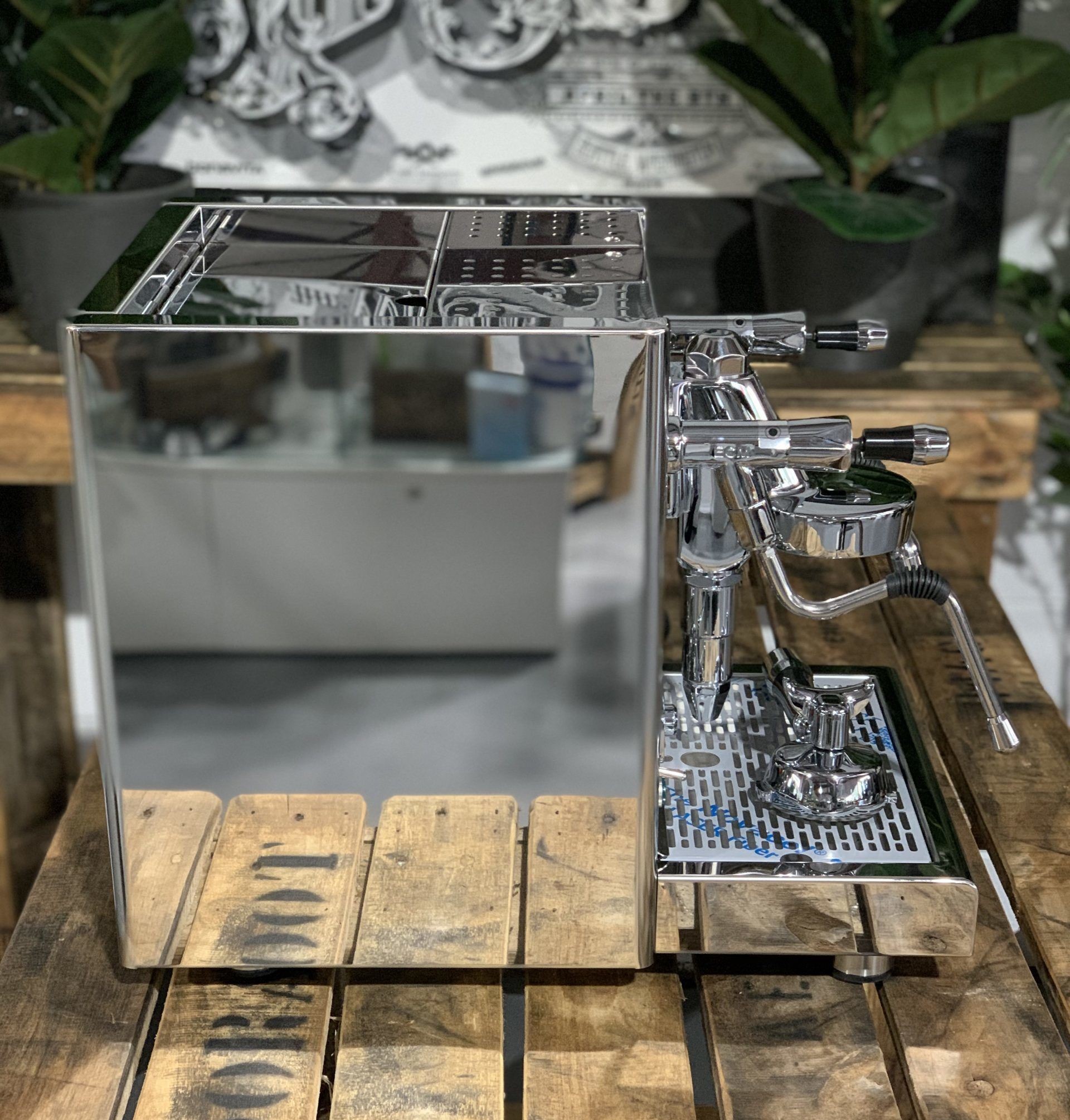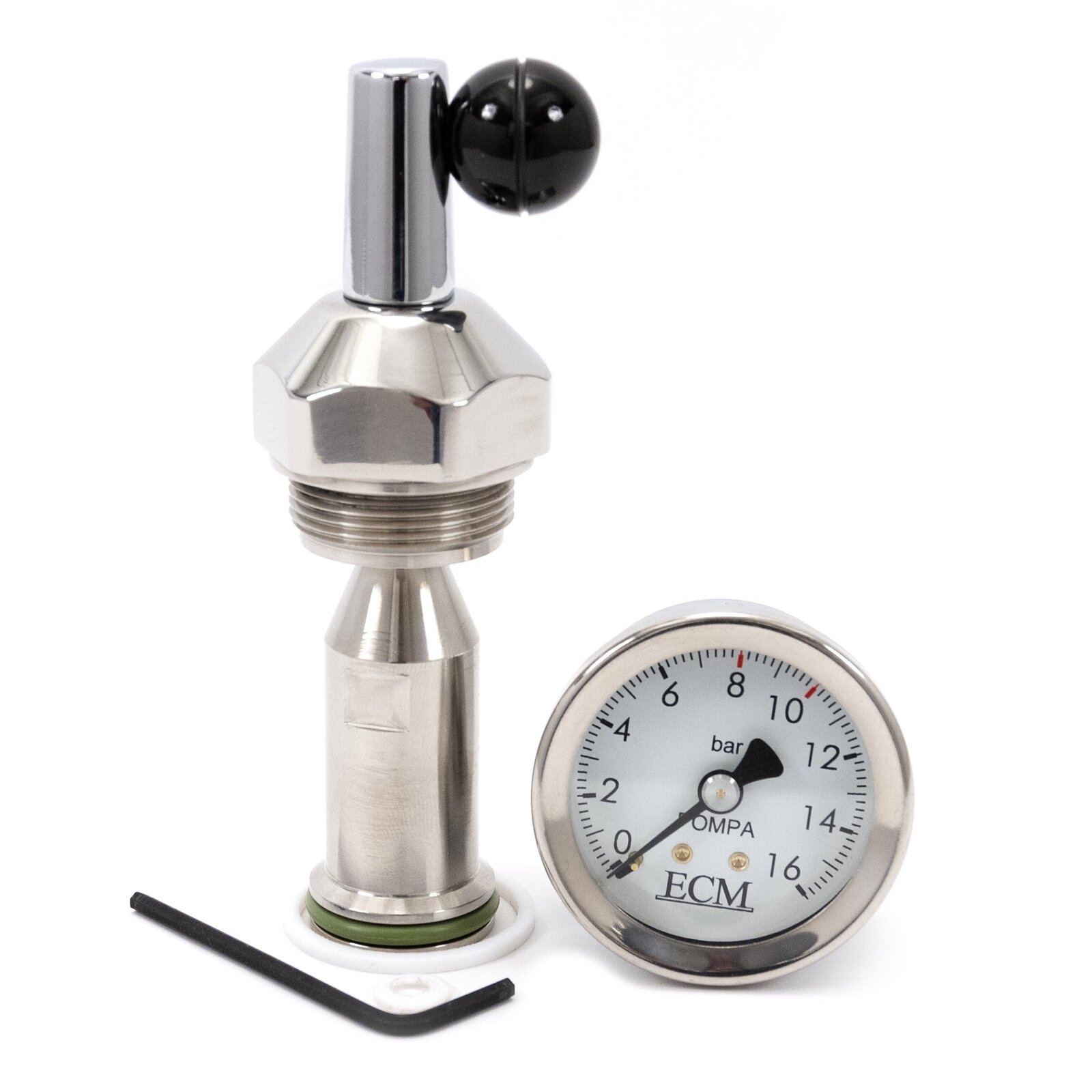 Accessories
Ergonomic chrome-plated brass lever with single-spout
Ergonomic chrome-plated brass lever with two spouts
Blind filter
1-cup filter
2-cup filter
Head cleaning brush
Instructions for use
1/8" - 3/8" hose for connection to the water supply line
Parameters
| | |
| --- | --- |
| Automatic cleaning | No |
| Colour | |
| Boiler | Single boiler with HX exchanger |
| Cappuccino in one squeeze | No |
| Pump | Rotary |
| Dosage | Manual |
| Display | No |
| To | Households |
| Functions of the coffee machine | Cool touch nozzle, Two cups at a time, Manometer, Manual cleaning, PID, Hot water dispensing |
| Coffee machine head | E61 head |
| Material | Stainless steel |
| Boiler material | Stainless steel |
| Coffee bean grinder | No |
| Voltage | 230V |
| Number of boilers | 1 |
| Number of heads | 1-lever |
| Power input (W) | 1400 |
| Prepared drinks | Americano, Caffè latte, Cappuccino, Espresso, Hot water for tea, Lungo, Warm milk |
| Tag | Quality, Cheap, German |
| Pressure (bar) | 9 |
| Boiler size (l) | 2.1 |
| Basic functions | Steam nozzle |
| Water tank (l) | 3 |
| Source of water | Direct water supply, Tank |
A trio of leaders in the production of espresso coffee machines for the home. From each a selection of lever espresso machines in three price levels. Introducing the household stars, for premium quality coffee making.
Alternative products (3)
| | |
| --- | --- |
| Boiler | Multi boiler |
| Dosage | Manual |
Delivery 3-4 days
3 054,90 €
| | |
| --- | --- |
| Boiler | Multi boiler |
| Dosage | Manual |
| | |
| --- | --- |
| Boiler | Multi boiler |
| Dosage | Manual |