1 826 points to the loyalty system
---
Espresso or filter coffee? The Eureka Atom Pro can grind for both. In addition to its versatility, the grinder will undoubtedly impress you with its quiet and consistent grind. More
Product code: 957 Shipping options
Espresso or filter coffee? The Eureka Atom Pro can grind for both. In addition to its versatility, the grinder will undoubtedly impress you with its quiet and consistent grind. More
Product code: 957 Shipping options
What does the Eureka Atom Pro offer you?
Coffee grinding for espresso and filter coffee
removable portafilter holder
75 mm flat stainless steelgrinding stones
300 g coffee tray with Blow-Up system for coffee residue
manual grind setting with start-stop function only = always freshly ground coffee
fast grinding - up to 7 grams per second
micrometer adjustment of grinding coarseness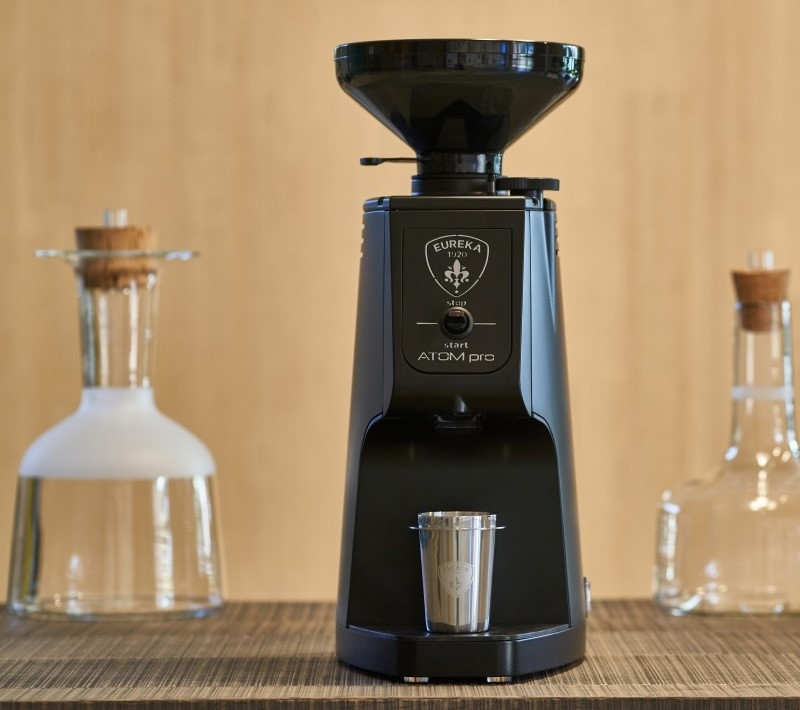 Grinder for all coffee preparation methods
Eureka grinders are mostly designed to grind espresso coffee with the Atom Pro but there has been an exception. This is because it can grind both espresso and filter coffee. If you grind coffee for espresso the portafilter holder will help, but it is removable.
Thegrinding stones with a diameter of 75 mm take care of consistent performance and maintain a stable grinding coarseness.
Compact universal grinder
The Eureka Atom Pro is not one of the pro giants. This compact grinder will serve you especially well in a household full of coffee drinkers who appreciate the micrometer grind coarseness setting.
The workmanship is thought out in every detail. The hopper of the grinder is coloured black so that the coffee beans do not come into contact with light and thus devalue the coffee inside. The hopper capacity is approximately 300 grams. The hopper also includes a Blow-Up system, which helps to blow out the remaining ground coffee after it has been wetted. This allows almost the entire weighed batch to come out and the coffee inside the grinder does not oxidize.
The Atom Pro grinder is also equipped with a ventilation system that prevents the grinder from overheating and also helps keep the grinding stones at a constant temperature. This keeps an eye out for burnt beans during heavy use, which could affect the final taste of the coffee.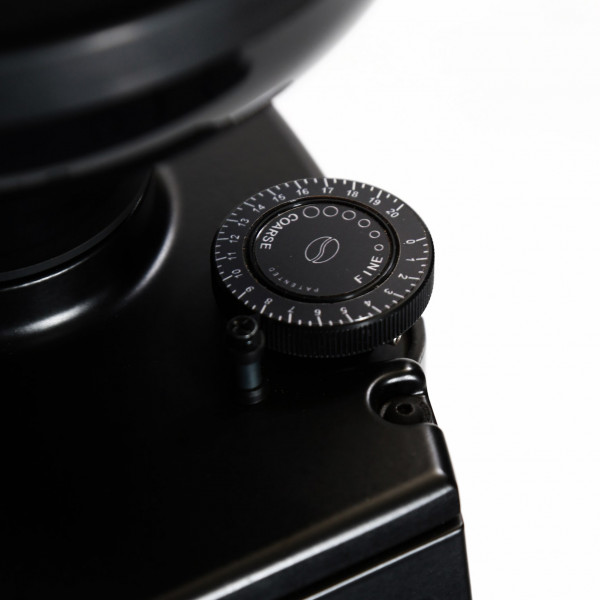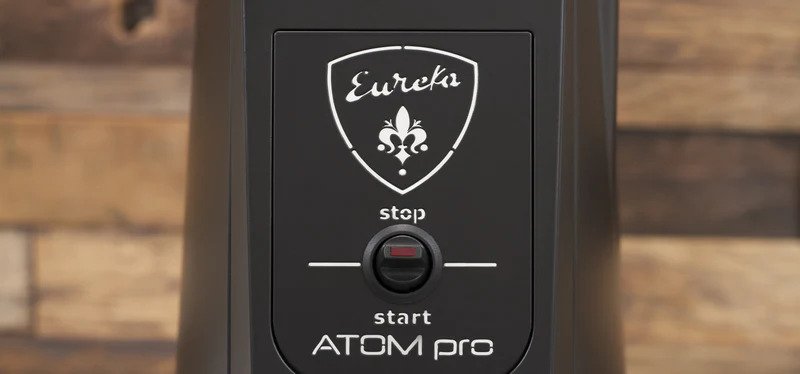 Always freshly ground coffee
The beans always need to be weighed before grinding, as the grinder lacks a timer. This ensures that your coffee is always freshly ground. In addition, you won't have to re-sieve the coffee when you frequently change between espresso and filter coffee. You can then simply start the grinding with the start/stop button.
Parameters
| | |
| --- | --- |
| For | Filtered coffee, Alternative methods of preparation, Espresso |
| Colour | |
| Dosage of the grinder | Configurable |
| Display | No |
| Functions of the grinder | Display, Coarseness setting, Timer-Stops |
| Hopper capacity (g) | 300 |
| Material | Stainless steel, Plastic |
| Material of grinding stones | Steel |
| Grinder suitable for | Cafes, Espresso bar, Restaurant, Hotel, Confectionery |
| Voltage | 230V |
| Number of revolutions per minute | 1400 |
| Using | Professional |
| Power input (W) | 920 |
| Grinding speed | 7,0 - 8,0 g/s |
| Coffee grinder label | Italian, Standard |
| Shape of grinding stones | Flat |
| Type | Electric |
| Size of grinding stones (mm) | 75 mm |
Download
How can the quality of grinding vary with electric coffee grinders? For example, find out the differences between the German Mahlkönig and Graef grinders or how the popular Mignon grinder fares in terms of quality.
---
You can offer filtered coffee from a Hario dripper for one, a French press for two, or have an automatic dripper for a batch brew. In any case, the taste of the coffee, for whatever method you choose, is significantly influenced by the coffee grinder. So, how to choose one?
Alternative products (3)
Delivery 10 days
1 487,50 €
| | |
| --- | --- |
| For | Espresso |
| Material of grinding stones | Steel |
| Shape of grinding stones | Flat |
| Size of grinding stones (mm) | 85 mm |
Delivery 2 weeks
3 475,20 €
| | |
| --- | --- |
| For | Filtered coffee, Alternative methods of preparation, Espresso |
| Material of grinding stones | Steel |
| Shape of grinding stones | Flat |
| Size of grinding stones (mm) | 98 mm |
Delivery 2 weeks
2 827,20 €
| | |
| --- | --- |
| For | Filtered coffee, Alternative methods of preparation, Espresso |
| Material of grinding stones | Steel |
| Shape of grinding stones | Flat |
| Size of grinding stones (mm) | 71 mm |