1 226 points to the loyalty system
---
Revolutionary automatic tamper Eureka Disko in modern black design. Say goodbye to sore shoulders and entrust your tamping to this handy helper. It moves coffee evenly, reliably and lightning fast. More
Product code: 5684 Shipping options
Revolutionary automatic tamper Eureka Disko in modern black design. Say goodbye to sore shoulders and entrust your tamping to this handy helper. It moves coffee evenly, reliably and lightning fast. More
Product code: 5684 Shipping options
Automatic tamper Eureka Disko in black
✔️ high speed coffee frothing (1.5 seconds)
✔️ saving time and making work easier
✔️ even and consistent tamping
✔️ easy operation via touch screen
✔️ sequential tamping settings (single or double)
✔️ pressure adjustment with a range of 10 to 30 kg (±1 kg control).
✔️ magnetic sensor for automatic portafilter detection
✔️ compatible with any type of portafilter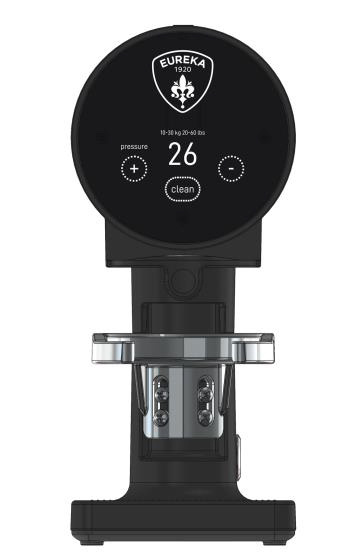 Eureka Disco: the revolution in tamping
The Eureka Disko automatic tamper is a revolutionary tool for baristas, saving them not only time but also health. It tamped the coffee evenly, consistently and ensured the best extraction. It can make baristas' work easier even in the busiest operations, as it only takes 1.5 seconds to tamp.
The clear touchscreen controls are very easy to use and you can easily customise the tamping profile. The cleaning process is also easy to activate via the touchscreen and for even better maintenance, it has an easily removable tamping disc.
The Eureka Disko also has a magnetic sensor for automatic portafilter detection and is compatible with all sizes thanks to the adjustable fork . It also offers a wide tamping disc range(53-58.3 mm).