Eureka Drogheria 85 silver
Eureka Drogheria 85 silver
1 488 points to the loyalty system
---
The Eureka Drogheria 85 professional grinder will grind your espresso and filter coffee . The large 85 mm grinding stones take care of up to 30 kg of coffee per hour. More
Product code: 3572 Shipping options
The Eureka Drogheria 85 professional grinder will grind your espresso and filter coffee . The large 85 mm grinding stones take care of up to 30 kg of coffee per hour. More
Product code: 3572 Shipping options
New professional excellent performance commercial coffee grinders Eureka Drogheria MCD4 85 Monophase. EUREKA Drogheria guarantees high and consistent grinding quality like all other EUREKA professional grinders. Thanks to the new "Easy Setting" technology, it allows you to switch from coarse grinding to fine grinding at the turn of a knob.
What does the Eureka Drogheria 85 grinder offer you?
85 mm flat stainless steel grinding stones
Grinds both espresso and filter coffee
Precise stepless adjustment of grinding coarseness
Very easy cleaning
No coffee residue in the hopper thanks to the Blow-Up system
Coffee dispenser with bag holder
All-metal body
Reliable grinder
The Eureka Drogheria 85 grinder has been specially designed to grind larger volumes of coffee beans. It is designed to avoid compromising the quality and consistency of the grind. It is thus equipped with 85 mm grinding stones along with the unique Easy Setting system. This system guarantees easy adjustment of the grinding coarseness from the finest to the coarsest grinding coarseness.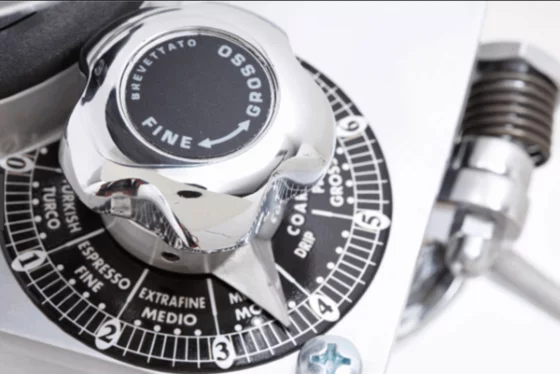 Parameters
| | |
| --- | --- |
| For | Espresso |
| Colour | |
| Dosage of the grinder | Configurable |
| Display | No |
| Functions of the grinder | Display, Coarseness setting, Timer-Stops |
| Hopper capacity (g) | 1400 |
| Material | Stainless steel, Plastic |
| Material of grinding stones | Steel |
| Grinder suitable for | Cafes, Espresso bar, Restaurant, Hotel, Confectionery |
| Voltage | 230V |
| Number of revolutions per minute | 1430 |
| Using | Professional |
| Power input (W) | 500 |
| Grinding speed | 9,5 - 10,5 g/s |
| Coffee grinder label | Italian, Quality, Premium |
| Shape of grinding stones | Flat |
| Type | Electric |
| Size of grinding stones (mm) | 85 mm |
Download
How can the quality of grinding vary with electric coffee grinders? For example, find out the differences between the German Mahlkönig and Graef grinders or how the popular Mignon grinder fares in terms of quality.
---
You can offer filtered coffee from a Hario dripper for one, a French press for two, or have an automatic dripper for a batch brew. In any case, the taste of the coffee, for whatever method you choose, is significantly influenced by the coffee grinder. So, how to choose one?
Alternative products (3)
Delivery 10 days
1 827,10 €
| | |
| --- | --- |
| For | Filtered coffee, Alternative methods of preparation, Espresso |
| Material of grinding stones | Steel |
| Shape of grinding stones | Flat |
| Size of grinding stones (mm) | 75 mm |
Delivery 2 weeks
3 477,30 €
| | |
| --- | --- |
| For | Filtered coffee, Alternative methods of preparation, Espresso |
| Material of grinding stones | Steel |
| Shape of grinding stones | Flat |
| Size of grinding stones (mm) | 98 mm |
Delivery 2 weeks
3 477,30 €
| | |
| --- | --- |
| For | Filtered coffee, Alternative methods of preparation, Espresso |
| Material of grinding stones | Steel |
| Shape of grinding stones | Flat |
| Size of grinding stones (mm) | 98 mm |