1 016 points to the loyalty system
---
You can rely on the Eureka Helios 65 electric espresso grinder even in the busiest of operations. The grinder features both standard functions such as automatic dosing and stepless coarseness adjustment, as well as premium ones in the form of a setting lock. More
Product code: 961 Shipping options
You can rely on the Eureka Helios 65 electric espresso grinder even in the busiest of operations. The grinder features both standard functions such as automatic dosing and stepless coarseness adjustment, as well as premium ones in the form of a setting lock. More
Product code: 961 Shipping options
What does the Eureka Helios 65 grinder offer you?
Grinding coffee for espresso in a café or gastropub
65 mm flat stainless steel grinding stones
easy operation with colour touch screen
stepless grinding coarseness adjustment system
possibility to lock the grinding coarsenesssetting
lump-free ground coffee - ACE system against electrostatics and coffee lumping
automatic dosing for up to three coffee servings
hopper with a capacity of 1.2 kg
asynchronous motor with grinding stones on the shaft
Espresso grinder for the coffee shop
The Eureka Atom 65 grinder is suitable for busier establishments such as cafés, restaurants and bars. It can meet the requirements of even the most demanding baristas. One of its main advantages is the multi-colour display, on which up to 3 batches can be preset.
In order to always achieve the same grind quality even when changing baristas , the settings can be locked. Like other Eureka grinders, the Helios 65 is equipped with a stepless grind coarseness control system.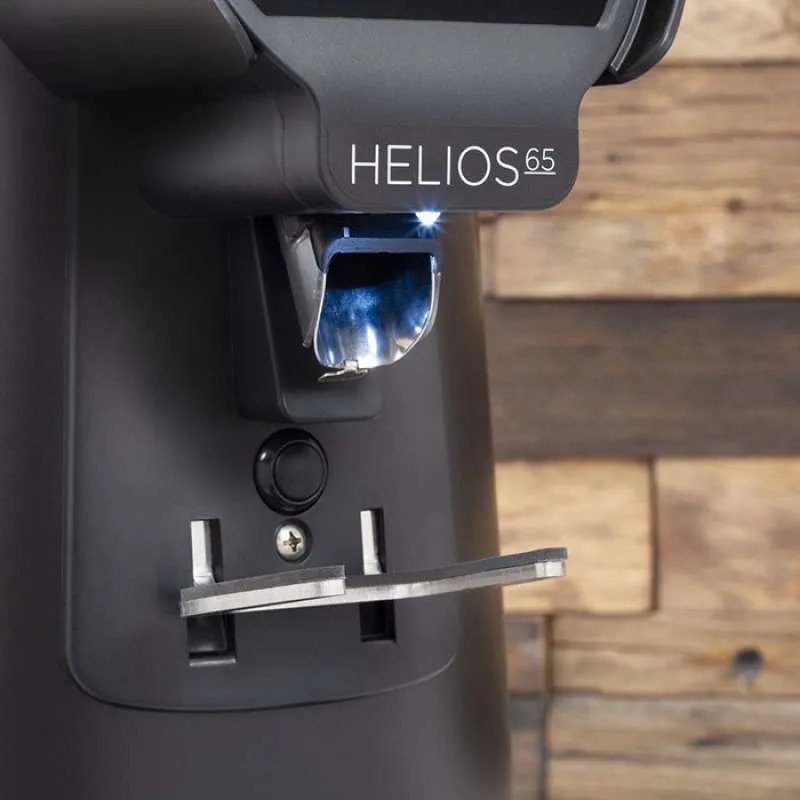 High-speed grinder
Inside the grinder is a new high-performance motor that guarantees high productivity. In addition, it is equipped with the ACE system, which eliminates the electrostatic charge and prevents lumping of the ground coffee.
The hopper can hold up to 1.2 kg of coffee beans, which are poured directly into the lever after grinding. The lever fork is adjustable.
Parameters
| | |
| --- | --- |
| For | Espresso |
| Colour | |
| Dosage of the grinder | Configurable |
| Display | Yes |
| Functions of the grinder | Display, Coarseness setting, Timer-Stops |
| Hopper capacity (g) | 1200 |
| Material | Stainless steel, Plastic |
| Material of grinding stones | Steel |
| Grinder suitable for | Cafes, Espresso bar, Restaurant, Hotel, Confectionery |
| Voltage | 230V |
| Number of revolutions per minute | 1370 |
| Using | Professional |
| Power input (W) | 570 |
| Grinding speed | 3,5 - 5,0 g/s |
| Coffee grinder label | Italian, Quality, Premium |
| Shape of grinding stones | Flat |
| Type | Electric |
| Size of grinding stones (mm) | 65 mm |
Download
How can the quality of grinding vary with electric coffee grinders? For example, find out the differences between the German Mahlkönig and Graef grinders or how the popular Mignon grinder fares in terms of quality.
Alternative products (3)
Delivery 4 weeks
1 368,30 €
| | |
| --- | --- |
| For | Espresso |
| Material of grinding stones | Steel |
| Shape of grinding stones | Flat |
| Size of grinding stones (mm) | 75 mm |
Delivery 3-4 days
1 368,30 €
| | |
| --- | --- |
| For | Espresso |
| Material of grinding stones | Steel |
| Shape of grinding stones | Flat |
| Size of grinding stones (mm) | 75 mm |
Delivery 3-4 days
1 075,30 €
| | |
| --- | --- |
| For | Espresso |
| Material of grinding stones | Steel |
| Shape of grinding stones | Flat |
| Size of grinding stones (mm) | 65 mm |