2 461 points to the loyalty system
---
The Eureka Mythos Plus 76electric coffee grinder in stainless steel will impress you not only with its attractive design, but also with its perfect performance. Precise and fast grinding is ensured by the 75 mm titanium flat grinding stones. More
Product code: 5695 Shipping options
The Eureka Mythos Plus 76electric coffee grinder in stainless steel will impress you not only with its attractive design, but also with its perfect performance. Precise and fast grinding is ensured by the 75 mm titanium flat grinding stones. More
Product code: 5695 Shipping options
Electric grinder Eureka Mythos Plus 76
✔️ micrometric grinding coarseness adjustment
✔️ titanium flat 75 mm grinding stones
✔️ adjustable hands-free fork for lever stabilisation
✔️ built-in dynamometer tamper (0-22 kg)
✔️ has 5 buttons and 3 programmable batches
✔️ bean hopper safety system
✔️ ACE system against static electricity
✔️ grinding speed 4.5-5.5 g/s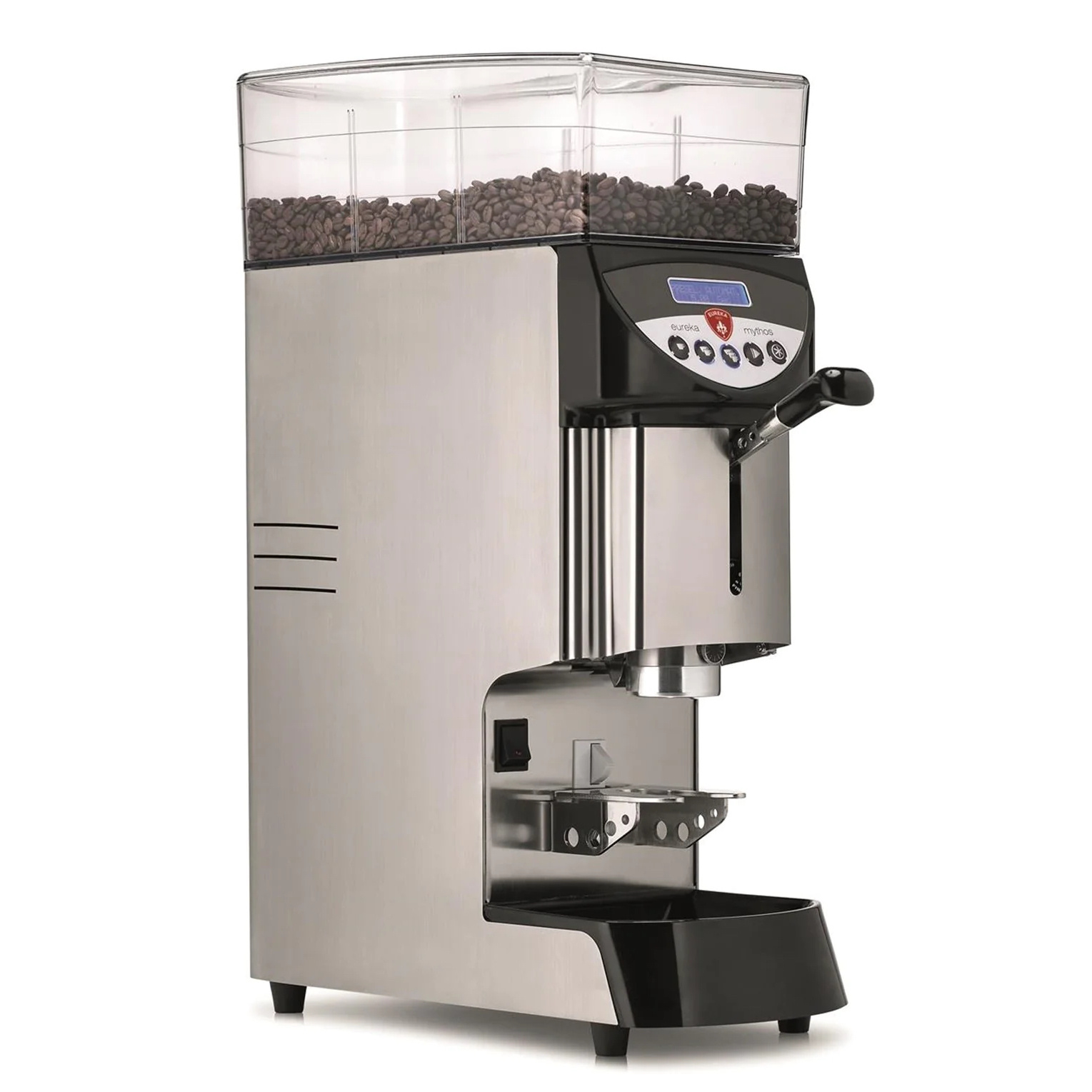 Eureka Mythos: the perfect espresso grinder
The Eureka Mythos electric grinder in stainless steel has a patented micrometric grinding coarseness adjustment system. It has an adjustable hands-free fork for perfect lever stabilisation.
You can choose from three programmable batches and the clear display is easy to use with five buttons. The ACE (Anti-Clumps and Electrostaticity) system prevents static electricity and ensures that unpleasant lumps don't form in the ground coffee.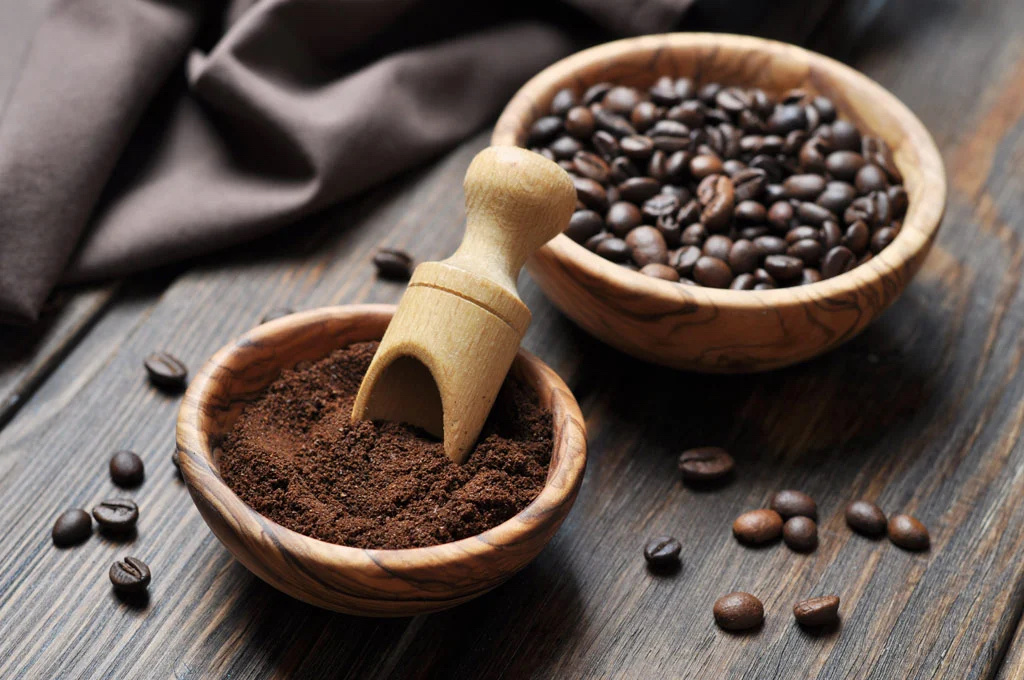 Precise dosing of the Mythos grinder
The grinder is also equipped with a dynamometer tamper. Precise and high-quality grinding is ensured by the 75 mm titanium flat grinding stones. The capacity of the coffee bean hopper is 3.2 kg. Thanks to the inclined design of the grinding chamber, no coffee is left in the grinder, which guarantees dosing accuracy.
In addition,the elegant stainless steel design fits perfectly into any barista's corner. The Mythos grinder will thus be a faithful partner in any establishment where perfect espresso is a priority.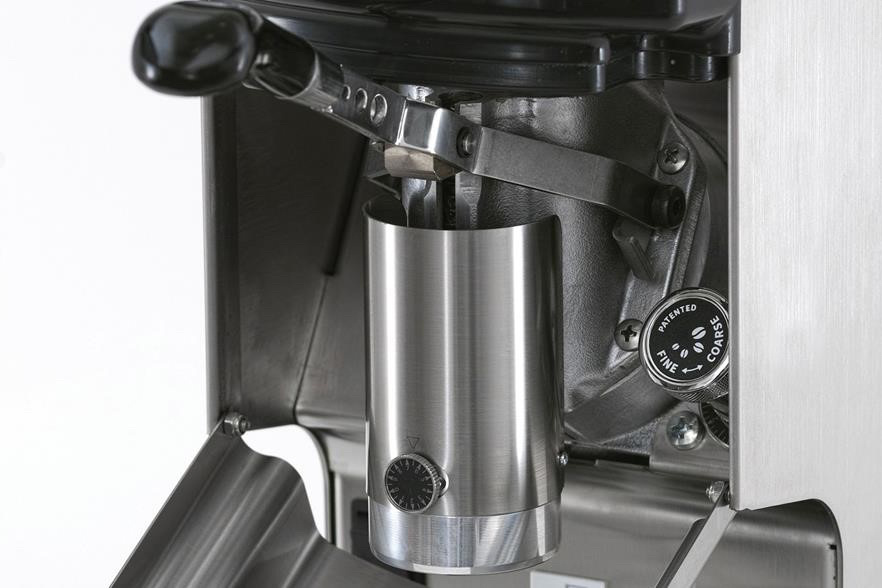 Parameters
| | |
| --- | --- |
| Colour | |
| Dosage | Configurable |
| Display | Yes |
| Functions of the grinder | Display, Coarseness setting |
| Hopper capacity (g) | 3200 |
| Material | Stainless steel |
| Material of grinding stones | Titanium surface |
| Grinder suitable for | Cafes, Espresso bar, Restaurant |
| Voltage | 230 |
| Number of revolutions per minute | 1400 |
| Using | Professional |
| Power input (W) | 800 |
| For | Espresso |
| Grinding speed | 4,5-5,5 g/s |
| Coffee grinder label | Italian |
| Shape of grinding stones | Flat |
| Type | Electric |
| Size of grinding stones (mm) | 75 mm |
What are smart coffee grinders? Today I'm going to tell you about innovations in coffee grinding technology. What you may encounter with electric coffee grinders and why you want these features in your grinder too.
---
How can the quality of grinding vary with electric coffee grinders? For example, find out the differences between the German Mahlkönig and Graef grinders or how the popular Mignon grinder fares in terms of quality.
Alternative products (2)
Delivery 2 weeks
3 549,20 €
| | |
| --- | --- |
| For | Filtered coffee, Alternative methods of preparation, Espresso |
| Material of grinding stones | Steel |
| Shape of grinding stones | Flat |
| Size of grinding stones (mm) | 80 mm |
Delivery 4 weeks
5 707,20 €
| | |
| --- | --- |
| For | Filtered coffee, Alternative methods of preparation, Espresso |
| Material of grinding stones | Steel |
| Shape of grinding stones | Flat |
| Size of grinding stones (mm) | 140 |