1 437 points to the loyalty system
---
Professional grinder for espresso and alternative preparation with a grinding speed of 7g per second. The Eureka SG85 grinder is available in three variants. In the Barista designation, it is intended to be a competitor to the Mahlkönig EK in particular, and to be much more affordable. More
Product code: 1858 Shipping options
Professional grinder for espresso and alternative preparation with a grinding speed of 7g per second. The Eureka SG85 grinder is available in three variants. In the Barista designation, it is intended to be a competitor to the Mahlkönig EK in particular, and to be much more affordable. More
Product code: 1858 Shipping options
Easy setup
The grinder works very simply, without timer, scale, etc. Thanks to this, it will be a reliable helper, for example in a café for alternative coffee preparation. You can adjust the coarseness with one manual wheel, which holds the setting well.
Cooling function
The grinder also has a cooling function. A temperature monitoring system in the grinding chamber combined with a ventilation system ensures that the grinder does not overheat.
Not a bean of coffee wasted
The grinder also has a vibrating plate to ensure that the ground coffee is accurately poured into the bag. The high-performance coffee bag holder can hold bags weighing up to 1 kg.
"Stepless" micrometer adjustment
Eureka has patented the coarseness adjustment. You won't find any intermediate steps on it. This gives you unlimited possibilities to adjust the coarseness.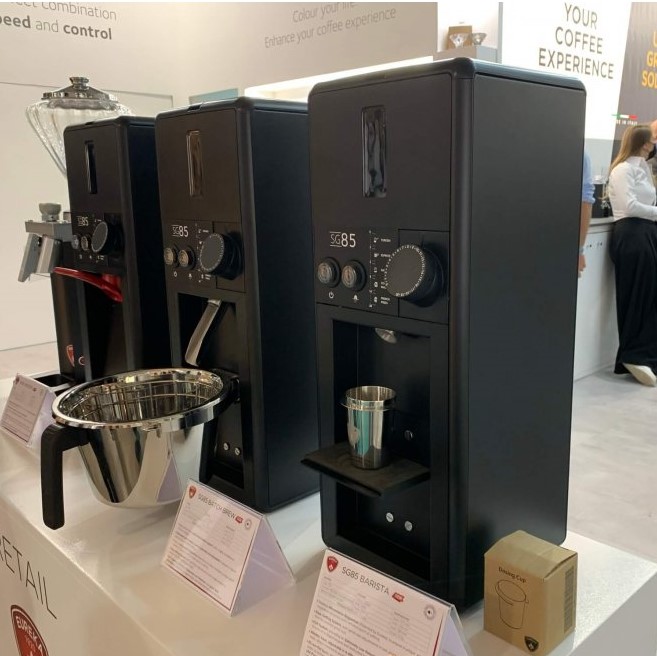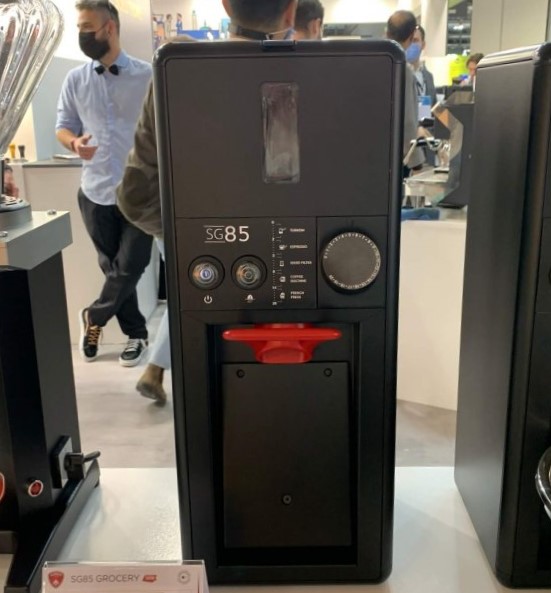 Metal magnetic grinder chassis
Thegrinder is metal. The chassis has magnetic parts without screws, which you can easily remove for servicing or cleaning. However, nothing rattles when grinding and the grinder feels sovereign.
Large 85mm flat stones
Large enough stones provide sufficient power for both espresso and alternative grinding. Eureka makes replacement stones in both steel and titanium that can withstand hundreds of kilograms.
Super quiet
Enclosed in a chassis, the grinder is above-average quiet for its size and production rate - 7 grams per second . At the same time, this grinder has a "Quiet Technology" feature that reduces noise during the grinding process by 15/20 dB compared to other grinders.
Easy cleaning of the grinder
The grinder features the ACE system, which is designed to prevent the presence of coffee residue while eliminating the electrostatic charge of ground coffee.
Parameters
| | |
| --- | --- |
| For | Espresso |
| Colour | |
| Dosage of the grinder | Configurable |
| Display | Yes |
| Functions of the grinder | Display, Coarseness setting, Timer-Stops |
| Hopper capacity (g) | 1200 |
| Material | Stainless steel, Plastic |
| Material of grinding stones | Steel |
| Grinder suitable for | Cafes, Espresso bar, Restaurant, Hotel, Confectionery |
| Voltage | 230V |
| Number of revolutions per minute | 1420 |
| Using | Professional |
| Power input (W) | 500 |
| Coffee grinder label | Italian, Standard |
| Shape of grinding stones | Flat |
| Type | Electric |
| Size of grinding stones (mm) | 85 mm |
How can the quality of grinding vary with electric coffee grinders? For example, find out the differences between the German Mahlkönig and Graef grinders or how the popular Mignon grinder fares in terms of quality.
Alternative products (3)
Delivery 5 weeks
1 661,10 €
| | |
| --- | --- |
| For | Espresso |
| Material of grinding stones | Steel |
| Shape of grinding stones | Flat |
| Size of grinding stones (mm) | 80 mm |
Delivery 4 weeks
1 661,10 €
| | |
| --- | --- |
| For | Espresso |
| Material of grinding stones | Steel |
| Shape of grinding stones | Flat |
| Size of grinding stones (mm) | 80 mm |
| | |
| --- | --- |
| For | Espresso |
| Material of grinding stones | Steel |
| Shape of grinding stones | Flat |
| Size of grinding stones (mm) | 75 mm |