Eureka tamper with ergonomic handle 58,35mm flat
Eureka tamper with ergonomic handle 58,35mm flat
77 points to the loyalty system
---
The Eurekatamper boasts an ergonomic handle that makes it fit perfectly in the hand of any barista. It has a sleek black design and the diameter of the base is 58.35 mm. More
Product code: 5694 Shipping options
The Eurekatamper boasts an ergonomic handle that makes it fit perfectly in the hand of any barista. It has a sleek black design and the diameter of the base is 58.35 mm. More
Product code: 5694 Shipping options
Eureka: Tamper with ergonomic handle 58,35 mm
✔️ flat tamper with adjustable ergonomic handle
✔️ sleek black design
✔️ base diameter: 58.35 mm
✔️ adjustable height: 103-114 mm
✔️ offers 4 handle height options
✔️ made of high quality materials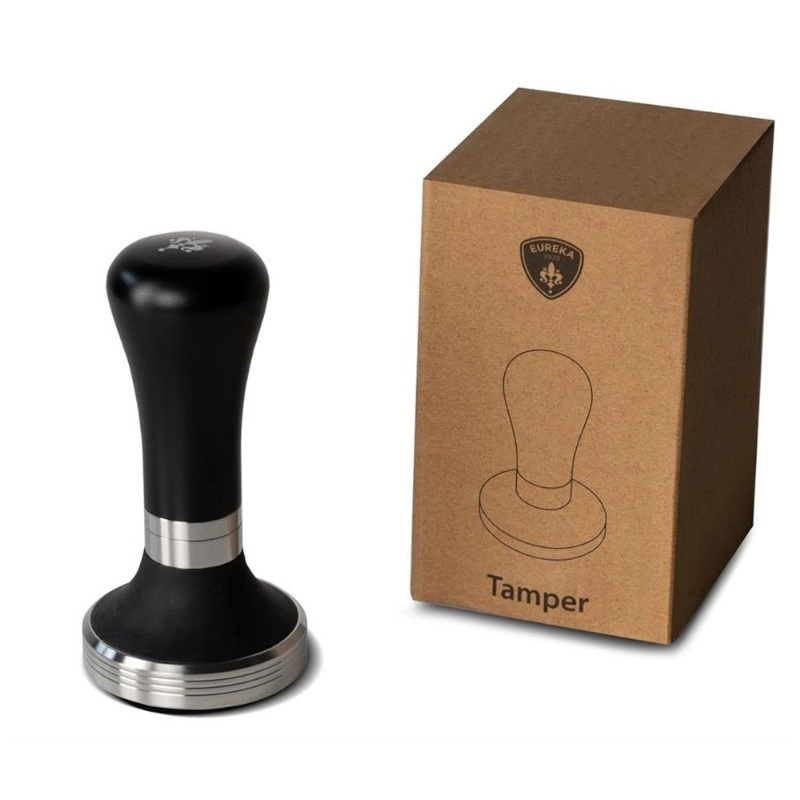 Flat black tamper with ergonomic handle
The Italian company Eureka has developed the perfect tamper with an ergonomic adjustable handle. This can be extended by adding two stainless steel rings (5 and 8 mm). It offers a total of 4 handle height options for small and large barista hands.
This tamper is made of high quality materials. It has a sleek black design and the base diameter is 58.35 mm. For the best result, the sides of the stainless steel base are notched to check that you are tamping the coffee evenly on all sides.
The adjustable ergonomic handle promotes the correct grip and tamping technique. So the Eureka tamper really fits everyone's hand and thanks to its black design it will stand out in any barista's corner.