3 647 points to the loyalty system
---
The coffee machine is suitable for self-service areas and also large offices. It is a robust product that is very well made. Included in the package is a refrigerator that can be integrated into the coffee machine setup. More
Product code: 1734 Shipping options
The coffee machine is suitable for self-service areas and also large offices. It is a robust product that is very well made. Included in the package is a refrigerator that can be integrated into the coffee machine setup. More
Product code: 1734 Shipping options
A professional automatic coffee machine that fits in your home
The stylish F12 range of coffee machines provides a large selection of high quality, rich-tasting coffees that easily rival the traditional bar coffee machines you'll find in many coffee shops. With their compact size and sleek design, these coffee machines complement a variety of environments such as small offices, meeting rooms and will even look good on the kitchen worktop at home.
Perfect coffee at a touch
These coffee machines have a wide range of beverages to choose from . From hot drinks with or without milk to those with or without milk foam - espresso, cappuccino, caffé crèma, espresso macchiato or caffé latte - all at just one touch.
Water connection and coffee reservoir size
The F12 Big plus coffee machine allows both filling with water in the reservoir and connection to the mains water supply. The reservoir has a capacity of 8l and is enough for a sufficient number of coffees for your office. The coffee tank can hold up to 1 kg of coffee. The recommended daily production is approximately 100 cups.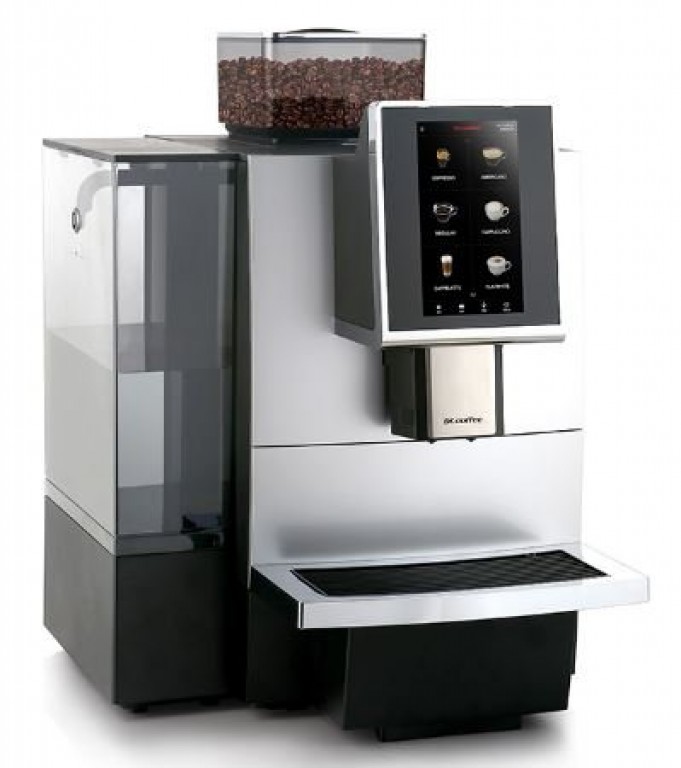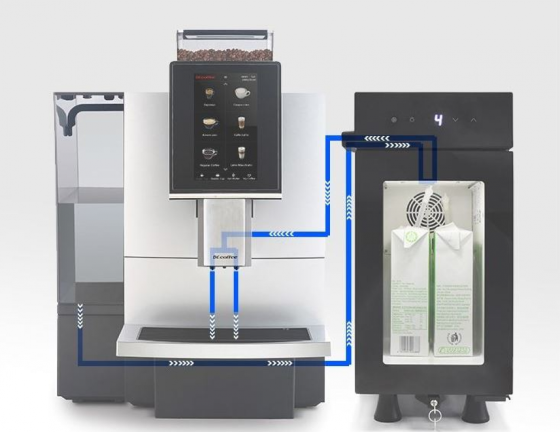 The ceramic flat stones offer you more flavour
Theceramic flat stones grind the coffee beans precisely to the desired coarseness, bringing out the unique taste of the coffee and giving you more balance and flavour.
A display that is easy to operate
The coffee maker is controlled via a 7-inch LCD touchscreen, with an Android operating system. This display makes it easy to dial in your desired coffee with one touch.
A coffee machine that knows your tastes
The F11 program, which is called "My Coffee" gives you an option where you set the coffee according to your tastes. You can simply set the recipe, according to your private choice. This coffee maker can also manage to prepare two cups of coffee at the same time.
Smooth and hot milk frothing system
Milk and milk froth are the essential ingredients of a delicious coffee with milk. The perfect froth is necessary to blend the ingredients perfectly. The self-cleaning function of the milk system is a matter of course.
Parameters
| | |
| --- | --- |
| Automatic cleaning | Yes |
| Colour | |
| Cappuccino in one squeeze | Yes |
| Pump | Vibrating |
| Dosage | Configurable |
| Daily capacity of the coffee machine | 100 |
| Display | Yes |
| To | Confectionery, Hotel, Offices, Restaurant |
| Functions of the coffee machine | Automatic cleaning system, Touch screen display, Two cups at a time, Grinding coarseness setting, Coffee quantity setting, Water quantity setting, Outlet height adjustment, Descaling programme, Energy saving support, Discharge coffee with milk at once |
| Material | Plastic |
| Coffee bean grinder | Yes |
| Voltage | 230V |
| Power input (W) | 2750 |
| Prepared drinks | Americano, Caffè latte, Cappuccino, Espresso, Hot water for tea, Lungo, Warm milk |
| Milk whisk | Automatic |
| Tag | Quality, Premium |
| Pressure (bar) | 15 |
| Basic functions | Coffee grinder, Milk system |
| Coffee container (g) | 1000 |
| Water tank (l) | 8 |
| Source of water | Tank |
Alternative products (3)
Delivery 6-8 days
3 894,10 €
| | |
| --- | --- |
| Dosage | Configurable |
| Daily capacity of the coffee machine | 200 |
| Material of grinding stones | Ceramics |
| Shape of grinding stones | Flat |
Delivery 6-8 days
3 722,10 €
| | |
| --- | --- |
| Dosage | Configurable |
| Daily capacity of the coffee machine | 200 |
| Material of grinding stones | Ceramics |
| Shape of grinding stones | Flat |
| | |
| --- | --- |
| Dosage | Configurable |
| Daily capacity of the coffee machine | 200 |