-12%
122 points to the loyalty system
---
Make your coffee preparation easier with the Parellel Felicita digital scale. Weighing has never been easier! Via Bluetooth, you can connect the scale to your smartphone to open up a range of additional options and functions. More
Product code: 2642 Shipping options
Standard price
139,20 €
.
Save
12%
(16,70 €)
122,50 €
Make your coffee preparation easier with the Parellel Felicita digital scale. Weighing has never been easier! Via Bluetooth, you can connect the scale to your smartphone to open up a range of additional options and functions. More
Product code: 2642 Shipping options
Black digital scale Felicita Parallel Plus
✓ made of high quality materials
✓ touch screen
✓ waterproof
✓2 000 g capacity
✓S martphone connection
✓ compatible with iPhone and Android app
✓ for filter coffee and espresso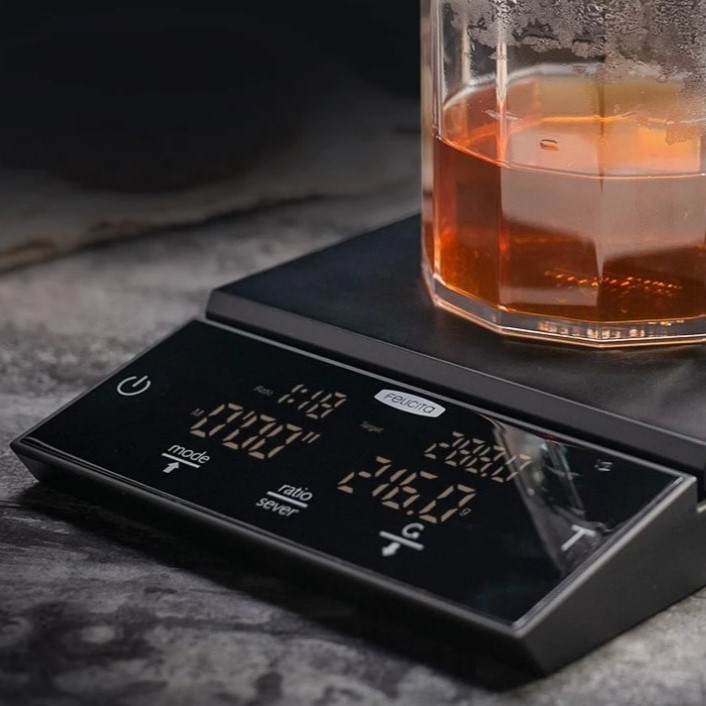 Parameters
| | |
| --- | --- |
| Colour | |
| Functions | Stopwatch, Rechargeable batteries |
| Capacity | 2000 g |
| Weighing accuracy | 0,1 g |
The barista scale is an integral part of the barista's equipment. You can practically do without it when preparing espresso, it is also almost indispensable for the correct preparation of alternative methods. There are plenty of them on the market, they have different functions and also range in price. What to look for when choosing a barista scale and what is the best one for a café or, conversely, for the home? That's what I'll tell you in today's article.
---
How would the iconic Acaia barista scales fare against their Felicita competitors? In today's article, let's find out what makes the Acaia so great and if the cheaper competition can match it!