Fellow Carter Move Mug Cargo Green 473ml
Fellow Carter Move Mug Cargo Green 473ml
51 points to the loyalty system
---
The Carter Move Mug is an exceptional insulated mug from Fellow. It is functional and pleases the user with its design. It is an ideal choice for someone who has high demands on the product. It is made for people who are constantly on the go. The mug fits most drink holders and features splash protection. This mug has been designed so that you can enjoy the full flavor of your drink. Its thin rim has been modified to mimic a Cabernet glass. It has a special ceramic coating that keeps the taste of the drink intact. More
Product code: 3837 Shipping options
The Carter Move Mug is an exceptional insulated mug from Fellow. It is functional and pleases the user with its design. It is an ideal choice for someone who has high demands on the product. It is made for people who are constantly on the go. The mug fits most drink holders and features splash protection. This mug has been designed so that you can enjoy the full flavor of your drink. Its thin rim has been modified to mimic a Cabernet glass. It has a special ceramic coating that keeps the taste of the drink intact. More
Product code: 3837 Shipping options
Fellow gives you a designer travel thermos with great features with the Carter Move Mug.
A thermo mug that you can't miss on your travels.
What makes the Fellow Move the right travel mug? A snap-on cover to prevent spills of coffee or other beverages. So you can safely store the Move in your car's cup holder and not worry about your coffee ending up everywhere. The lid locks in place with a simple 270° rotation.
Warm coffee all day long
Thanks to the stainless steel double wall, your coffee or any other beverage will stay hot for up to 12 hours or cold for 24 hours. Plus, the ceramic interior will make sure your coffee tastes as it should and doesn't have a metallic aftertaste. In addition, drinking from the Fellow Move is very pleasant thanks to the tapered rim.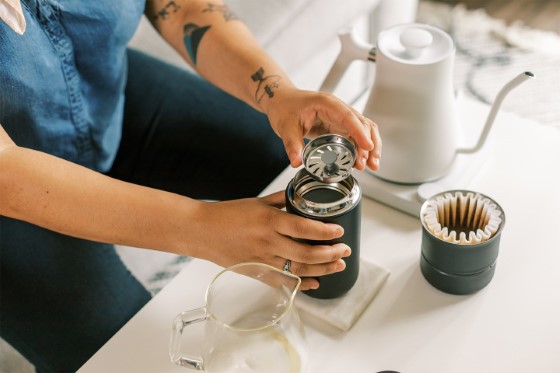 Parameters
| | |
| --- | --- |
| Colour | |
| Material | Stainless steel |
| Volume | 473 ml |
| Features of the thermo mug | Organic, Thermo mug, Suitable for stroller |
Coffee to go? Only in your cup! For those who take their coffee with them from home and those who pick it up at the café on the way. Either way, it tastes best from your own reusable coffee cup or thermos. To help you choose yours, we've put our travel coffee mugs to the test for both temperature stability and leakage.
Alternative products (3)