Fellow Ode Brew Grinder white
Fellow Ode Brew Grinder white
---
Although the white Fellow Ode is a small domestic grinder, it attracts the eyes of everyone around. This coffee grinder for alternative home brewing methods is polished with both its stunning design and its coffee grinding equipment. More
Product code: 2062 Shipping options
Although the white Fellow Ode is a small domestic grinder, it attracts the eyes of everyone around. This coffee grinder for alternative home brewing methods is polished with both its stunning design and its coffee grinding equipment. More
Product code: 2062 Shipping options
Brew Grinder Fellow Ode - white
✓S mall coffee grinder for the home
✓ metal 64 mm grinding stones
✓s ilent grinding with auto-stop function
✓ 31 degrees of grinding coarseness
✓ coffee ejector from the grinding chamber
✓ cap with setting instructions for the selected brewing method
✓ magnetic attachment for the ground coffee hopper
✓ filter coffeegrinder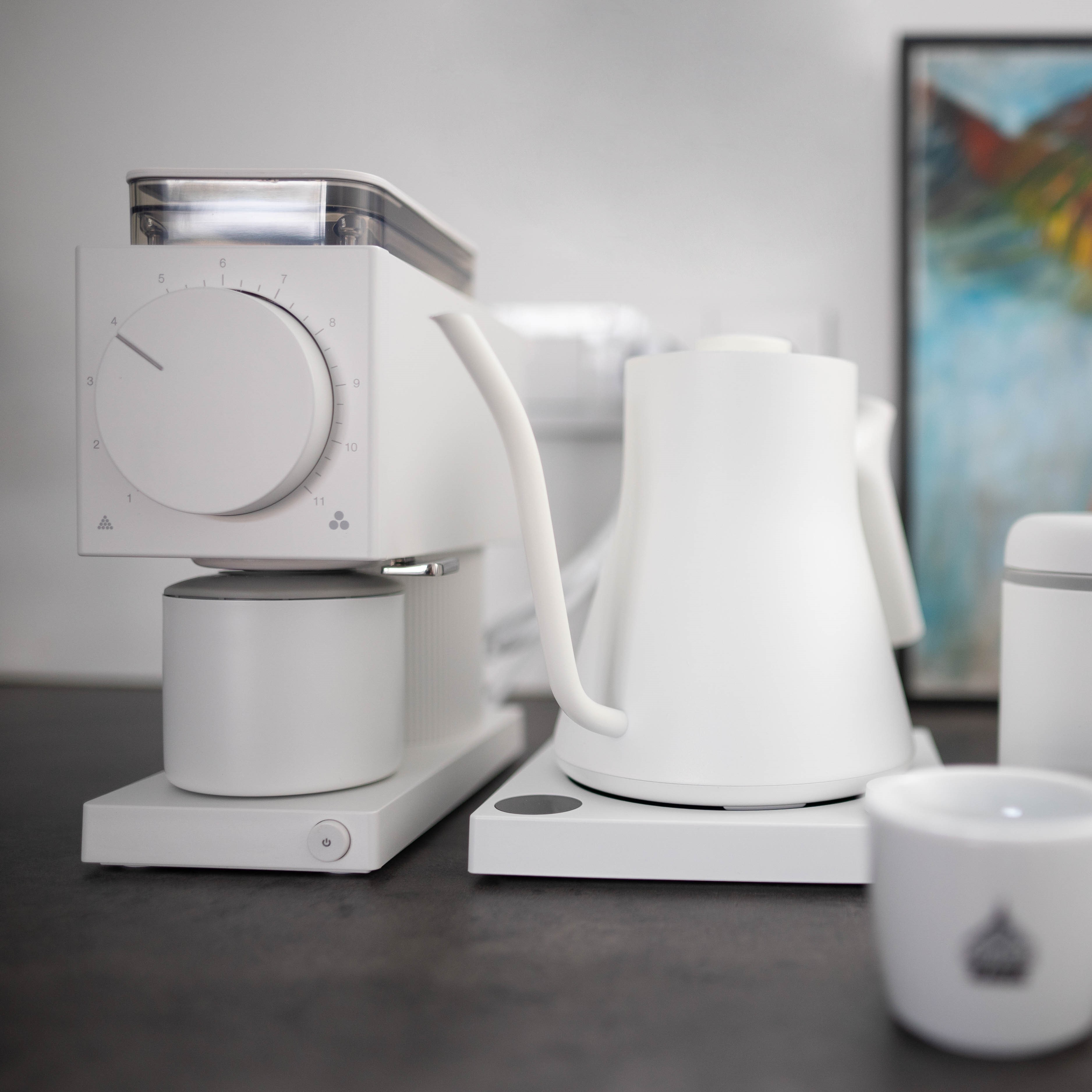 White Brew Grinder Ode - home filter grinder
If you have fallen under the spell of Fellow coffee products, this grinder is a must-have. Alternatively, the Ode in white. If you don't already have Fellow accessories for home brewing, buying the Ode grinder will be just the beginning of your entire Fellow coffee kit. Because smart products that combine practicality and perfect design are hard to resist.
The Fellow Ode grinder is as unique as it gets. But everything about it is also very practical. For example, the unexpectedly large 64 mm stainless steel grinding stones are atypical for a home grinder and are vertically mounted. This is only seen on the best pro grinders and here on the Fellou Ode.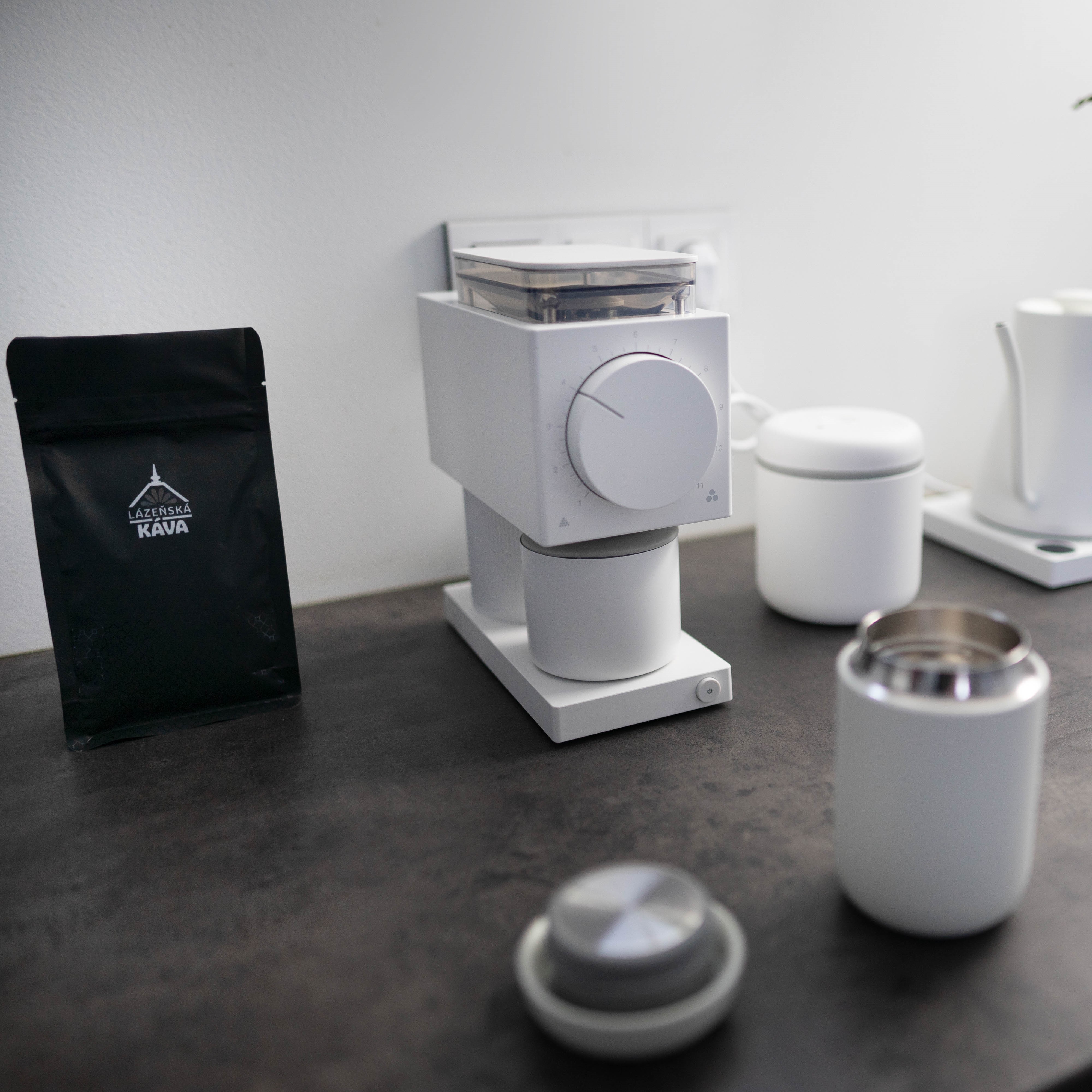 The only filter, says Ode's friend - the white grinder from Fellow
Why try to please everyone? The result is work in a wide range but half the quality. Fellow Ode isn't pulling anyone's leg and admits straight up that it doesn't have the capacity for espresso grinding. But grinding coffee for a drip, pour-over, French Press or Cold Brew is his thing. Do you have the same coffee preference? Then you'll be best friends with the "uncle".
For filter coffee grinding, it has a range of up to 31 degrees of coarseness. You set them on a clear scale with a simple turn of a wide knob. That you hit the right position, the pull lever printed under the hopper cover will help. It has a capacity for 80 grams of coffee. As you know, coffee ages in the air, which is why the Fellow Ode grinder uses Single Dose technology. That is, grinding the beans according to the actual consumption for a given preparation.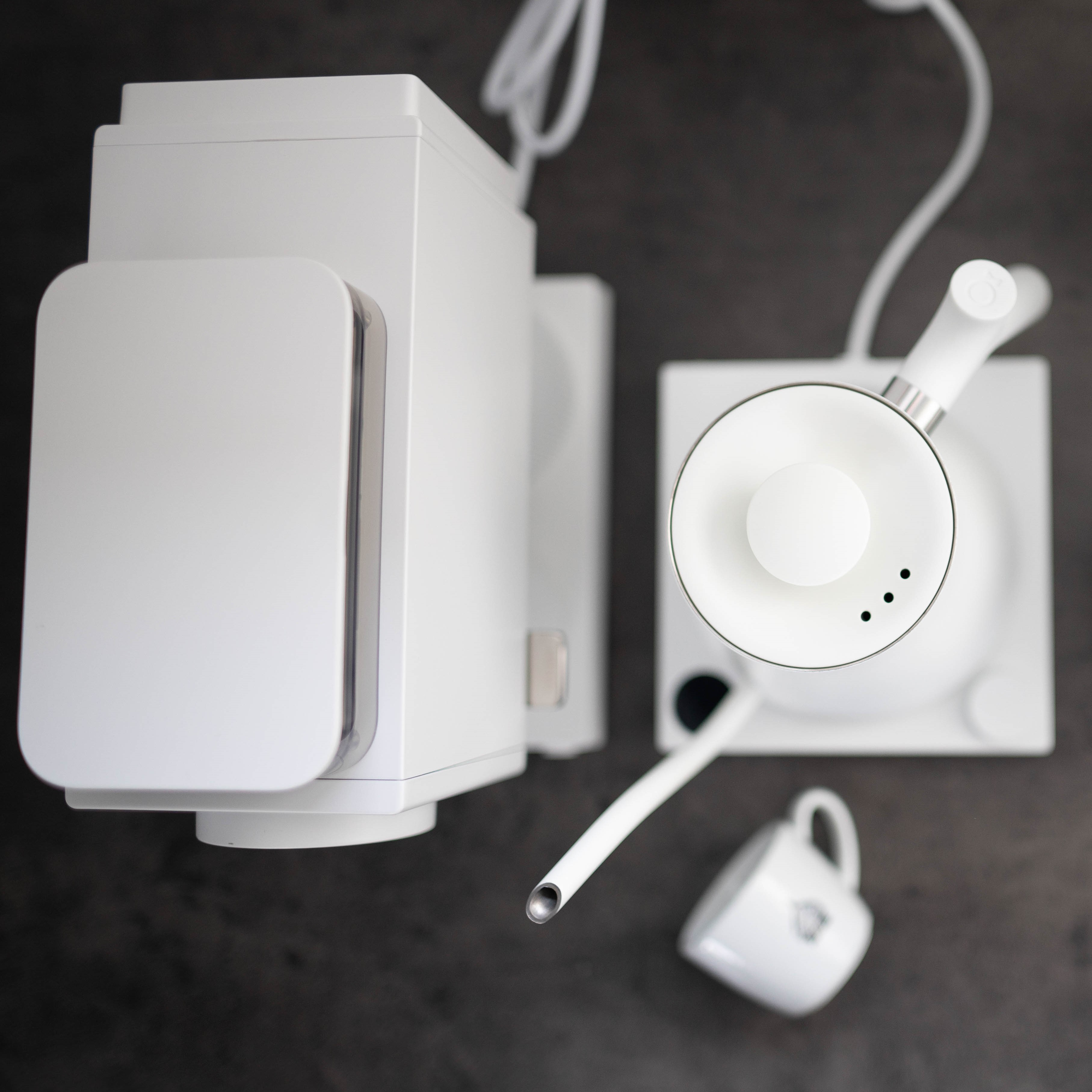 Parameters
| | |
| --- | --- |
| For | Filtered coffee, Alternative methods of preparation |
| Colour | |
| Dosage of the grinder | Manual |
| Display | No |
| Functions of the grinder | Coarseness setting |
| Hopper capacity (g) | 80 |
| Material | Aluminium, Steel, Plastic |
| Material of grinding stones | Steel |
| Grinder suitable for | Offices, Households |
| Voltage | 230V |
| Number of revolutions per minute | 1400 |
| Using | Home, Professional |
| Power input (W) | 140 |
| Coffee grinder label | Quality, Standard |
| Shape of grinding stones | Flat |
| Type | Electric |
| Size of grinding stones (mm) | 64 mm |
The ODE filter coffee grinder from Fellow has been one of the most anticipated products among baristas and coffee drinkers. Is it really as great as expected? What makes it unique and what has it failed to do? I bring you the answer in this review.
---
How can the quality of grinding vary with electric coffee grinders? For example, find out the differences between the German Mahlkönig and Graef grinders or how the popular Mignon grinder fares in terms of quality.
Alternative products (3)
Quick info
-11%
Bestseller
| | |
| --- | --- |
| For | Filtered coffee, Alternative methods of preparation |
| Material of grinding stones | Steel |
| Shape of grinding stones | Flat |
| Size of grinding stones (mm) | 64 mm |
Quick info
-9%
Bestseller
| | |
| --- | --- |
| For | Filtered coffee, Alternative methods of preparation |
| Material of grinding stones | Steel |
| Shape of grinding stones | Flat |
| Size of grinding stones (mm) | 64 mm |
| | |
| --- | --- |
| For | Filtered coffee, Alternative methods of preparation, Espresso |
| Material of grinding stones | Steel |
| Shape of grinding stones | Conical |
| Size of grinding stones (mm) | 47 mm |