Fellow Stagg XF Pour-Over Set
Fellow Stagg XF Pour-Over Set
-8%
119 points to the loyalty system
---
This Fellow Stagg XF Pour-Over Kit contains all the equipment you need to make drip coffee. Make the perfect coffee for two the easy way! More
Product code: 1837 Shipping options
Standard price
129,80 €
.
Save
8%
(10 €)
119,80 €
This Fellow Stagg XF Pour-Over Kit contains all the equipment you need to make drip coffee. Make the perfect coffee for two the easy way! More
Product code: 1837 Shipping options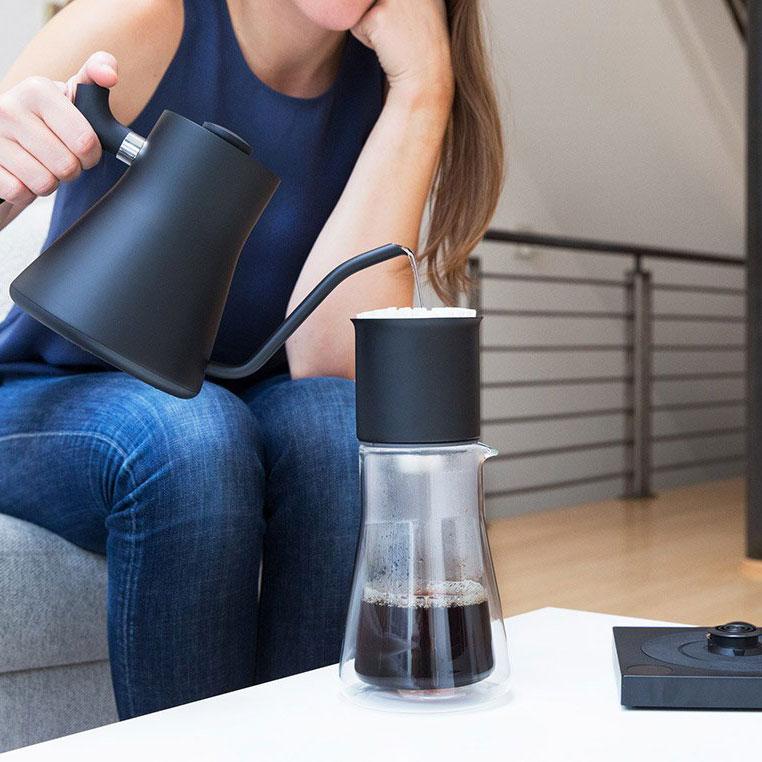 Fellow Stagg Dripper
Whether you're a coffee expert or a novice, the Fellow Stagg dripper will help you brew your perfect cup every day. Included:
Stagg dripper
Double wall glass carafe
Measuring bowl/drip tray
Silicone lid
Steel funnel for easy pouring of coffee
30x paper filter
With this set you can brew up to 600ml of coffee at a time. The measuring bowl allows you to measure out the correct amount of coffee, and can also serve as a drip tray. The Fellow Stag dripper features a double insulated stainless steel wall that maintains a constant temperature while preventing heat loss during extraction. Thanks to the double wall, you can safely touch the dripper when dripping. Compared to other drippers, this dripper has a much steeper inward slope. This results in better coffee extraction.
Double wall carafe
The American company Fellow produces very high quality products and the Fellow Stagg dripper is no exception. This is evidenced, for example, by the hand-blown carafe made of high-quality glass. The carafe features a double wall and a silicone lid that helps maintain the temperature of the drink. The outer wall does not heat up, so it is safe to hold in your hands. This set allows you to brew your drip coffee without much effort, always with perfect results.