Fellow Tally Pro Precision Scale
Fellow Tally Pro Precision Scale
251 points to the loyalty system
---
The perfectly accurate Tally Pro Precision barista scale from Fellow in black is ideal for all perfectionists. With its unique Brew Assist™ mode, it will become your guide for filter coffee preparation. More
Product code: 5845 Shipping options
The perfectly accurate Tally Pro Precision barista scale from Fellow in black is ideal for all perfectionists. With its unique Brew Assist™ mode, it will become your guide for filter coffee preparation. More
Product code: 5845 Shipping options
Fellow Tally Pro Precision Black Barista Scale
✔️ perfectly accurate and fast barista scale
✔️ unique Brew Assist™ mode
✔️ offers measurements in grams, ounces, pounds and milliliters
✔️ clear, illuminated OLED display
✔️ long battery life, USB-C charging
✔️ removable weighing bowl for easy maintenance
✔️ scale has a hidden feature - the "Jumpy" game
Fellow Tally: Unique Brew Assist™ mode
With the unique Brew Assist™ mode, the Tally will guide you through the entire process of making filter coffee. You no longer have to do any complicated calculations. Simply enter your favourite coffee to water ratio and Brew Assist™ will guide you to the perfect target weight as you pour your coffee.
The illuminated OLED display shows all the necessary values clearly side by side. Weight Mode Pro offers precise measurements in grams, ounces, pounds and milliliters.
The Tally scale is made from premium materials and the sleek black design will fit into any stylish kitchen or café. The handy weighing bowl is removable, making scale maintenance a breeze too. In addition, Fellow has added a hidden feature in the form of a "Jumpy" game to its scale . Will you be able to discover it? And what score will you get?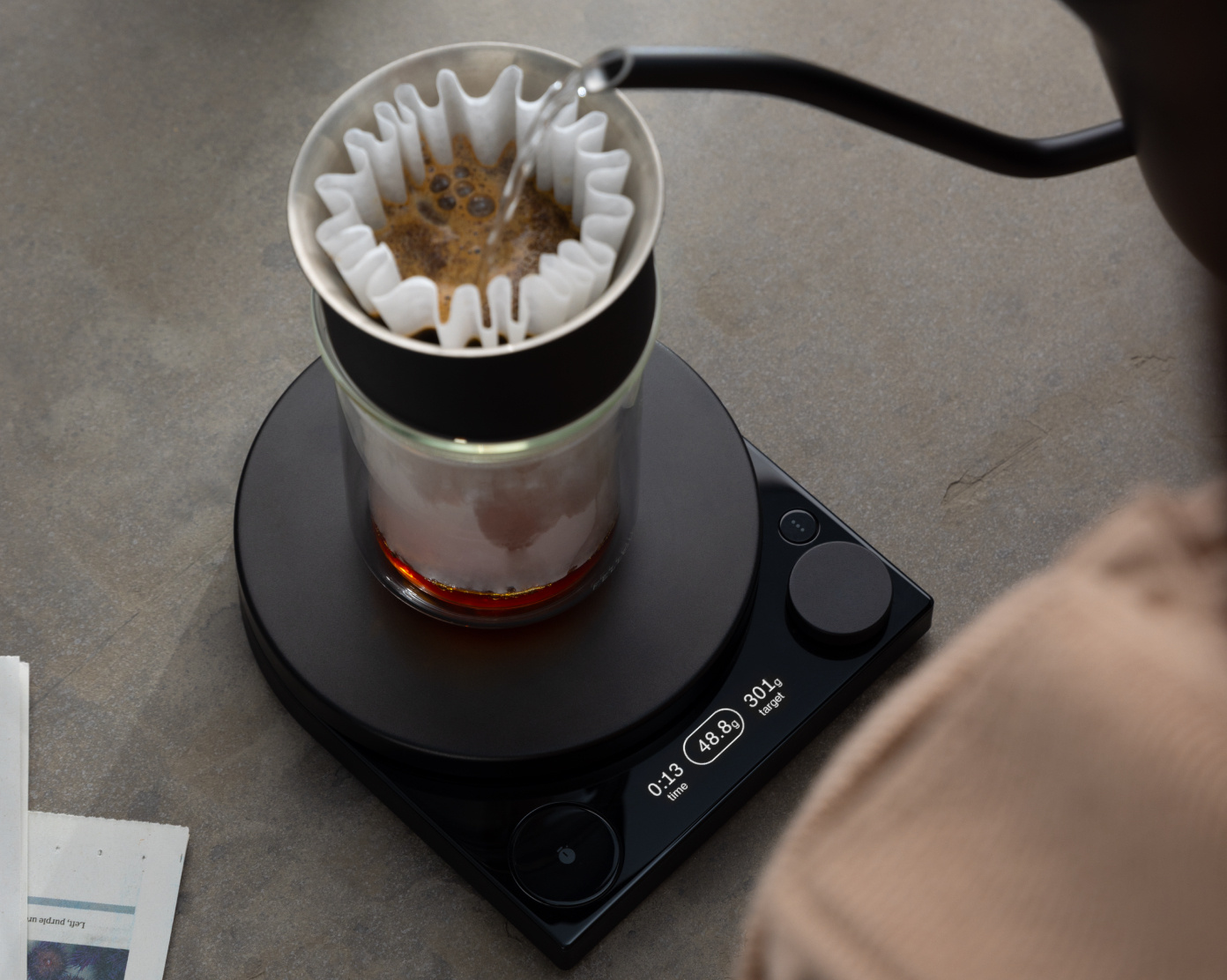 Parameters
| | |
| --- | --- |
| Colour | |
| Functions | Automatic shutdown, Rechargeable batteries, Stopwatch, Tare, USB-C, Waterproof |
| Capacity | 2500 g |
| Material | Aluminium, Stainless steel, Plastic, Silicone, Glass |
| Weighing accuracy | 0,1 g |
| For | Espresso, Filtered coffee |