Flair PRO 2 Espresso Maker
Flair PRO 2 Espresso Maker
---
The original manual espresso machine in the basic model Flair PRO2. For the pure joy of handcrafted espresso achieving café quality. Perfect coffee anywhere. A coffee machine in a case at a nice price. More
Product code: 967 Shipping options
The original manual espresso machine in the basic model Flair PRO2. For the pure joy of handcrafted espresso achieving café quality. Perfect coffee anywhere. A coffee machine in a case at a nice price. More
Product code: 967 Shipping options
Travel espresso machine: the Flair PRO 2
✓1 00% manual coffee preparation
✓ A compact travel espresso machine
✓ no electricity, environmentally friendly
✓ easily portable - can be folded into a carrying case
✓ 5 years warranty on the base and head
✓ easy and quick to clean
✓ classic style - metal, black and red
✓ also available in models: Neo, Signature, Classic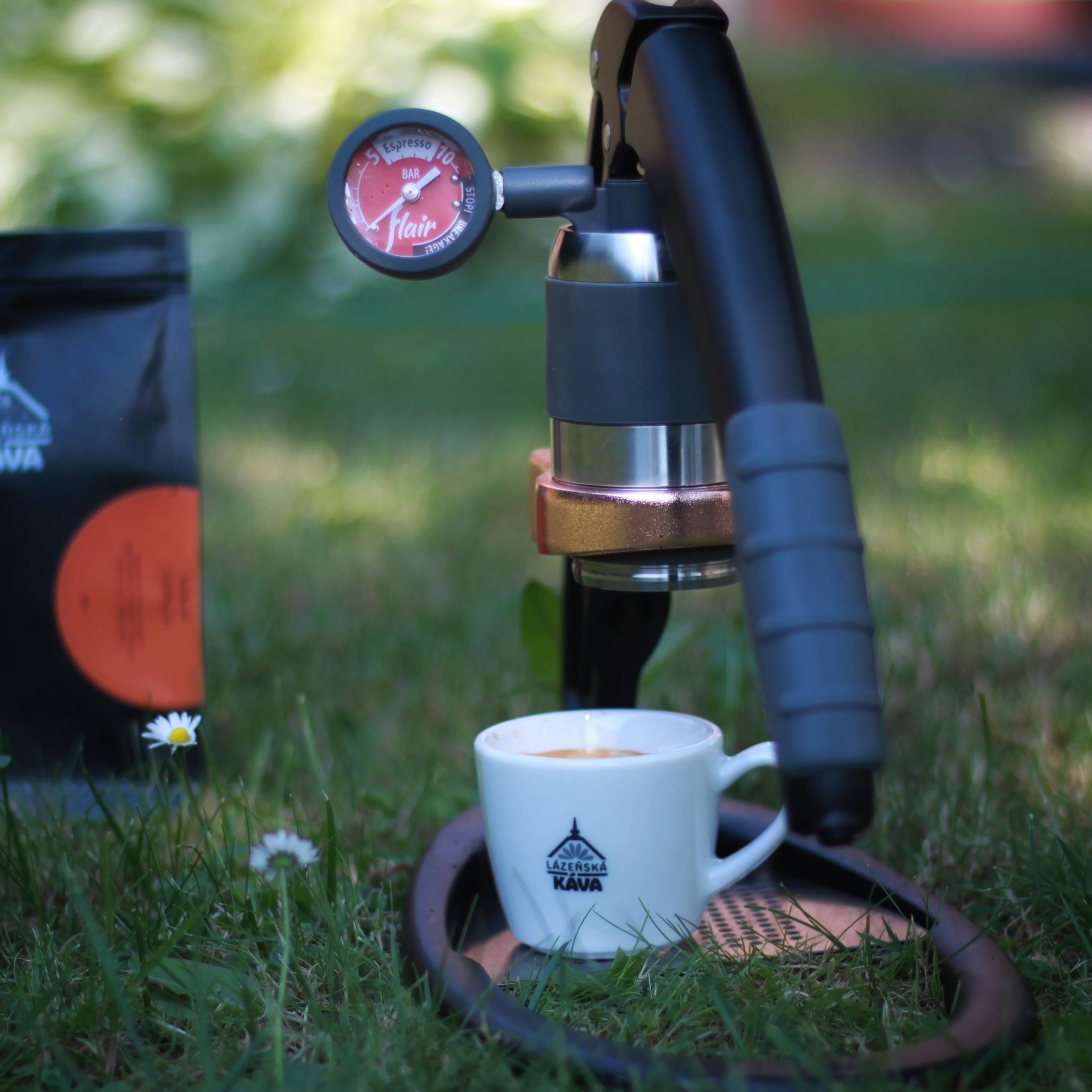 Flair Espresso - PRO 2
Have your favourite espresso everywhere you go. Now espresso lovers' dreams are coming true with this supremely handy travel coffee machine. You can do wonders with it. It's hard to believe that this little thing, which you can carry to work in a nifty little case, will produce café-quality espresso. But it's true. How can a handheld coffee maker achieve this?
Just the 9 bar of pressure needed to make a proper espresso... it can't. Are you saying that too? The designers of the Flair Espresso machine have devised a specific lever system that multiplies your pressing force to an optimal 9 bar. The stainless steel head of the coffee machine is able to maintain the temperature of the water after heating up to make coffee. All together, these create the ideal conditions for making real espresso.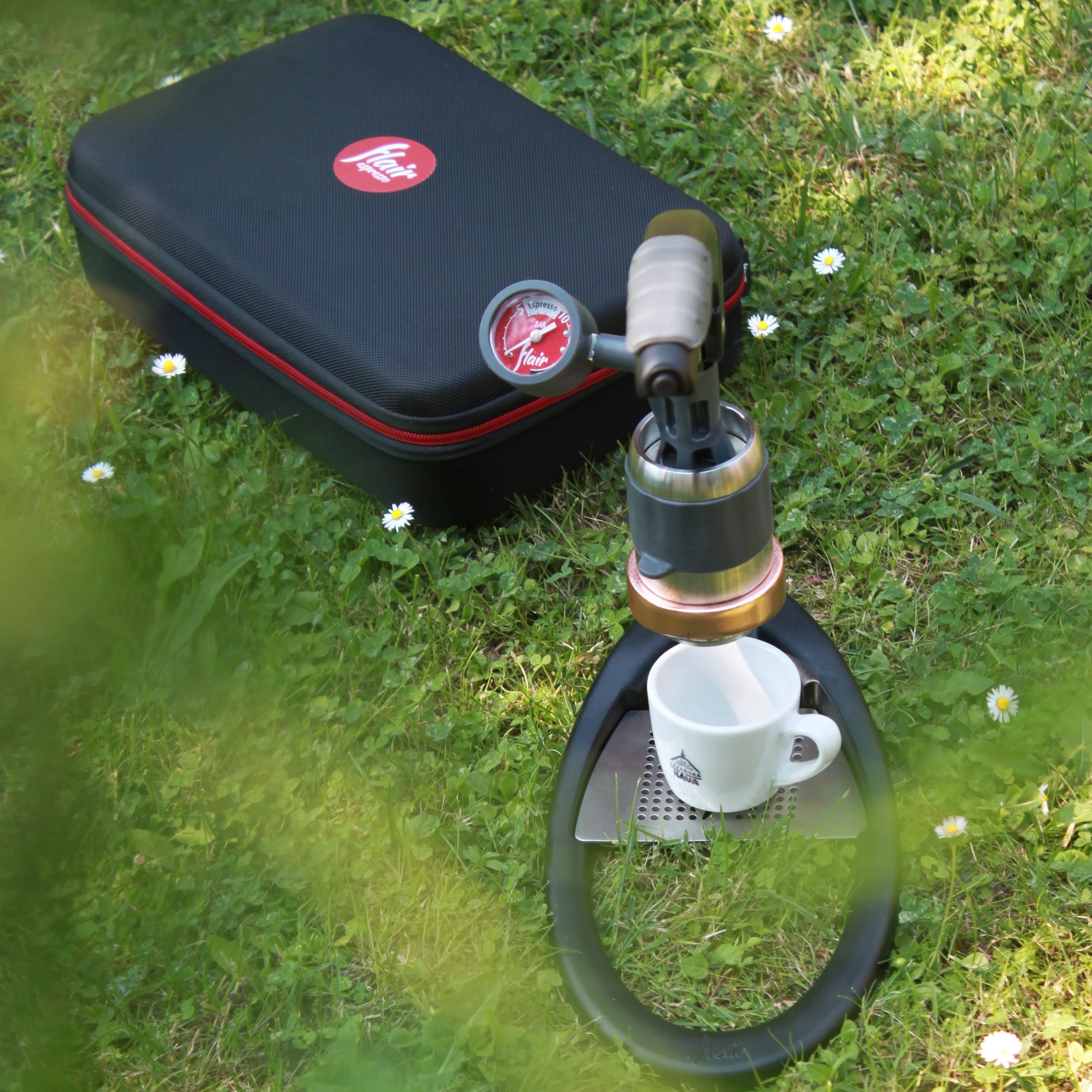 Be fair to your coffee, get a Flair! With Flair PRO 2 you will join the ranks of the "flairistas"
Do you make great coffee? Then you're a barista, even if it's just at home. With the Flair Espresso you become a "flairista". We have come to the Czech market as the exclusive suppliers of Flair Espresso. Within a few days, a wave of interest in this unique hand-held coffee machine took off. And it's not letting up. Coffee lovers liked it immediately, especially for its high quality coffee, comparable to café espresso. This is unprecedented for home coffee machines in this price range.
The "flairist" community is growing by the minute with more enthusiastic new owners of this coffee machine. Will you be joining them? You can start with any Flair, because the components are compatible. So your machine will grow with your skills in making the perfect home espresso.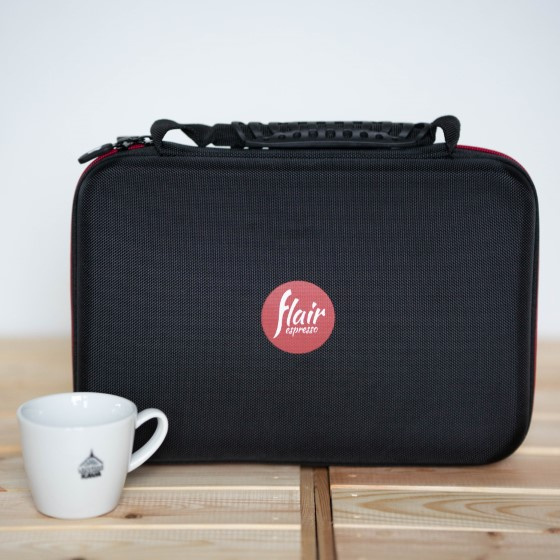 Which Flair Espresso Maker will be yours?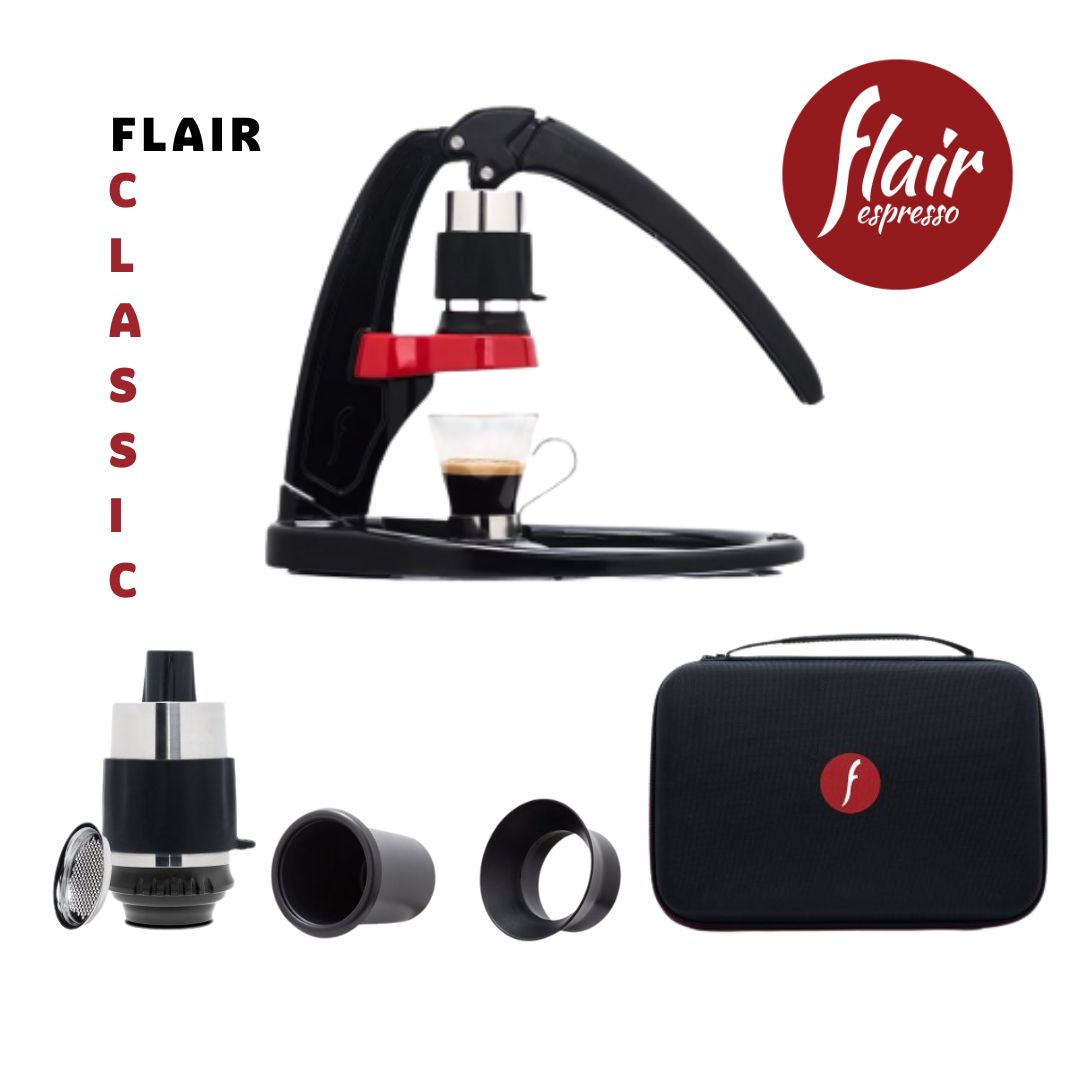 Want to start making real espresso at home? Start with the Flair Classic.
The set includes:
Standart Brew Head
2in1 portafilter (naked/spouted)
plastic tamper and filling funnel
portable carrying case
Black with red plastic holder
Upgradeable with PRO 2 Brew Head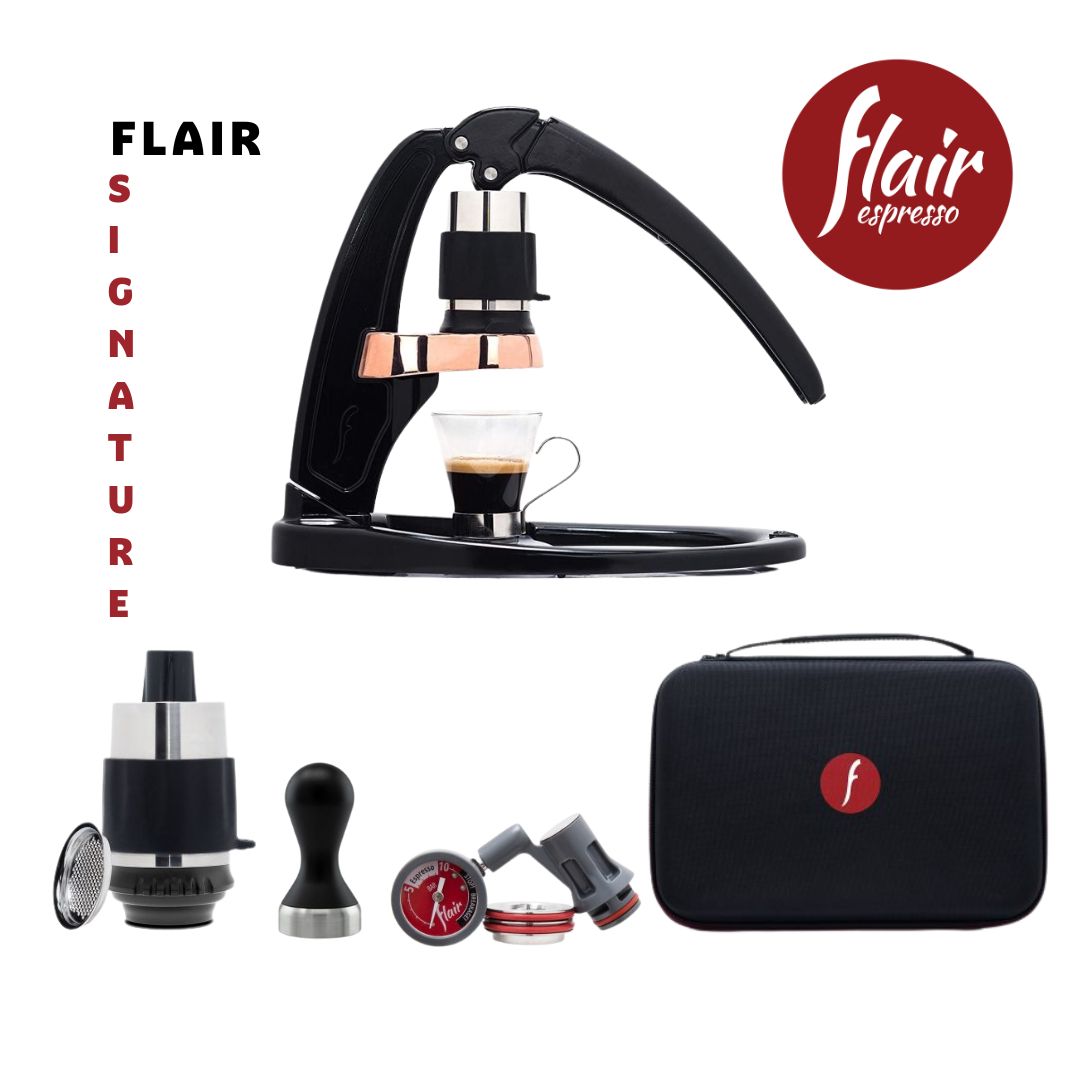 Want even more control over your espresso preparation? Choose the Flair Signature.
Included:
Standard Brew Head
2in1 portafilter (naked/spouted)
Pressure gauge
metal tamper
filling funnel
portable case
black, white and silver with copper holder
Upgradeable with PRO 2 Brew Head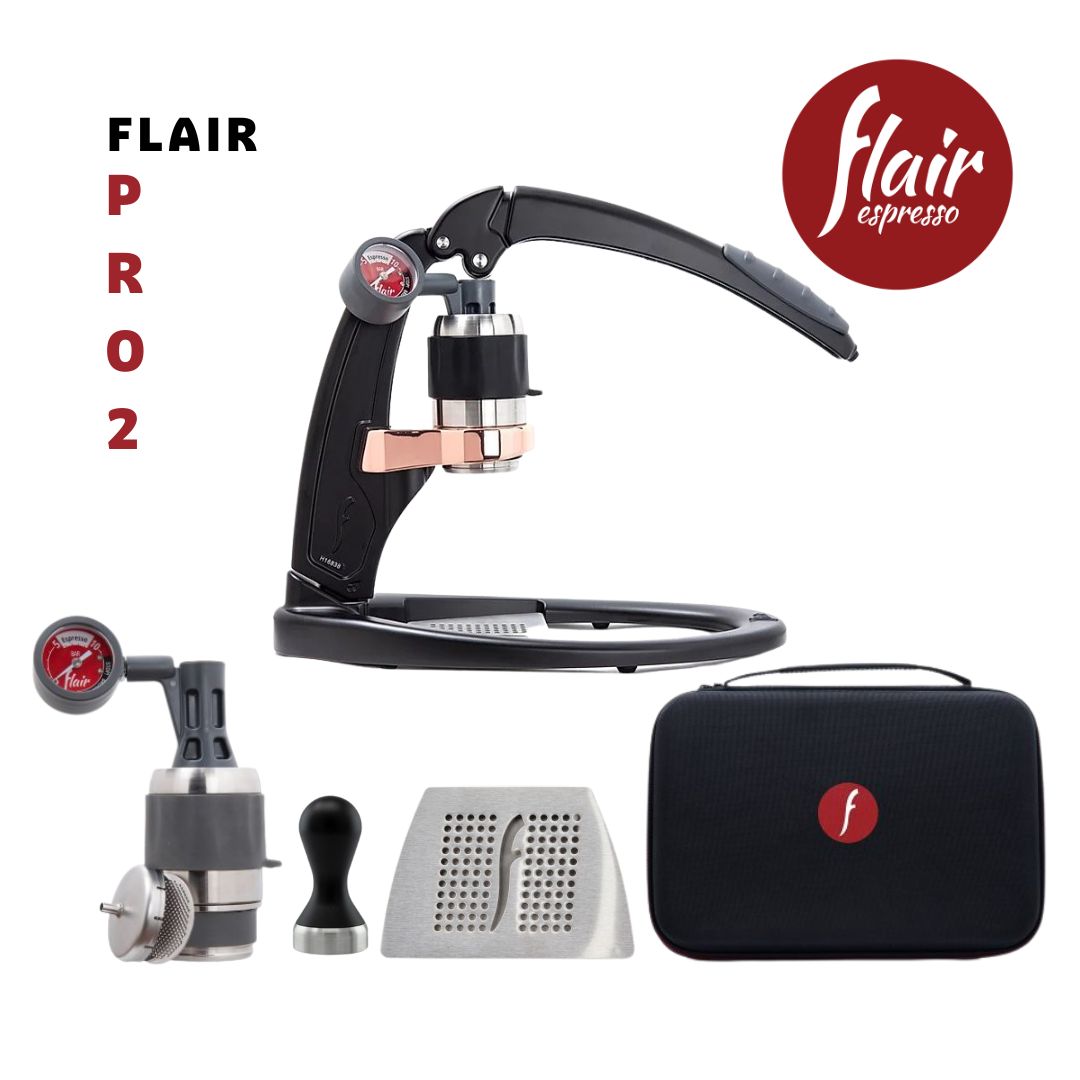 Want the ultimate in pro-style home espresso brewing? Order the Flair PRO2.
The kit includes:
PRO 2 Brew head
PRO 2 stainless steel 2in1 portafilter
Pressure gauge
metal tamper
filling funnel
silicone handle
stainless steel drip tray
carrying case
Black, white and silver with copper holder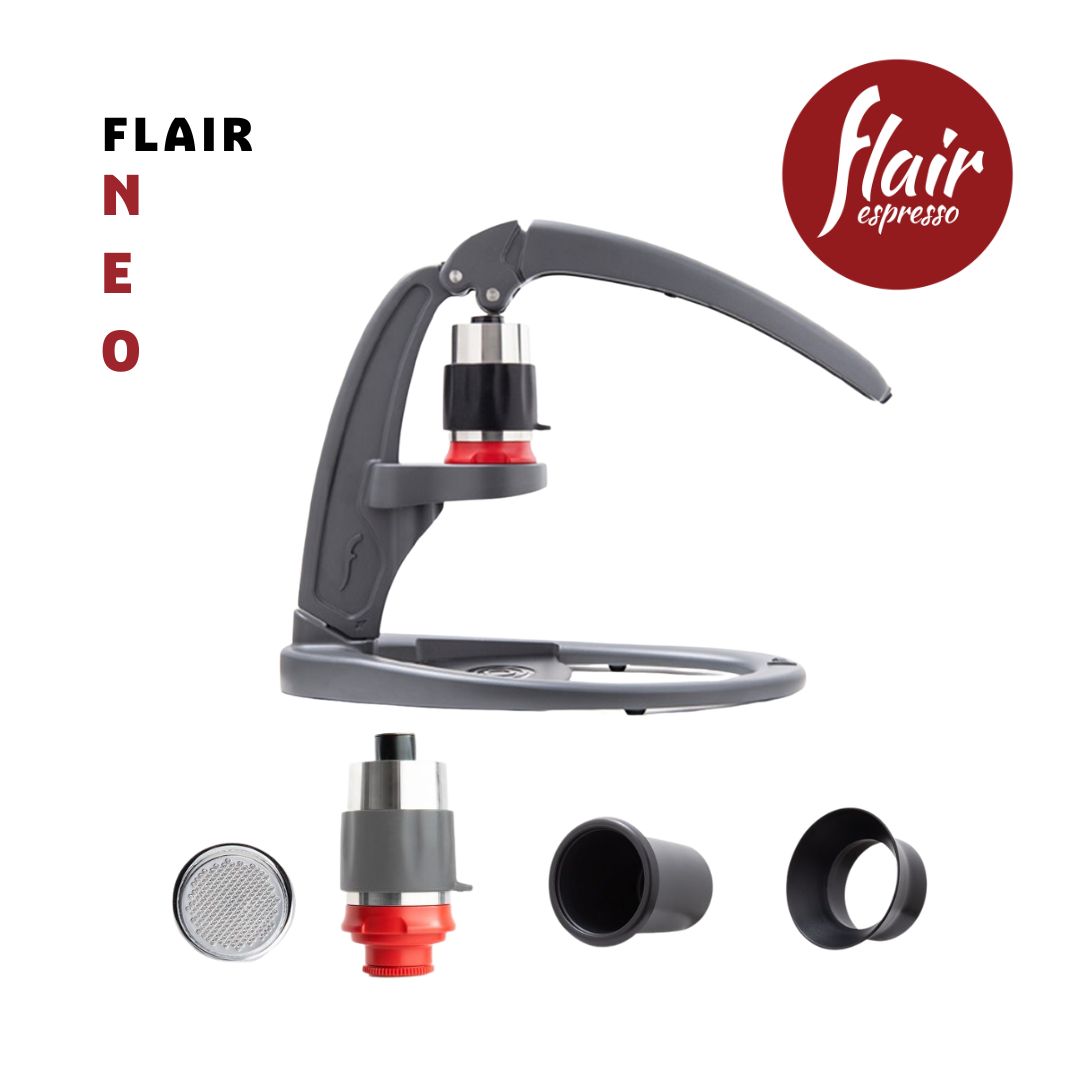 Want to make espresso without micrometer grind adjustment? Order the Flair Neo.
Included:
Standard Brew Head
Portafilter with flow control
Plastic tamper and filling funnel
Grey or white colour
Upgradeable with PRO 2 Brew Head
Parameters
| | |
| --- | --- |
| Colour | |
| Dosage | Manual |
| Daily capacity of the coffee machine | 30 |
| Display | No |
| To | Cars, Households, Caravan |
| Coffee bean grinder | No |
| Voltage | 230V |
| Prepared drinks | Americano, Espresso, Lungo |
| Tag | Travel, Quality, Small |
Download